Biblical Theology for Life (2 vols.)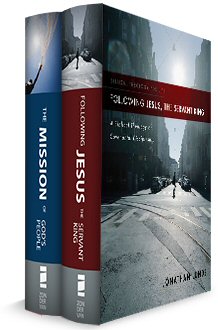 Overview
Biblical Theology for Life (2 vols.) brings you a groundbreaking academic study of the Bible alongside contemporary contextualization and proclamation. Each volume, written by a leading biblical scholar, traces the development of a theological theme in Scripture and addresses the relevance of the Bible's teaching to pastors, church leaders, students, and lay readers. This collection addresses discipleship and the mission of the church. It provides first-rate biblical study while at the same time addressing the practical concerns of contemporary ministry.
With Logos, these important titles from Zondervan are now more accessible than ever! All Scripture references are linked directly to the Bibles in your digital library, which means you can navigate instantly between God's Word and the books in your library. With Logos, you can also search by topic, isolating particular passages about the doctrine or text you're studying. That makes the Logos Bible Software edition ideal for research, sermon, preparation, or personal study.
Key Features
Study of discipleship and the mission of the church
Critical scholarship from noted scholars
Ideal for pastors, church leaders, students, and lay readers
Product Details
Title: Biblical Theology for Life
Publisher: Zondervan
Volumes: 2
Pages: 624

Throughout the Old Testament and into the New, God not only demands righteousness from his people but also showers on grace that enables them to act. Jesus, of course, provides the ultimate fulfillment of these twin aspects of God's relationship to humanity. In biblical terms, Jesus is the King who demands righteous obedience from his followers, and Jesus is the Servant who provides the grace that enables this obedience.
So what does it mean to follow Jesus? What does God expect from his followers, and how can they be and do what is required? Jonathan Lunde answers these and other questions in his sweeping biblical study on discipleship. He surveys God's interaction with his people from Eden to Jesus, paying special attention to the biblical covenants that illuminate the character and plans of God. He offers Bible students and teachers—such as pastors, missionaries, and lay leaders—the gift of practical biblical teaching rooted in the Bible's witness on the vital topic of discipleship.
Faithfully refreshing. Lunde's thoughtful and insightful contribution will cause many to walk with Jesus at a whole new level of faithfulness.
—J. Scott Duvall, Professor of New Testament, Ouachita Baptist University
Jonathan Lunde, in this book that is excellent for both the classroom and the church, leads us to Christ so we can see what it means to follow as disciples.
—Scot McKnight, Karl A. Olsson Professor in Religious Studies, North Park University
A breathtaking glimpse of what God has designed from the beginning of covenantal history—through a true biblical theology that plumbs the depths of Scripture—to live in an abundant New Covenant discipleship to Jesus as our Servant King.
—Michael J. Wilkins, Distinguished Professor of New Testament Language and Literature, Talbot School of Theology, Biola University
Jonathan Lunde (PhD, Trinity Evangelical Divinity School) is Associate Professor of Biblical and Theological Studies at Talbot School of Theology of Biola University. He is the coeditor (with Kenneth Berding) of Three Views on the New Testament Use of the Old Testament and has contributed articles to The Dictionary of Jesus and the Gospels and the New Dictionary of Biblical Theology.

In The Mission of God's People author Chris Wright offers a sweeping biblical survey of the holistic mission of the church, providing practical insight for today's church leaders. Wright gives special emphasis to theological trajectories of the Old Testament that not only illuminate God's mission but also suggest priorities for Christians engaged in God's world-changing work.
The Mission of God reveals that the typical Christian understanding of "missions" encompasses only a small part of God's overarching mission for the world. God is relentlessly reclaiming the entire world for himself. In The Mission of God's People, Wright shows how God's big-picture plan directs the purpose of God's people, the church. Wright emphasizes what the Old Testament teaches Christians about being the people of God. He addresses questions of both ecclesiology and missiology with topics like "called to care for creation," "called to bless the nations," "sending and being sent," and "rejecting false gods." The Mission of God's People promises to enliven and refocus the study, teaching, and ministry of those truly committed to joining God's work in the world.
. . . extraordinarily readable, written by a preacher who knows how to communicate simply, clearly, and fascinatingly. It is refreshingly adventurous, as it explores the theme of mission in biblical passages where you might not have expected to find it. . . . remarkably practical . . . surprisingly relevant . . . outstandingly down-to-earth . . . It is thus eminently commendable . . .
—I. Howard Marshall, Professor, University of Aberdeen
What a marvelous author Chris Wright is! Here you get the distilled insight of someone who knows mission and knows the Scriptures . . . And he doesn't confine himself to scriptural themes but enables us to get inside lots of particular Scriptures, all in easily manageable chunks. What do theology and mission have to do with each other? This book powerfully answers the question.
—John Goldingay, Professor, Fuller Theological Seminary
The Mission of God's People is more than a biblical theology. It is a journey through the call God has given to his people to impact the world in the way God desires. . . . This book brings us there very nicely, fully using both Testaments, and even gives us questions to reflect upon in order to move us to action. Well done.
—Darrell L. Bock, Research Professor of the New Testament, Dallas Theological Seminary
This is biblical theology at its best. . . . Through his comprehensive reading of the whole Bible, he offers a robust portrayal of Israel's mission and our own. Thank you, Chris, for showing us that God's election is not about us; it is about the world. May this work inspire his church to greater faithfulness in giving verbal witness to God's redemptive grace for the cosmos, but also to greater ethical faithfulness as we embody his grace in the microcosms in which we live.
—Daniel I. Block, Gunther H. Knoedler Professor of Old Testament, Wheaton College
. . . Christopher Wright shows in The Mission of God's People that grounding missions practice in the prior action and plan of God does not render the church static or passive. In this masterful survey, Wright demonstrates decisively what happens when the whole church starts reading the whole Bible and reflecting the full scope of God's good news in all our life and witness in the world. This is the long-awaited road map that moves missions from the practice of a few elite professionals to the faithful witness of all of God's children. If want to help your church become a missional church, I cannot think of a better place to begin that journey than this book. I assure you, you will discover afresh who you are in Christ and what you are here for!
—Timothy Tennent, Professor, Asbury Theological Seminary
A wonderfully kaleidoscopic biblical overview of the privileged role afforded to all of God's people in fulfilling the Missio Dei in the world. Chris Wright demonstrates that the theme of the mission of God and his people is a prominent and unmistakable thread running through the elaborate tapestry of the whole of Scripture. In so doing, he provides a ringing affirmation that it is the responsibility of the whole church to bear witness to Christ and his kingdom in every area of the world geographically, as well as in every sphere of society.
—Lindsay Brown, Director, Lausanne Movement for World Evangelization
Christopher J. H. Wright is International Director of the Langham Partnership International. He also serves as Chair of the Lausanne Movement's Theology Working Group and Chair of the Theological Resource Panel of TEAR Fund, a leading Christian relief and development charity. He has written several books, including Living as the People of God, God's People in God's Land, Knowing Jesus through the Old Testament, Walking in the Ways of the Lord, Deuteronomy in the New International Biblical Commentary, The Message of Ezekiel in the Bible Speaks Today series, Old Testament Ethics for the People of God, The Mission of God, and The God I Don't Understand.
More details about these resources