George J. Zemek Collection (3 vols.)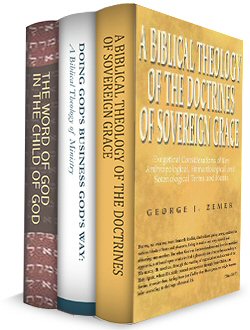 Overview
Professor, author, and linguist George J. Zemek is well known in the scholarly world. His extensive experience teaching biblical languages, theology, apologetics, and homiletics is reflected in his works. The George J. Zemek Collection brings together three volumes on various topics including ministry, the doctrine of grace, and Psalm 119. Zemek's thorough exegesis analyzes each subject of study to bring readers a comprehensive and technical understanding of its homiletic and practical value. He emphasizes the importance of understanding important terms in their original languages (Hebrew and Greek), as well as being sensitive to God's calling and direction.
With the Logos edition of the George J. Zemek Collection (3 vols.) you have easy access to Scripture texts, along with a wealth of other resources in your digital library! Hovering over Scripture references links you instantly to the verse you're looking for, and with passage guides, word studies, and a wealth of other tools from Logos, you can get into God's Word like never before!
Key Features
Thorough analysis of key theological topics
Comprehensive study of Psalm 119
Appendixes on various terms and concepts
Individual Titles

This book calls all genuine disciples of our Lord Jesus Christ, both vocational ministers and lay people, to serve our Savior by carrying out His marching orders His way. This demands that the doctrines of man, sin, salvation, the Word, and the Spirit have full sway in all that we do in the name of Christ. Whatever we are engaged in, whether witnessing to the lost or carrying out our various other responsibilities (e.g., preaching, teaching, counseling, and encouraging), we must be divinely directed by the practical implications of God's grace. Then we, as faithful channels, may joyously come to understand that it is God who causes any and all growth (1 Corinthians 3:6).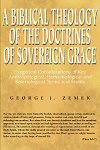 In A Biblical Theology of the Doctrines of Sovereign Grace, author and linguist George J. Zemek presents readers a thorough and biblical view of the doctrines of man, sin, and salvation—as well as other important terms and tenets of faith—in light of biblical anthropology, hamartiology, and soteriology. Zemek analyzes various topics in their original Hebrew and Greek, giving readers a comprehensive and exegetical understanding of these doctrinally important concepts. This volume includes eleven appendixes.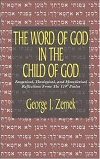 The Word of God in the Child of God: Exegetical, Theological, and Homiletical Reflections from the 119th Psalm
Author: George J. Zemek
Publisher: Wipf and Stock
Publication Date: 2005
Pages: 446
Psalm 119 is the prayer of one who delights and lives by the Torah. The longest of all the psalms, it is a Hebrew-alphabetical acrostic poem. George J. Zemek provides a thorough study on Psalm 119, studying its various elements and contemporary applicability. Zemek presents a comprehensive introduction to the psalm which analyzes its critical and conservative evaluations, date and authorship, literary vehicles, and textual assessment. He also includes an analytical and theological overview of the text. This volume provides translation and notes, synopsis and outlines, and commentary on each of the 22 stanzas.
Product Details
Title: George J. Zemek Collection
Author: George J. Zemek
Publisher: Wipf and Stock
Volumes: 3
Pages: 896
About George J. Zemek
George J. Zemek received his doctorate of theology at Grace Theological Seminary in Winona Lake, Indiana. He began his teaching career at Grace College in the Greek department from 1975 to 1977. During that period he also served as a part-time instructor in the Homiletics department of the seminary. From 1977 to 1988, he was a full-time professor of biblical languages, theology, and apologetics, serving also as the seminary's director of doctoral studies from 1985 to 1988. Beginning in 1988, he taught for six years at The Master's Seminary in Sun Valley, California. Zemek then became the founding pastor-teacher and professor, respectively, of Grace Bible Church and Training Center in Brandon, Florida. Since 2000 he has served as the director of The Ministry Training Center at The Bible Church of Little Rock in Arkansas.