The Acts of the Apostles by N. T. Wright (9.5 hour course)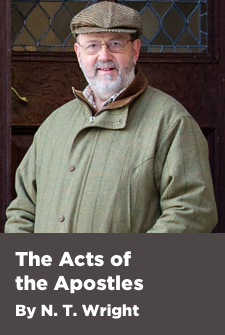 The Acts of the Apostles by N. T. Wright (9.5 hour course)
•
Runs on Windows, Mac and mobile.
Overview
The Acts of the Apostles is the second book written by the biblical writer Luke. Luke continues the story of the risen Jesus who will now extend His reign through the apostles and others to the furthest reaches of the Roman Empire. The story will provide rich insight into the working of God through the Holy Spirit to establish churches in cities large and small and we will see how Peter, Paul and others interacted with a sometimes hostile environment as they proceeded.
We follow the movement of the inaugurated Kingdom of God through this wonderful book. There are many exciting events that provide a sense of the amazement and the challenge of spreading the message of Christ throughout the Empire. The course won't answer every question we have about the Acts of the Apostles, but we shall follow the journeys where they take us geographically and theologically!
Learning Objectives
Upon successful completion you should be able to:
Understand how the message of the reign of the resurrected Jesus spread throughout the Roman Empire
Describe they key events in the Acts of the Apostles
Express the overall purpose of this important book of the Bible in the context of the New Testament
Explain the theological importance of key sections of the Acts of the Apostles
Delineate the geographical movement of the story and the significance of that movement
Propose current day application of this study of the Acts of the Apostles
Learn to live out your commitment to King Jesus with the new reality of the one family of God
Who Should Take this Course?
Anyone with a desire to understand the New Testament book The Acts of the Apostles which describes the growth of the Christian Church after Jesus's death and resurrection.
Students of virtually any age with a hunger to learn more about God and His ways.
Product Details
Title: The Acts of the Apostles
Instructor: N. T. Wright
Publisher: The Wisconsin Center for Christian Study
Publication Date: 2019
Product Type: Faithlife Course
Resource Type: Courseware, including quizzes, and video resources
Courses: 1
Video Hours: 9.5
About the Instructor
Nicholas Thomas "Tom" Wright has been named by Christianity Today as one of our time's top theologians. He is currently professor of New Testament and early Christianity at St. Andrews University. Wright holds a bachelor's degree in theology, a master's in Anglican ministry, and a DPhil, all from University of Oxford.
A fellow and chaplain at Cambridge from 1978 to 1981, he then served as assistant professor of New Testament language and literature at McGill University in Montreal. Before becoming a chaplain, tutor, lecturer, and fellow at Oxford in 1986, Wright served as dean of Lichfield Cathedral, canon theologian of Westminster Abbey, and bishop of Durham.
His academic work has usually been published under the name "N. T. Wright," but works such as What St. Paul Really Said and Simply Christian, aimed at a more popular readership, were published under the less formal name of "Tom Wright."
More details about these resources