The Doctors of the Church (143 vols.)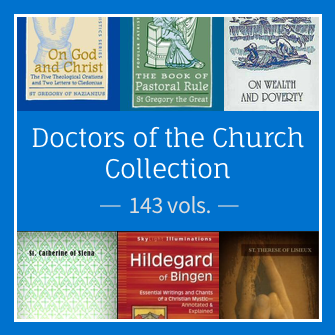 Overview
The Doctors of the Church are the most reliable and authoritative teachers of the Faith for all Christians (not just Catholics). The Catholic Church, to date, has named 36 men and women as Doctors of the Church. "Doctor" essentially means teacher and each of the Doctors is noteworthy for their outstanding, clear teaching of the Faith, as well as their holiness. These 143 volumes represent 35 of the 36 Doctors (Gregory of Narek is the newest Doctor and we hope to have his works soon!) and draw from every major Patristic series we offer, including the Fathers of the Church Series, Ancient Christian Writers, Popular Patristics series, and the Classics of Western Spirituality. In this collection, you will find greats such as St. Augustine, St. Thomas Aquinas, and St. Jerome, as well as lesser known saints such as St. Lawrence of Brindisi and St. Peter Chrysologus. No library should be without this essential set of resources!
The following is a list of the 36 Doctors of the Church:
The eight Ecumenical Doctors:

St. Ephraem the Deacon (306-373)
St. Hilary (315-368)
St. Cyril of Jerusalem (315-387)
St. Cyril of Alexandria (376-444)
Pope St. Leo the Great (390-461)
St. Peter Chrysologus, (400-450)
St. Isidore of Seville (560-636)
St. John Damascene (676-749)

The eleven Medieval Doctors:

St. Vernerable Bede (673-735)
St. Peter Damian (1007-1072)
St. Anselm (1033-1109)
St. Bernard of Clairvaux (1090-1153)
St. Hildegard of Bingen (1098-1179)
St. Anthony of Padua (1195-1231)
St. Albert the Great (1200-1280)
St. Bonaventure (1217-1274)
St. Thomas Aquinas (1225-1274)
St. Catherine of Siena (1347-1379)
St. Gregory of Narek (951-1003)

The nine modern Doctors:

St. John of Avila (1499-1569)
St. Teresa of Avila (1515-1582)
St. Peter Canisius (1521-1597)
St. John of the Cross (1542-1591)
St. Robert Bellarmine (1542-1621)
St. Lawrence of Brindisi (1559-1619)
St. Francis de Sales (1567-1622)
St. Alphonsus Liguori (1696-1787)
St. Therese of Lisieux (1873-1897)
In the Verbum edition, these works become the backbone of any study of the Christian faith. Links to the patristic writings of the Early Church Fathers will bring you right to the source—to the very quote—allowing you to see instant context. Footnotes appear on mouseover, as well as references to Scripture and extra-biblical material in your library, and you can perform near-instant searches across these volumes, searching for references to keywords or Scripture passages.
Product Details
Title: The Doctors of the Church
Volumes: 143
Pages: 57,500+
Christian Group: Catholic