Short Studies in Biblical Theology Update (2 vols.)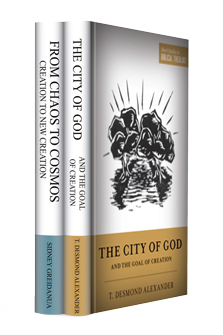 Short Studies in Biblical Theology Update (2 vols.)
•
Runs on Windows, Mac and mobile.
Overview
The purpose of Short Studies in Biblical Theology is to connect the resurgence of biblical theology at the academic level with everyday believers. Each volume is be written by a capable scholar or churchman who is self-consciously writing in such a way that requires no prerequisite theological training of the reader.
In the Logos edition, this volume is enhanced by a world-class set of research and study tools. Important terms link to dictionaries, encyclopedias, and a wealth of other resources in your digital library. Perform powerful searches to find exactly what you're looking for. Take the discussion with you using tablet and mobile apps. With Logos Bible Software, the most efficient and comprehensive research tools are in one place, so you get the most out of your study.
Key Features
Insightful, concise studies of important theological topics
Frames theology in the context of Scripture
Presents compelling arguments and thoughtful reflection
Individual Titles
When God created the world, he brought perfect order out of what was "without form and void." But with human rebellion against God leading to God's curse, disorder was introduced into creation—disorder that we still see all around us today. Tracing the chaos to cosmos theme from Genesis 1 to Revelation 22, pastor-scholar Sidney Greidanus reveals how God is restoring his creation through Jesus Christ, who has already begun to shine light into the darkness and will one day return to bring peace, order, and restoration once and for all. With discussion questions at the end of each chapter and a fourteen-session reading plan, this book is ideal for small groups as well as individual study.
Sidney Greidanus poured a lifetime of preaching Christ from the entire Bible and teaching others to do so into this guided tour of Scripture's unfolding history of creation, redemption, and consummation. With brevity and clarity, he shows our beauty-creating God at work, bringing order to the 'formless and void' deep. Then, when Satanic lies and human rebellion injected chaos, disorder, desolation, and death, the Lord executed his eternal plan to redeem and reorder his creation through Jesus Christ. This study is full of God's Word, set into context by Greidanus's insightful comment. It offers fresh and ancient perspectives on Scripture's unity and its central focus: Christ the Redeemer.
—Dennis E. Johnson, professor emeritus of practical theology, Westminster Seminary California
Sidney Greidanus (PhD, Free University of Amsterdam) has taught at Calvin College, Calvin Theological Seminary, and The King's College. Since his retirement from full-time teaching in 2004, he has devoted his time to writing commentaries specifically for preachers. He is the author of many books, including Sola Scriptura; Preaching Christ from the Old Testament; and The Modern Preacher and the Ancient Text.
At the very heart of God's plan for the world stands an extraordinary city. Beginning with the garden of Eden in Genesis and ending with the New Jerusalem in Revelation, the biblical story reveals how God has been working throughout history to establish a city filled with his glorious presence. Tracing the development of the theme of city in both testaments, T. Desmond Alexander draws on his experience as a biblical scholar to show us God's purpose throughout Scripture to dwell with his redeemed people in a future extraordinary city on a transformed earth.
At a time when worldwide urbanization—the movement of people from country to city—is at full flood, many think of cities not only as centers of jobs, culture, and government, but as sinkholes of iniquity. This interesting book competently introduces us to the theme of city in the Bible, tracing out its trajectory through Scripture and its promise for the future, and takes us finally to the New Jerusalem from which sin and all its effects are forever banished.
— D. A. Carson, research professor of New Testament, Trinity Evangelical Divinity School; Cofounder, The Gospel Coalition
T. Desmond Alexander (PhD, The Queen's University of Belfast) is senior lecturer in biblical studies and director of postgraduate studies at Union Theological College in Belfast. Alexander is the chairman of the Tyndale Fellowship for Biblical and Theological Research, served as coeditor of The New Dictionary of Biblical Theology, and has written many volumes in the area of biblical theology. T. D. is married to Anne, and they have two adult children.
More details about these resources