Acts: An Exegetical Commentary (4 vols.)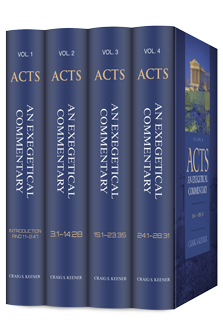 Overview
Highly respected New Testament scholar Craig Keener is known for his meticulous and comprehensive research. This commentary on Acts, his magnum opus, is one of the largest and most thoroughly documented Acts commentaries available. This work sets Acts in its first-century context making it useful for the study of early Christianity as well as biblical text. This magisterial work is a valuable resource for New Testament professors and students, pastors, Acts scholars, and libraries.
The Logos Bible Software edition of this collection is designed to stimulate your study and understanding of Acts. Scripture passages link directly to your preferred English translation and original language texts; important theological concepts link to dictionaries, encyclopedias, and a wealth of other resources in your digital library. In addition, you can perform powerful searches by topic to find what other authors, scholars, and theologians have to say about the apostles and the ancient church.
Key Features
Offers a socio-historical, exegetical, and theological reading of Acts
Includes verse-by-verse commentary
Considers modern scholarship as well as primary and secondary source materials for a comprehensive examination of Acts
Praise for the Print Edition
Keener takes very seriously the claim of the book of Acts to be historiography. His encyclopedic knowledge of ancient literature and his intelligent skill as an exegete make this a magisterial commentary.
—Richard Bauckham, professor emeritus of New Testament studies, University of St. Andrews
Somewhat surprisingly, a socio-historical approach to Acts still needs to be defended and its value demonstrated. No one does this better—is more informed about ancient literature, parallels, and precedents, and more interactively and fruitfully engaged with contemporary literature and issues—than Craig Keener. For anyone wanting to appreciate how Acts 'worked' in its original context and to get into the text at some depth, Keener will be indispensable and 'first off the shelf.'
—James D. G. Dunn, Emeritus Lightfoot Professor of Divinity, University of Durham
With a monograph-level introduction and solid, detailed use of background sources, Craig Keener has provided us with a rich gem of a commentary on Acts. One can use it and get a real sense of what this key work is all about.
—Darrell L. Bock, senior research professor of New Testament studies, Dallas Theological Seminary
This is the most expansive treatment of Acts in modern scholarship. Keener offers the reader a sweeping tour of the relevant ancient material and modern scholarship on Acts. He takes Acts seriously as a work of ancient history; at the same time, he is aware of the literary and rhetorical dimensions of the text.
—Gregory E. Sterling, Lillian Claus Professor of New Testament, Yale Divinity School
Keener's incredibly detailed megacommentary on Acts is a scholarly achievement that is unlikely to be surpassed in the foreseeable future. The author has an enviable mastery over an amazing number of primary and secondary sources, evident on nearly every page in footnotes providing both documentation and stimulating discussions. He provides in-depth discussions of various critical approaches to the major interpretive issues in Acts, revealing the strengths and weaknesses of each position while carefully arguing his own position. The commentary also includes a rich variety of informative excursuses that provide detailed analysis of a wide variety of important side issues and topics. Every serious student of Acts owes it to herself or himself to carefully work through this significant contribution to scholarship.
—David E. Aune, Walter Professor of New Testament and Christian Origins, emeritus, University of Notre Dame
Keener's scholarship and personal experience give a distinctive cross-cultural perspective to his commentary. His excursuses are treasure troves of cultural information on topics such as ancient anti-Judaism; dreams; patrons, clients, and reciprocity; and suicide. This detailed commentary will deservedly be a major resource on Acts in many libraries—personal and public—for years to come.
—John J. Pilch, Odyssey Program, Johns Hopkins University
About Craig S. Keener
Widely known for his studies in the New Testament, Craig S. Keener (PhD, Duke University), is a theologian, biblical scholar, and prolific author, and is the F.M. and Ada Thompson Professor of Biblical Studies at Asbury Theological Seminary in Wilmore, Kentucky. Some of his other major works include The Gospel of Matthew: A Socio-Rhetorical Commentary, The Gospel of John: A Commentary (2 vols.), IVP Bible Background Commentary: New Testament, and Gift & Giver: The Holy Spirit for Today. Keener is a professor of New Testament at Asbury Theological Seminary and program chair for the Institute for Biblical Research.
More details about these resources