Mobile Ed: NT255 The Identity of Jesus (2 hour course)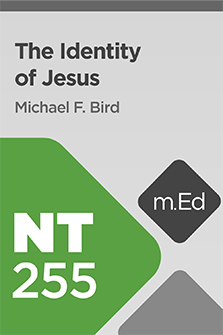 Mobile Ed: NT255 The Identity of Jesus (2 hour course)
•
Runs on Windows, Mac and mobile.
Your Custom Discount
Reg. Price $69.99
Sale Price $39.99
Your Price $39.99
You Save $30.00 42%
Your Price
What's Pre-Pub?
$39.99
Overview
The most important question a person can ask is, "Who is Jesus?" In this course, Dr. Michael Bird evaluates the testimony of each of the Gospel writers and the apostle Paul to discover who the New Testament authors believed Jesus to be. He also considers the testimony of Jesus himself to see how he understood his own identity. You will have the opportunity to look at Jesus through historical, religious, and personal lenses as you reflect on your own response to Jesus's question, "Who do you say that I am?"
Course Outline
Unit 1: The Historical Jesus
Jesus and the Kingdom
What Did Jesus Think of Himself?
Did Jesus Think He Was God?
Unit 2: The Gospels
Overview
The Gospel of Mark: An Apology for the Crucified Messiah
The Gospel of Matthew: The Davidic Messiah
The Gospel of Luke: The Prophetic Messiah
The Gospel of John: The Elusive Messiah
Unit 3: The Apostle Paul
Paul's Divine Christology: Part 1
Paul's Divine Christology: Part 2
Concluding Remarks on Paul
From Nazareth to Nicaea
Product Details
Title: NT255 The Identity of Jesus
Instructor: Michael F. Bird
Publisher: Lexham Press
Publication Date: 2018
Product Type: Logos Mobile Education
Resource Type: Courseware, including transcripts, audio, and video resources
Courses: 1
Video Hours: 2
About the Instructor
Michael F. Bird is lecturer in theology at Ridley College. He is the author of several books, including Evangelical Theology, The Gospel of the Lord: How the Early Church Wrote the Story of Jesus, Romans (Story of God Bible Commentary Series), What Christians Ought to Believe, An Anomalous Jew: Paul among Jews, Greeks, and Romans.
Getting the most out of Mobile Ed
Logos Mobile Education is a highly effective cross-platform learning environment that integrates world class teaching with the powerful study tools and theological libraries available in Logos Bible Software. Every course provides links to additional resources and suggested readings that supplement the lecture material at the end of every transcript segment.
This course comes with an Activities resource that functions as a type of "workbook" for the course. This resource includes learning activities such as: places for you to respond to reflection questions, exercises that will challenge and show you how deepen your understanding of this course by using specific Logos tools and resources, tutorial videos on different features of Logos Bible Software, and links to relevant Logos guides and tools. A link to open the Activities resource is conveniently placed at the end of every segment.