Surviving and Thriving in Seminary: An Academic and Spiritual Handbook (audio)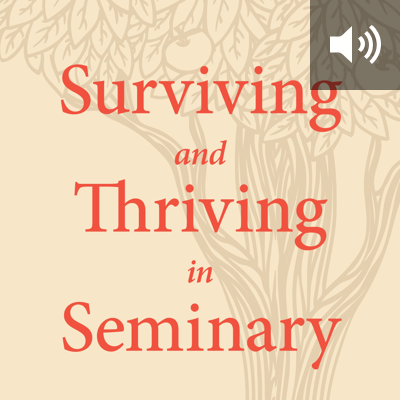 Surviving and Thriving in Seminary: An Academic and Spiritual Handbook (audio)
•
Runs on Windows, Mac and mobile.
Getting the Most out of Seminary
Seminary can be rich and rewarding, but also disorienting. In addition to the typical challenges of doing graduate studies, your experiences in seminary have the potential to affect how you see God, other people, and yourself. The stakes are high, but the good news is that you are not alone!
In Surviving and Thriving in Seminary, two experienced professors (and former seminary students) tell you what to expect and how to navigate your years in seminary. They give you advice on how to prepare your own heart and relationships, how to manage your time and energy, and how to acquire the study skills you need. This essential book encourages and equips current and prospective seminary students to get the most out of their time in seminary.
Audiobooks add new dimension to your digital library. When you listen in Logos, your audiobooks sync across devices—pause a book anytime on your home computer, then pick up where you left off in your car or on your laptop. Listen on your lunch breaks, as a family, or as part of your personal devotional time. Tap into the power of Logos Bible Software in a whole new way.
Praise for Surviving and Thriving in Seminary
This is a very fine, well written book. It will help more seminarians start well, do well, and finish well. I will gladly and enthusiastically commend it to our students.
—Daniel L. Akin, president, Southeastern Baptist Theological Seminary
Surviving and Thriving in Seminary is essential reading for the next generation of seminary students. In this carefully designed book, Forrest and Zacharias, with much wisdom and pastoral guidance, have thoughtfully introduced their readers to the multiple aspects of theological education, including shaping minds, transforming lives, as well as forming men and women for ministry. The authors have presented students with a great gift, providing both current and prospective students, as well as their families, with a thorough overview of the realities, privileges, blessings, responsibilities, and challenges involved in pursuing seminary education. Forrest and Zacharias are to be congratulated on producing this extremely helpful and beneficial volume.
—David S. Dockery, president, Trinity Evangelical Divinity School
Daniel Zacharias and Benjamin Forrest have written an immensely helpful book on how to prepare yourself when you're totally unprepared for seminary. If you're starting seminary, this book will give you a head start, and hopefully prevent you from turning your Christian life into a train wreck. This book covers everything you should know from prayer life to research skills to time management. I wish someone had told me this when I went to seminary.
—Michael F. Bird, lecturer in theology, Ridley College
Product Details
Title: Surviving and Thriving in Seminary: An Academic and Spiritual Handbook
Authors: H. Daniel Zacharias and Benjamin K. Forrest
Publisher: Lexham Press
Publication Date: 2018
Length: 4 hours and 25 minutes
Format: Audio
About the Authors
H. Daniel Zacharias (PhD, University of Aberdeen / Highland Theological College) is Assistant Professor of New Testament at Acadia Divinity College. He resides in Wolfville, Nova Scotia with his wife Maria and their four children.
Benjamin K. Forrest (EdD, Liberty University) is Associate Professor of Christian Education and Department Chair at Liberty University School of Divinity. His doctoral research focused on the spiritually formative experiences of seminary spouses. He resides in Lynchburg, Virginia with his wife Lerisa and their three children.
More details about this resource