Mobile Ed: TH261 Doctrine of Salvation (5 hour course)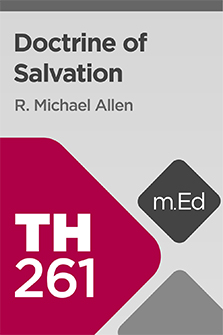 Mobile Ed: TH261 Doctrine of Salvation (5 hour course)
•
Runs on Windows, Mac and mobile.
Your Custom Discount
Reg. Price $189.99
Sale Price $109.99
Your Price $109.99
You Save $80.00 42%
Your Price
What's Pre-Pub?
$109.99
Overview
Investigate the doctrine of salvation with Dr. R. Michael Allen as a guide. Christ is the proper starting point for understanding, integrating, and applying the doctrine of salvation, and Dr. Allen maintains this central focus as he considers the theological and historical context of this tenet of the Christian faith. After supplying a thorough doctrinal framework, Dr. Allen looks at salvation through the lens of the communion of the saints, referencing Christian tradition over the centuries to illuminate relevant theological developments. Finally, he considers recent challenges and ongoing debates within the church that have influenced how we confess Christ and understand his work on our behalf today. Ultimately, the goal of this course is not to merely add to your knowledge about the doctrine of salvation but to aid you in faithfully living out your salvation in Christ.
Course Outline
Introduction
Introducing the Speaker and Course
Unit 1: A Dogmatic Framework for the Doctrine of Salvation
Introducing a Dogmatic Framework for the Doctrine of Salvation
Starting with God
The Doctrine of the Holy Trinity: Triunity
… and All Things in God
Creation and Covenant
Exit and Return, Descent and Ascent
Israel and Christ
First and Last: Creation and Eschatology, Sin and Glory
Christ at the Center
Christ-Centeredness in Canonical Form
Unit 2: Some Historical Developments in the Doctrine of Salvation
Introducing Historical Developments in the Doctrine of Salvation
Patristic Era: Deification
Patristic Era: Ransom
Medieval Era: Satisfaction
Medieval Era: Moral Influence
Reformation Era: Penal Substitution as the Great Exchange
Reformation Era: Socinian Challenge of Separating Holiness and Love
Early Modern Era: Governmental Theory
Late Modern Era: Vicarious Confession Theory
Late Modern Era: Christus Victor Theory
Late Modern Era: Liberationist Approaches
Unit 3: Recent Challenges and Retrieved Wisdom
Introducing Recent Challenges and Retrieved Wisdom
The Doctrine of God and Atonement: Romans 3:21–26
The Old Testament and Election: Romans 9 and Ephesians 1 in Pentateuchal Context
Atonement in Context: Henri Blocher on Metaphors and Unity in Diversity
The Whole Christ: Justification and Participation as the "Double Grace"
Justification as the Entryway of the Gospel
The Challenge of Modifications: New Perspective on Paul
The Challenge of Modifications: Individuality and Community in Paul
The Challenge of Modifications: Doug Campbell and Bruce Marshall
The Challenge of Myopia: Radical Lutheranism
Participation as the Goal of the Gospel
The Challenge of Modifications: Finnish Lutherans
The Challenge of Modifications: Radical Orthodoxy and Ecclesiology as First Theology
Creator-Creature Distinction and Christ-Church Distinction
Conclusion
Product Details
Title: TH261 Doctrine of Salvation
Instructor: R. Michael Allen
Publisher: Lexham Press
Publication Date: 2018
Product Type: Logos Mobile Education
Resource Type: Courseware, including transcripts, audio, and video resources
Courses: 1
Video Hours: 5
About the Instructor
R. Michael Allen teaches systematic (or dogmatic) theology and theological ethics as a way to train students to delight in the study of God's mighty deeds (Psalm 111:2). He hopes that integrated study of Bible and theology will help students prepare for faithful ministry in the local church by considering our worship and witness in light of God's Word. He is especially interested in how Christian doctrine relates to other theological disciplines: biblical theology, historical theology, and moral theology. He grew up in both the South and in South Florida as the son of a Presbyterian pastor. He is presently a candidate for ordination as a teaching elder in the Evangelical Presbyterian Church.
In addition to his work in the seminary, he enjoys serving in local churches: teaching classes for children and adults, preaching, and working in the nursery. Prior to joining the faculty at Knox, he taught undergraduate and graduate students at Wheaton College for two years. He has also been active in the American Academy of Religion, the Evangelical Theological Society, and the Society of Biblical Literature.
Getting the most out of Mobile Ed
Logos Mobile Education is a highly effective cross-platform learning environment that integrates world class teaching with the powerful study tools and theological libraries available in Logos Bible Software. Every course provides links to additional resources and suggested readings that supplement the lecture material at the end of every transcript segment.
This course comes with an Activities resource that functions as a type of "workbook" for the course. This resource includes learning activities such as: places for you to respond to reflection questions, exercises that will challenge and show you how deepen your understanding of this course by using specific Logos tools and resources, tutorial videos on different features of Logos Bible Software, and links to relevant Logos guides and tools. A link to open the Activities resource is conveniently placed at the end of every segment.