The Sacred Books of the East (50 vols.)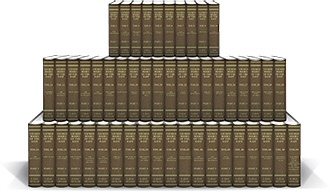 Overview
The volumes contained in The Sacred Books of the East (50 vols.) include translations of all the most important works of the seven non-Christian religions that have exercised a profound influence on the civilizations of the continent of Asia. The Hindu system claims twenty-one volumes in this collection, Buddhism ten, and Jainism two. Eight volumes comprise of the sacred books of the Persians, two volumes represent Islam, and the remaining six represent the two main indigenous systems of China: Confucianism and Taoism. The Sacred Books of the East (50 vols.) were translated by twenty leading authorities in their respective fields, and edited by noted scholar F. Max Müller. The inception, publication, and the compilation of these books covered almost thirty-four years.
This massive collection provides a solid foundation for the comparative study of the religions of the East. Understanding these other major religions is a key component to apologetics, and this collection would give you direct access to the source materials. With the Logos edition, The Sacred Books of the East (50 vols.) is fully integrated with all the other resources in Logos, including maps, dictionaries, encyclopedias, and numerous other study tools. This collection is great for churches, Bible groups, teachers, and students studying world religions, and with the advanced search features of Logos Bible Software, you can perform powerful, lightning-fast searches through the entire collection—finding, for example, every mention of "soul," or "prophecy."
Key Features
Insightful introductions to each volume
Contains an entire volume indexed by name and subject matter
Each writer was chosen for their outstanding record of translation scholarship
Perfect for students, pastors, those in the academic world, and laity
Product Details
Title: The Sacred Books of the East
Editor: F. Max Müller
Volumes: 50
Individual Titles
About F. Max Müller
F. Max Müller (1823–1900) was a prolific editor and author born in Dessau, Germany. Fluent in Greek, Latin, Arabic, Persian, and Sanskrit, Müller would spend a successful career teaching at various universities and producing important translations. Along with the massive fifty-volume The Sacred Books of the East, in which he was the Managing Editor, Müller's works include The Gifford Lectures of 1888–92; India, What can it Teach Us?; Introduction to the Science of Religion; A History of Ancient Sanskrit Literature, and more.
More details about these resources
Show More