Great Thinkers: Critical Studies of Minds That Shape Us (3 vols.)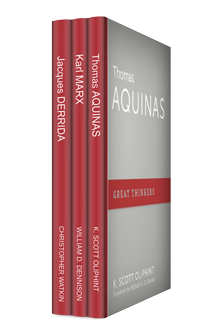 Great Thinkers: Critical Studies of Minds That Shape Us (3 vols.)
•
P&R 2017
Runs on Windows, Mac and mobile.
Your Custom Discount
Reg. Price $29.99
Sale Price $19.99
Your Price $19.99
You Save $10.00 33%
Your Price
What's Pre-Pub?
$19.99
Overview
Great Thinkers: Critical Studies of Minds That Shape Us is an academically, biblically, and theologically informed series that explores the leading ideas of seminal thinkers who have shaped the modern world. Writing from a Reformed perspective, the series' authors identify the most influential cultural features of each great thinker and the most apologetically effective ways to address them.
In the Logos edition, these volumes are enhanced by amazing functionality. Important terms link to dictionaries, encyclopedias, and a wealth of other resources in your digital library. Perform powerful searches to find exactly what you're looking for. Take the discussion with you using tablet and mobile apps. With Logos Bible Software, the most efficient and comprehensive research tools are in one place, so you get the most out of your study.
Key Features
Examines the contributions of key historical figures
Provides helpful explanations of their key ideas
Offers ways to engage with their ideas from a Christian perspective
Product Details
Title: Great Thinkers: Critical Studies of Minds That Shape Us (3 vols.)
Editor: Nathan D.Shannon
Series: Great Thinkers
Publisher: P&R
Volumes: 3
Pages: 496
Resource Type: Introduction
Individual Titles
One of the most important thinkers of our time, Jacques Derrida continues to have a profound influence on postmodern thought and society.
Christopher Watkin explains Derrida's complex philosophy with clarity and precision, showing not only what Derrida says about metaphysics, ethics, politics, and theology but also what assumptions and commitments underlie his positions. He then brings Derrida into conversation with Reformed theology through the lens of John 1:1–18, examining both similarities and differences between Derrida and the Bible.
Learn why Derrida says what he says and how Christians can receive and respond to his writing in a balanced, biblical way that is truly beneficial to cultural engagement.
Chris Watkin has done what I thought was impossible. He has explained Derrida's deconstruction with lucidity, brevity, and charity. Not only that: he has imagined what it would be like for Cornelius Van Til to go toe-to-toe with Derrida in a discussion about language, logic, and the Logos made flesh, all of which figure prominently in John 1:1–18. And if that were not enough, he has done it in just over a hundred pages. Readers who want to know what all the fuss over postmodernity is about would do well to consult this book.
—Kevin J. Vanhoozer, Research Professor of Systematic Theology, Trinity Evangelical Divinity School
Christopher Watkin (MPhil, PhD, Jesus College, Cambridge) researches and writes on modern and contemporary French thought, atheism, and religion.
Karl Marx is the most influential political philosopher of the past 150 years. Understanding him is essential to understanding post-WWII Europe, American foreign policy, contemporary China and North Korea, and much of the rhetoric in today's colleges and political circles in the United States.
William Dennison's concise volume highlights the key features of Marx's worldview, including several valuable insights. Dennison's critical analysis uncovers Marx's internal contradictions, examines the inherently religious nature of his anti-religious materialism, and documents the horrifying effects of his political philosophy—horrors consistent with Marx's convictions.
There are few good, concise books on Karl Marx, his philosophy, and his worldview. There are still fewer written from a biblical, Reformed perspective. This solid treatment by Bill Dennison fills an important niche. I highly recommend it.... Here we see Marx examined, at last, from the vantage of innocence, sin, grace, and God's plan versus Marx's plan. Alas, this should be how Marx is always viewed. But it has taken Bill Dennison to finally do the job. For that, we owe him a debt of gratitude.
—Paul G. Kengor, Professor of Political Science and Executive Director, Center for Vision & Values, Grove City College
William D. Dennison (MDiv, ThM, Westminster Theological Seminary; PhD, Michigan State University) is professor of interdisciplinary studies at Covenant College. He is a charter member of the Society of Christian Philosophers and the International Society of Christian Apologetics, and a fellow in apologetics at the Greystone Theological Institute.
"The prince and master of all Scholastic doctors," Thomas Aquinas has profoundly impacted thinkers both inside and outside the Roman Catholic Church for more than eight hundred years.
Scott Oliphint's unique study focuses on Aquinas's dualistic approach to the natural and revealed knowledge of God and his use of Aristotelian metaphysics. Oliphint provides a response to this methodology in the context of historic Reformed thought and the doctrines of revelation and Scripture.
Pastors, theologians, philosophers, and students will benefit from Oliphint's clear, precise, and succinct analysis—as well as from his forceful critique.
This brief study focuses appropriately on the foundational principles that control the thought of Aquinas, showing, along with its notable strengths, the deep tensions inherent in it and its incompatibility as a whole with epistemology that would be true to the self-attesting revelation of God in Scripture. This fundamental failing is brought to light especially in his related views of natural reason as neutral and natural theology. The author's treatment warrants careful consideration by all those interested in understanding Thomas and subsequent Thomist positions.
—Richard B. Gaffin Jr., Emeritus Professor of Biblical and Systematic Theology, Westminster Theological Seminary
K. Scott Oliphint (MAR, ThM, PhD, Westminster Theological Seminary) is professor of apologetics and systematic theology at Westminster Seminary in Philadelphia, the author of many books, and a world authority on the works of Cornelius Van Til.