Baker Academic New Testament Studies Bundle (57 vols.)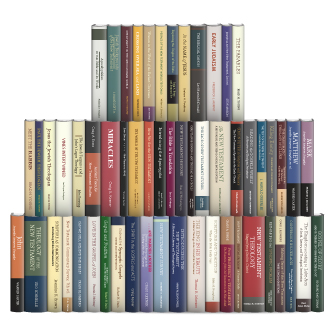 Baker Academic New Testament Studies Bundle (57 vols.)
•
Runs on Windows, Mac and mobile.
Overview
The Baker Academic New Testament Backgrounds collection brings you 57 volumes from today's finest New Testament, Greek, and Judaic scholars, including Craig S. Keener, Michael F. Bird, Graham H. Twelftree, Ben Witherington III, Bruce Metzger, and others. It provides insight into essential New Testament topics. This collection offers a look at the cultural, social, and religious contexts surrounding the Greco-Roman World, analyzes the credibility of the biblical canon, miracles, and exorcisms, and explores the lives and ministries of Christ's apostles—Simon Peter, Matthew, Mark, Luke, and John. Each volume is clear, accessible, and readable; each tackles tough, commonly debated topics; and each includes helpful resources like indexes, bibliographies, and diagrams.
Deepen your studies of the New Testament and its teachings with these volumes. Uncover the New Testament's relevance to modern Christian living. This bundle will benefit pastors, students, scholars, and laypeople interested in the most pressing topics in New Testament studies.
Whether you're a pastor, student, or layperson, the Baker Academic New Testament Studies Bundle takes you deep into biblical hermeneutics. It emphasizes the importance of studying the numerous contexts surrounding Scripture to effectively approach New Testament interpretation and to discover its contemporary theological relevance. The Logos edition of this collection is fully searchable and easily accessible. Scripture passages link directly to your preferred translation, and important theological concepts link to dictionaries, encyclopedias, and a wealth of other resources in your digital library.
Key Features
Contains insights from various New Testament scholars
Addresses skeptics' questions
Analyzes various methods of biblical interpretation
Illustrates the contemporary relevance of the New Testament
Includes glossaries, indexes, bibliographies, maps, photos, and other helpful resources