Islamic Studies Collection (34 vols.)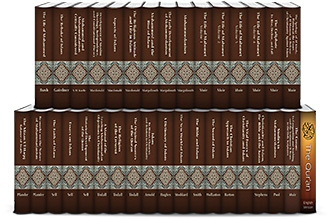 Overview
With over 1.5 billion followers worldwide, Islam is the second-largest and one of the fastest-growing religions in the world. As an aid for comparative religion studies, the Islamic Studies Collection brings together 34-volumes that provide an extensive background on the Islamic faith, its founder and prophet Muhammad, and its relation to the Bible, Jesus Christ, and Christianity. Important for apologetics and missionary work, the volumes in this collection provide:
A complete history of the life of Muhammad, including William Muir's 4-volume classic The Life of Mahomet
A detailed history of Islam
The origins and history of the Qur'an
Detailed examinations comparing the Bible and the Qur'an
Studies of the two major sects of Islam, the Shi'ites and Sunnites.
Comparison studies between Jesus Christ and Muhammad
A Dictionary of Islam for quick reference to customs, doctrines, holidays, and more
Handbooks for missionaries
In-depth examinations into Islamic doctrines
And much, much more!
With the Islamic Studies Collection (34 vols.), you will gain a greater understanding of the Islamic religion—and its relation to Christianity. Discover where the Qur'an makes references to the Old and New Testament people and events, as well as how it drastically differs from the Bible. With this collection, you will gain a better perspective and understanding of the Muslim faith and the text of the Qur'an. As a result, you can learn core Muslim doctrines and apply that knowledge in comparative studies, apologetics, and evangelism to Muslims.
Key Features
Key histories and studies on the Islamic faith
Detailed examinations of the life of Muhammad
Ideal for comparative religion studies
Both the English and the Arabic translations of the Qur'an included
Product Details
Title: Islamic Studies Collection
Volumes: 34
Pages: 10,024
Individual Titles