An English–Greek Dictionary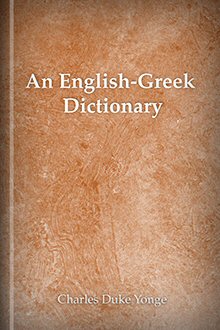 An English–Greek Dictionary
•
Runs on Windows, Mac and mobile.
$6.00
* Projected price. Future bids may change this price.
Place Your Bid!
Click on the highest price you'd pay. If the final price is lower, that's what you'll pay.
Overview
C. D. Yonge's An English–Greek Lexicon provides a copious vocabulary consisting of Greek words found in the classical works of Homer, Hesiod, Herodotus, Plato, and Aristotle. Unlike other Greek lexicons, Yonge's lexicon lets you look up an English word or phrase to get the equivalent Greek word or words meaning. For each of his listings he includes references to the sources he uses for his Greek meanings. This gives the reader the ability to go deeper into the writings of the Classical period.
The benefit of having Yonge's Dictionary in Logos is the ability to do quick searches for both English words and Greek words. Also, with the Perseus Classics Collection installed, you can quickly jump to any of the references cited by Yonge that are in the Perseus Collection, making your Bible study all the more exciting.
Key Features
Compose Greek sentences from English words and phrases
Quickly search for Greek or English words
Cross-references to Classical Greek writers
Product Details
Title: An English–Greek Lexicon
Author: Charles Duke Yonge
Publisher: Longman, Brown, Green, and Longmans
Publication Date: 1849
Pages: 536
About Charles Duke Yonge
Charles Duke Yonge was Professor of History and English Literature at Queen's College, Belfast. He was educated at Eton and at Oxford, where he graduated B.A. in 1835. He is the author of a number of manuals on Greek prose and history. He is also the translator of The Works of Philo, which is available for download.
Sample Pages from the Print Edition