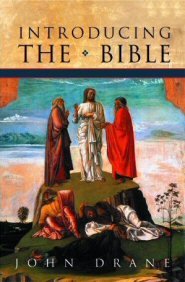 Overview
This volume is a wonderfully reader-friendly resource for the beginning student in the study of the Bible. It combines Drane's two informative and popular earlier works, Introducing the Old Testament and Introducing the New Testament. Drane writes in an accessible style, and the volume includes hundreds of illustrations—tables, charts, photos, maps, and line-drawings
With the Logos Bible Software edition of Introducing the Bible all Scripture passages are linked to your favorite Bible translation in your library. This makes this text more powerful and easier to access than ever before for scholarly work or personal Bible study. With the advanced search features of Logos Bible Software, you can perform powerful searches by topic or Scripture reference.
Key Features
Key issues that reading the Bible raises are covered in special articles concerning authorship, theology, history, literature, and the cultures of ancient Israel
Drane covers the entire Bible in this one volume
Bibliographical references are included in this resource
Praise for the Print Edition
Could not be bettered as a plain guide to the principal religious ideas of the Old Testament.
—Church Times
Those wanting a general introduction will hardly find a better one than this.
—Baptist Times
A happy combination of careful scholarship, lucid prose, appropriate illustrations and attractive layout.
—Christianity Today
Dr. Drane . . . writes with clarity, simplicity and literary grace.
—Christianity Today
A gold mine.
—Catholic Herald
Product Details
Title: Introducing the Bible
Author: John Drane
Publisher: Fortress Press
Publication Date: 2005
About John Drane
John Drane teaches Practical Theology at the University of Aberdeen in Scotland. He is also Adjunct Professor of New Testament at Fuller Theological Seminary in Pasadena, CA, and Visiting Professor at Morling College in Sydney, Australia. His other publications include Introducing the Old Testament and The Bible Phenomenon.
Sample Pages from the Print Edition
More details about these resources