Mobile Ed: CS101 Biblical Worldview and Critical Thinking (4 hour course)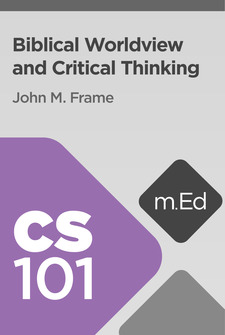 Mobile Ed: CS101 Biblical Worldview and Critical Thinking (4 hour course)
•
Runs on Windows, Mac and mobile.
Overview
In CS101 Biblical Worldview and Critical Thinking, esteemed Christian theologian and philosopher John Frame explores what it means to think like a Christian. He introduces philosophy, discusses reason and how to become a better thinker, and describes what goes into a worldview. Throughout the course, Dr. Frame emphasizes that "philosophy is a form of spiritual warfare," stressing the importance of thinking about the world in a way that reflects God.
Course Outline
Introduction
Introducing the Speaker and Course
Unit 1: Christian Philosophy and Thinking
Introducing Philosophy
Philosophy and Becoming a Better Thinker
Unit 2: Critical Thinking
Learning How to Reason
Reasoning and Persuasion
Dealing with Self-Deception
The Relationship between Reasoning and Feelings and Emotions
Unit 3: Worldview
What Is a Worldview?
God, Atheism, and Worldview
The Circular Nature of Knowledge
Presuppositions for Christian Thinking
Unit 4: Perspectival Method
Major Divisions of Philosophy
The Three Perspectives of Divine Lordship
Understanding God Perspectivally
Is Perspectivalism Relativist?
Unit 5: Metaphysics
Metaphysics: The One and the Many
Teleology
Cause, Effect, and Science
Miracles and the Supernatural
Human Mind and Body
Theistic Proofs: Is There a God?
Unit 6: Epistemology
Epistemology: Three Schools of Thought
How Do We Know What We Know?
Typical Definition of Knowledge
Radical Doubt
How Can We Know God?
Unit 7: Ethics
Ethics: Three Non-Christian Views and Biblical View
Making Value Judgments
Relationship between Metaphysics, Epistemology, and Ethics
Objections to Christian Ethics
Love: The Highest Virtue
Value and the Highest Good
Conclusion
Product Details
Title: CS101 Biblical Worldview and Critical Thinking
Instructor: John Frame
Publisher: Lexham Press
Publication Date: 2018
Product Type: Logos Mobile Education
Resource Type: Courseware, including transcripts, audio, and video resources
Courses: 1
Video Hours: 4
About John M. Frame
John M. Frame (b. 1939) is an American philosopher and a Calvinist theologian especially noted for his work in epistemology, presuppositional apologetics, systematic theology, and ethics. He is one of the foremost interpreters and critics of the thought of Cornelius Van Til. He is currently professor of systematic theology and philosophy at Reformed Theological Seminary, Orlando.
Getting the most out of Mobile Ed
Logos Mobile Education is a highly effective cross-platform learning environment that integrates world class teaching with the powerful study tools and theological libraries available in Logos Bible Software. Every course provides links to additional resources and suggested readings that supplement the lecture material at the end of every transcript segment.
This course comes with an Activities resource that functions as a type of "workbook" for the course. This resource includes learning activities such as: places for you to respond to reflection questions, exercises that will challenge and show you how deepen your understanding of this course by using specific Logos tools and resources, tutorial videos on different features of Logos Bible Software, and links to relevant Logos guides and tools. A link to open the Activities resource is conveniently placed at the end of every segment.
More details about these resources