Martin Luther's Basic Theological Writings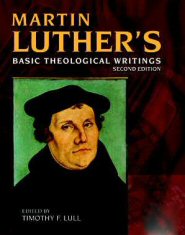 Overview
The definitive collection of Martin Luther's writings, this one-volume reader includes all of Luther's most influential work. This electronic resource includes his writings, along with historical and biographical information, links to Reformation-era graphics, and research materials, combined into a complete study tool of one of Christianity's most significant thinkers.
The best one-volume reader of Martin Luther's writings, this work has become the gold standard for use in seminary and college environments. It not only offers all of Luther's most influential, noted, and important writings in the modern translations from the American edition of Luther's Works but also includes excerpts of his sermons and letters that shed light on Luther's own religious and theological development.
Key Features
Includes bibliographical references
Foreword by Jaroslav Pelikan
Praise for the Print Edition
A superb selection of texts . . . All Christians concerned with the ecumenical dialogue will find this edition an indispensable introduction to Luther's theology.
—Francis Schüssler Fiorenza, Harvard Divinity School
Well-designed to initiate readers into the world of Luther's thought . . . college students, seminarians, pastors, and students of theology in general will get a taste of the real Luther.
—Eric Gritsch, Lutheran Theological Seminary at Gettysburg
Product Details
Title: Martin Luther's Basic Theological Writings
Editors: Timothy F. Lull and William R. Russell
Publisher: Fortress Press
Publication Date: 2005
Pages: 520
About the Editors
Timothy F. Lull was Professor of Systematic Theology and President of Pacific Lutheran Theological Seminary in Berkeley. His published works include A Common Calling and My Conversations with Martin Luther.
William R. Russell teaches Church History at the McAfee School of Theology, Mercer University, and is Visiting Scholar at the the Candler School of Theology, Emory University in Atlanta, Georgia. He translated Luther's Smalcald Articles for The Book of Concord.
Sample Pages from the Print Edition
More details about these resources