The Works of John Brown of Haddington (14 vols.)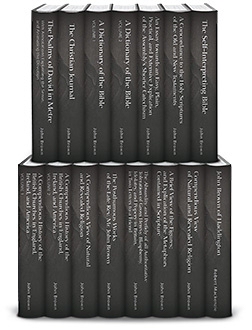 The Works of John Brown of Haddington (14 vols.)
•
Runs on Windows, Mac and mobile.
$30.00
Reg.: $149.95
Print: $508.62
* Projected price. Future bids may change this price.
Place Your Bid!
Click on the highest price you'd pay. If the final price is lower, that's what you'll pay.
Overview
John Brown of Haddington was one of Scotland's most important theological writers from the eighteenth century whose works on faith, worship, doctrine, and spirituality have had an enduring impact on the Church. The fourteen volumes in The Works of John Brown of Haddington (14 vols.) include all of Brown's major theological works, his two-volume Dictionary of the Bible (one of the first of its kind), The Self-Interpreting Bible, and his most important work: A Compendious View of Natural and Revealed Religion, also known as The Systematic Theology of John Brown.
This packed collection includes Brown's personal letters, essays, tracts, sermons, a catechism for children, a concordance of the entire Bible, and more. Also included is Robert Mackenzie's inspirational biography John Brown of Haddington.
With the Logos Bible Software edition, all Scripture passages in The Works of John Brown of Haddington (14 vols.) are tagged and appear on mouse-over. What's more, Scripture references are linked to the wealth of language resources in your Logos library. This makes these texts more powerful and easier to access than ever before for scholarly work or personal Bible study. With the advanced search features of Logos Bible Software, you can perform powerful searches by topic or Scripture reference—finding, for example, every mention of "grace" or "Psalm 19:1."
Key Features
Over 5,000 pages of John Brown of Haddington's work
Includes both The Self-Interpreting Bible and A Compendious View of Natural and Revealed Religion
Includes Robert Mackenzie's biography John Brown of Haddington
Linked to your preferred Bible
Praise for the Print Edition
He was known throughout Scotland for his piety and learning, his retired and studious habits, and his earnest desire to throw such a light on the sacred volume as should make all ordinary readers feel it to be an instructive and blessed book. It may, indeed, be said of his literary and biblical labors, as was said of his Divine Master's preaching, 'the common people heard him gladly.'
—The North British Review
Product Details
Title: The Works of John Brown of Haddington
Author: John Brown
Volumes: 14
Pages: 5,526
About John Brown
John Brown (1722–1787) was born at Carpow in the parish of Abernethy, in Pershire Scotland. Around the age of twelve, his parents died and Brown supported himself as a shepherd. After teaching himself Latin, Hebrew, and Greek, Brown would work as a schoolmaster, briefly as a volunteer soldier, and eventually would become a student of divinity in the Secession Church. He was ordained as a minister at Haddington, East Lothain, in 1751, where he remained for the rest of his life. While continuing his duties as a minister, Brown also took the position of Professor of Divinity and began to publish works to great acclaim. Brown had six children, four of whom became ministers, and one that became the provost of Haddington.