Mobile Ed: TH371 A Wesleyan View on the Sacraments (1 hour course)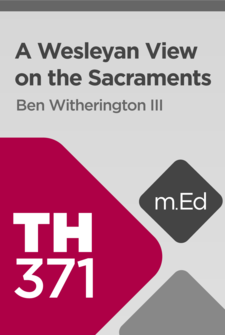 Mobile Ed: TH371 A Wesleyan View on the Sacraments (1 hour course)
•
Runs on Windows, Mac and mobile.
Overview
In this course, New Testament scholar and ordained Methodist minister Ben Witherington surveys a Wesleyan theology of the sacraments. He unpacks what John Wesley meant by the "means of grace": baptism, the Lord's Supper, and preaching. Dr. Witherington will help you think seriously and coherently about the scriptural background to these topics, the relevant historical background of the church, and the nature of the sacraments as means of grace.
Course Outline
Introducing the Speaker and the Course
A Wesleyan Orientation toward the Sacraments
Water Baptism
The Lord's Supper
Preaching
Conclusion to the Course
About Dr. Ben Witherington
Bible scholar Dr. Ben Witherington is considered one of the top evangelical scholars in the world, and is an elected member of the prestigious Studiorum Novi Testamenti Societas (SNTS), a society dedicated to New Testament studies.
Dr. Witherington is the Amos Professor of New Testament for Doctoral Studies at Asbury Theological Seminary, and on the doctoral faculty at St. Andrews University in Scotland. A graduate of UNC, Chapel Hill, he went on to receive his MDiv from Gordon-Conwell Theological Seminary and his PhD from the University of Durham in England. Dr. Witherington has also taught at Ashland Theological Seminary, Vanderbilt University, Duke Divinity School, and Gordon-Conwell Theological Seminary. A popular lecturer, Dr. Witherington has presented seminars for churches, colleges, and biblical meetings—not only in the United States, but also in England, Estonia, Russia, Europe, South Africa, Zimbabwe, and Australia. He's also led tours to Italy, Greece, Turkey, Israel, Jordan, and Egypt.
Dr. Witherington has written over 40 books, including The Jesus Quest and The Paul Quest, both of which were selected as top biblical-studies works by Christianity Today. He also writes for many church and scholarly publications, and is a frequent contributor to the Patheos website.
Along with many interviews on radio networks across the country, Dr. Witherington has been seen on the History Channel, NBC, ABC, CBS, CNN, the Discovery Channel, A&E, and the PAX network.
Getting the most out of Mobile Ed
Logos Mobile Education is a highly effective cross-platform learning environment that integrates world class teaching with the powerful study tools and theological libraries available in Logos Bible Software. Every course provides links to additional resources and suggested readings that supplement the lecture material at the end of every transcript segment.
This course comes with an Activities resource that functions as a type of "workbook" for the course. This resource includes learning activities such as: places for you to respond to reflection questions, exercises that will challenge and show you how deepen your understanding of this course by using specific Logos tools and resources, tutorial videos on different features of Logos Bible Software, and links to relevant Logos guides and tools. A link to open the Activities resource is conveniently placed at the end of every segment.
More details about these resources