Bible Study Magazine—July–August 2018 Issue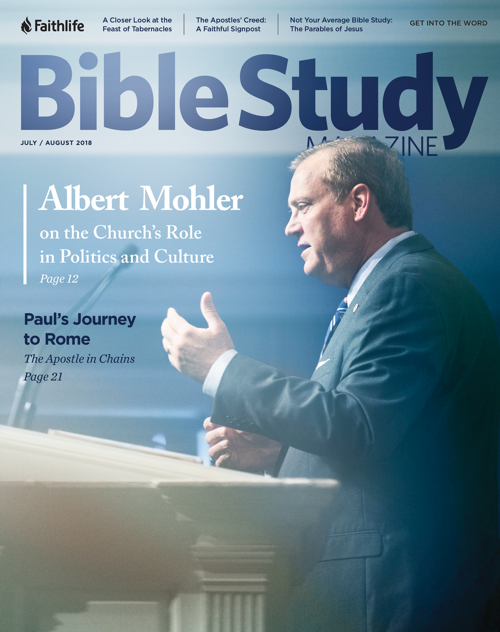 Bible Study Magazine—July–August 2018 Issue
Want more Bible Study Magazine? Subscribe today and get six issues per year for just $19.99—33% off the cover price!
Get Bible Study Magazine now by purchasing the July–August 2018 back issue for $3.95. That's 20% off the newsstand price of $4.95!
Bible Study Magazine is a print magazine (not an emagazine) published by Lexham Press. Six times a year, Bible Study Magazine delivers tools and methods for Bible study as well as insights from respected teachers, professors, historians, and archeologists.
Read pastor profiles, author interviews, and stories of individuals whose thoughtful engagement with Scripture has shaped their thinking and defined their ministries. Bible Study Magazine reveals the impact of God's Word in their lives—and the power of Scripture in yours.
There is a limited supply of back issues of the July–August 2018 Bible Study Magazine.
Feature Stories
Discover new ways to connect the Bible with your ministry and life through in-depth interviews and articles from the biggest names in the church and biblical scholarship.
Bible Study Tips
Explore the Word—thoughtful and engaging authors tackle the tough passages in Scripture, explain difficult concepts, and confront complex interpretations in a way that helps the Gospel make sense in your life.
On the Cutting Edge
Keep up to date on the latest news in biblical research, including archaeological and historical findings.
A New Kind of Bible Study
Encounter God by yourself or with other believers with an ongoing Bible study in each issue.
On Teaching
Get advice on how to preach or teach the Bible in any setting from well-known pastors and teachers who use the Bible every day.
Tool Box
Learn how to effectively use the latest Bible study tools with our how-to guides.
In the News
Keep informed about the latest news in biblically related topics, discoveries, and events.
Thoughts from the Ancients
Read the Bible together with those who have come before you, and learn from the wisdom of the early church—in its own words.
Word Studies
Get a close-up view of the Bible! Each issue contains insights about specific words found in the Bible and tutorials on how to do word studies.
If Only Someone Would Explain It to Me
Enrich your understanding of the Bible with explanations of biblical and theological concepts by top scholars.
Did You Know?
Discover interesting facts about the place of the Bible in the contemporary and the ancient world.
What They Don't Tell You in Church
See things you never noticed in biblical passages you have read dozens of times.
Biblical Humor
The funniest stories and the best comics related to the Bible, useful for any setting.
Book Reviews
Stay on top of the latest books about Bible study. Each issue contains reviews of books and commentaries to equip you in your study of God's Word.
Equipping the Church for the Mission: Albert Mohler on Christian Engagement in Politics and Culture
There was a time when Albert Mohler thought he would be a politician. As a young man, he says, "I wanted to change the world. And I thought at one point that law and politics would be the way to do it." Although Mohler went into ministry instead of politics, he never lost his passion to see society transformed. Indeed, during his 25 years as president of Southern Baptist Theological Seminary, he has become a leading voice for Christian engagement in the political sphere.
—Rebecca Van Noord
Spiritual ADD
I struggle with Attention Deficit Disorder, and I regularly get so distracted that I lose my stuff. For instance, I was recently lining up to board a flight when I noticed I no longer had my carry-on. It had the souvenirs I had purchased for my children, my laptop, and my personal journal. If I went to look for the bag, I'd likely miss my flight. While debating what to do, I thought of the time I left my passport in a taxi in Greece; and the time I left my wallet in a bagel shop in Queens; and the time in Houston when I drove away from Target with my groceries still in the shopping cart.
—Joseph R. Dodson
Rome: To the Empire and Beyond
For a long time, Paul had wanted to visit Rome (Acts 19:21; Rom 1:10–12; 15:22–24, 32). In Acts 28, he has ended up there by means other than those he had originally planned. Now that he is there, however, he continues his mission. Part of that mission is to appear before Caesar's court (Acts 27:24), but, as always, Paul continues to take every other opportunity to share Christ with everyone he can.
—Craig S. Keener
Lost in the Bible? The Apostles' Creed Provides a Faithful Signpost
The church is founded on ancient biblical teachings and practices like the Ten Commandments, baptism, the Apostles' Creed, the Lord's Supper, the Lord's Prayer, and corporate worship. These basics of the Christian life have sustained and nurtured every generation of the faithful, from the apostles to today. For centuries, new believers have been introduced to the church's teachings through the Apostles' Creed, and veteran Christians regularly recite this statement of faith to affirm their beliefs. In The Apostles' Creed: A Guide to the Ancient Catechism, Ben Myers concisely explains the creed with the help and insights of the early church. We asked Ben to tell us what he's learned about the creed and its implications for Bible study.