Mobile Ed: NT366 Book Study: Letter of 1 Peter (3 hour course)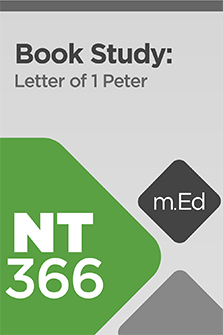 Mobile Ed: NT366 Book Study: Letter of 1 Peter (3 hour course)
•
Runs on Windows, Mac and mobile.
Overview
Join Dr. Douglas Moo in a study of the letter of 1 Peter. You'll explore the key themes of this letter, and you will examine how Peter instructed his audience to live in the face of persecution. As Dr. Moo walks you through the text, you will learn what Peter taught about maintaining faithfulness and holiness under pressure and engaging in evangelism with endurance.
Product Details
Title: NT366 Book Study: Letter of 1 Peter
Instructor: Douglas J. Moo
Publisher: Lexham Press
Publication Date: 2018
Product Type: Logos Mobile Education
Resource Type: Courseware, including transcripts, audio, and video resources
Courses: 1
Video Hours: 3
About the Instructor
Dr. Douglas J. Moo, professor of New Testament, teaches at Wheaton College in Wheaton, Illinois. For over twenty years, his ministry was based at Trinity Evangelical Divinity School in Deerfield, Illinois. His academic interests revolve around the interface of exegesis and theology.
Dr. Moo seeks to model to students a rigorous approach to the Greek text that always asks the "so what" questions of ultimate significance and application. The Pauline and General Letters have been his special focus within the NT canon. In the next few years, he will be writing commentaries on Galatians and Hebrews, a Pauline theology, and a theological and practical book on creation care.
He has also been active in his local church, serving as elder most years, teaching and preaching to the church, and conducting home Bible studies. Also very rewarding has been his service on the Committee on Bible Translation, the group of scholars charged with revising the text of the NIV and with producing the TNIV.
He and his wife, Jenny, have five grown children.
Getting the most out of Mobile Ed
Logos Mobile Education is a highly effective cross-platform learning environment that integrates world class teaching with the powerful study tools and theological libraries available in Logos Bible Software. Every course provides links to additional resources and suggested readings that supplement the lecture material at the end of every transcript segment.
This course comes with an Activities resource that functions as a type of "workbook" for the course. This resource includes learning activities such as: places for you to respond to reflection questions, exercises that will challenge and show you how deepen your understanding of this course by using specific Logos tools and resources, tutorial videos on different features of Logos Bible Software, and links to relevant Logos guides and tools. A link to open the Activities resource is conveniently placed at the end of every segment.
More details about these resources