Interpreting Scripture with the Great Tradition: Recovering the Genius of Premodern Exegesis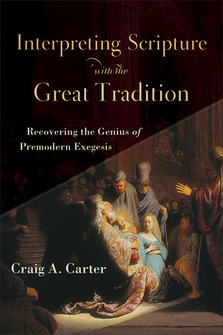 Interpreting Scripture with the Great Tradition: Recovering the Genius of Premodern Exegesis
•
Baker 2018
Runs on Windows, Mac and mobile.
Your Custom Discount
Reg. Price $27.99
Sale Price $23.99
Your Price $23.99
You Save $4.00 14%
Your Price
What's Pre-Pub?
$23.99
Overview
The rise of modernity, especially the European Enlightenment and its aftermath, has negatively impacted the way we understand the nature and interpretation of Christian Scripture. In this introduction to biblical interpretation, Craig Carter evaluates the problems of post-Enlightenment hermeneutics and offers an alternative approach: exegesis in harmony with the Great Tradition of Christian interpretation. Addressing the growing gulf between academic hermeneutics and the preaching ministry of the church, Carter proposes major reforms to our theory of biblical interpretation in order to bring our theory into line with our practice. He argues for the validity of patristic christological exegesis, showing that we must recover the Nicene theological tradition as the context for contemporary exegesis, and seeks to root both the nature and interpretation of Scripture firmly in trinitarian orthodoxy.
Interpreting Scripture with the Great Tradition will be useful in hermeneutics, biblical interpretation, and theology courses.
In the Logos edition, this volume is enhanced by amazing functionality. Important terms link to dictionaries, encyclopedias, and a wealth of other resources in your digital library. Perform powerful searches to find exactly what you're looking for. Take the discussion with you using tablet and mobile apps. With Logos Bible Software, the most efficient and comprehensive research tools are in one place, so you get the most out of your study.
Key Features
Addresses problems of contemporary Bible interpretation
Bridges the gap between hermeneutic theories and practice
Proposes a recovery of the classical interpretation of Scripture
Contents
Who is the Suffering Servant? The Crisis in Contemporary Hermeneutics
Part 1: Theological Hermeneutics
Toward a Theology of Scripture
The Theological Metaphysics of the Great Tradition
The History of Biblical Interpretation Reconsidered
Part 2: Recovering Premodern Exegesis
Reading the Bible as a Unity Centered on Jesus Christ
Letting the Literal Sense Control All Meaning
Seeing and Hearing Christ in the Old Testament
The Identity of the Suffering Servant Revisited
Praise for the Print Edition
The rediscovery and celebration of patristic exegesis continues apace and across a wide ecumenical spectrum. Craig Carter offers here a robust, readable, and bracing defense of a fundamental truth: patristic exegesis offers not only a 'method' for reading but a theology of Scripture. Following this insight Carter develops a theology of Scripture rooted deeply in the Nicene doctrine of God and poses a stark challenge to all who would separate the reading of the text from our theological confession.
—Lewis Ayres, professor of Catholic and historical theology, Durham University
This book is both highly relevant and disturbing, as prophetic words often are. Carter gives a critical assessment of the problems besetting hermeneutics in the twenty-first century in biblical studies departments, including the seminary. He argues that such study has left the father's home of rich exegetical tradition (the fathers, the creeds, the Reformers), where it had feasted on the banquet of Scripture, and has wandered off into a barren wasteland of historical criticism, where it dines on the bones, fragments, and husks of the 'assured results' of scholarly study. Carter warns that the recent discipline of theological interpretation will not accomplish a return to the father's house unless it has the right metaphysical equipment. This book is brilliant, incisive, prophetic, witty, extremely well written (I could hardly put it down), and desperately needed. I heartily recommend it!
—Stephen Dempster, professor of religious studies, Crandall University
Every academic in the fields of Bible and theology needs to read this book. So many books attempt too little and say even less. This one swings for the fences and hits a home run.
—James M. Hamilton Jr., professor of biblical theology, Southern Baptist Theological Seminary
Product Details
Title: Interpreting Scripture with the Great Tradition: Recovering the Genius of Premodern Exegesis
Author: Craig A. Carter
Publisher: Baker
Publication Date: 2018
Pages: 304
Resource Type: Monograph
About Craig A. Carter
Craig A. Carter (PhD, University of St. Michael's College) is professor of theology at Tyndale University College and Seminary in Toronto, Ontario. He previously served as vice president and academic dean at Crandall University and at Tyndale University College. He has written numerous articles and is the author of Rethinking "Christ and Culture": A Post-Christendom Perspective.
Sample Pages from the Print Edition