Fathers of the Church: St. Jerome (6 vols.)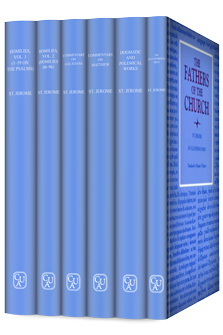 Overview
During his lengthy ministry, Jerome produced a body of work often referred to as the finest example of Early Church scholarship. This collection is composed of his commentaries on two New Testament books, various writings on theology, his teaching on the Psalms, and many biographies that give modern readers a glimpse into the life of the ancient Church. These writings have provided countless Christians guidance and a trustworthy example for following God in any circumstance. They are still highly useful to guide and define an orthodox and God-honoring way of living today.
In Logos, these works become the backbone of any study on the early church. Links to the patristic writings of the Early Church Fathers will bring you right to the source—to the very quote—allowing you to see instant context. Footnotes appear on mouseover, as well as references to Scripture and extra-biblical material in your library, and you can perform near-instant searches across these volumes, searching for references to keywords or Scripture passages.
Key Features
Allows readers opportunity to delve into the thinking of Jerome on a variety of important topics
Contains teaching delivered in written and spoken form
Reveals the depth of knowledge of Jerome regarding biblical Greek via his commentaries
Individual Titles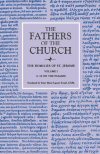 Homilies, vol. 1 (1–59 on the Psalms)
Author: Saint Jerome
Translator: Marie Ligouri Ewald
Series: Fathers of the Church
Publisher: Catholic University of America Press
Publication Date: 1965
Pages: 450
This volume contains 59 homilies preached by St. Jerome on selected Psalms. Jerome's knowledge of the "three Sacred Languages," Latin, Greek and Hebrew, his acquaintance with the exegetical methods of Antioch and Alexandria, his use of Origen's Hexapla and his work on the Psalter are impressive credentials for the quality of these works.
As far as can be determined now these homilies were intended primarily for the instruction and edification of the monastic community that Jerome had established in Bethlehem where he spent the closing years of his life. They were recorded by scribes in the audience, and consequently the text may at times reflect the inadequacies of the listener.
Whether all the homilies that appear here are extemporaneous products of Jerome's vast erudition and eloquence is a question that still awaits a satisfactory answer. Some scholars believe that an affirmative answer is correct, others citing the evidence of Homily 69 on Psalm 91, think that the content of some homilies is too deeply theological to be an impromptu composition. In any event, some patristic scholars have been bold enough to declare Jerome the most learned Latin Father of the Church.

Homilies, vol. 2 (Homilies 60–96)
Author: Saint Jerome
Translator: Marie Ligouri Ewald
Series: Fathers of the Church
Publisher: Catholic University of America Press
Publication Date: 1966
Pages: 305
This volume of the Homilies of Saint Jerome contains fifteen homilies on Saint Mark's Gospel, Homilies 75–84. In general, as in volume 1, Morin's text has been followed as reproduced in the Corpus Christianorum, series latina 78.
The editors of the Corpus have added two homilies, one delivered on the Feast of the Epiphany from the Gospel of our Lord's baptism and on Psalm 28, edited by B. Capelle; the other on the First Sunday of Lent, edited by I. Fraipont. In the present volume, they are Homilies 89 and 90.
Dom Germain Morin, as noted in the Introduction of Volume 1 of this translation, discovered fourteen homilies, providing a second series on the Psalms, in four Italian Codices dating from the tenth and fifteenth centuries. He examined with great care their probable identity with, or relationship to, the lost homilies of Saint Jerome catalogues in De viris illustribus "on the Psalms, from the tenth to the sixteenth, seven homilies." There is more work to be done and many problems to be resolved, however, before this identification can be established with certitude. This chief obstacle is that of chronology. The De viris illustibus was written in all probability in 392–393, whereas the homilies appear to have been written in 402, the date determined by the study of Dom Morin. Other scholars, as U. Moricca, A. Penna, G. Grützmacher, give 394 and 413 as the earliest and latest dates, respectively, for all the homilies.
There is question also whether the Septuagint or the Hebrew Psalter was in the hands of Jerome when he wrote or preached the homilies on Psalms 10 and 15. They seem, in fact, to have been written rather than delivered, for he speaks of readers rather than hearers. They differ from the regular series of sermons in their greater erudition, more sophisticated language, many Greek expressions, and variations from the Hexapla. The closing doxology so characteristic of the other sermons is missing in them. They are much longer, and Jerome speaks of certain details as if he had already explained them. On the whole, they give evidence, too, of greater care in preparation.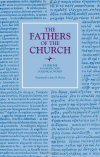 Dogmatic and Polemical Works
Author: Saint Jerome
Translator: John N. Hritzu
Series: Fathers of the Church
Publisher: Catholic University of America Press
Publication Date: 1965
Pages: 422
St. Jerome's reputation rests primarily on his achievements as a translator and as a scriptural exegete. The important service that he rendered to the Church in his doctrinal works is often overlooked or minimized by those who look for originality and independence of thought. St. Jerome was not a theologian in the strict sense of the word. He was no original thinker, and he never abandoned himself to personal meditation of dogma as St. Augustine did. Although he kept strictly to what he found in tradition, the importance of his doctrinal authority is not thereby lessened.
After spending twelve years of his early life at his native Stridon, he was sent to Rome in the year 359 to finish his literary studies. For the next eight years, from 359 to 367, St. Jerome studied very diligently grammar, the humanities, rhetoric, and dialectics. He also took a passionate interest in the Greek and Latin classics, in the philosophers and poets, and especially in the satirists and comic poets. These studies, it seems, tended not to soften, but to exaggerate the temperament of St. Jerome who was by nature irascible and impulsive, and sensitive to criticism and contradiction. The reading in the satirists and the comic poets developed in him a taste for caricature and a penchant for making damaging allusions. Moreover, the trials before the Roman tribunes, which he attended eagerly, and wherein the advocates indulged in mutual personal invective, further developed in him the art and science of polemics which he was to employ so effectively and skillfully in the controversies which were to engage his attention seriously.
St. Jerome stressed the fact that the Church must always be regarded as the supreme rule and decisive standard of the Christian faith; and that that Church gives the true sense of the Scriptures, and is representative of tradition. It was owing to this firm conviction on the part of St. Jerome that the years of his later life were consumed in endless conflicts with the enemies of the Church. St. Jerome never spared heretics, but always saw it that the enemies of the Church were his own enemies. His encounter with the Sabellians was St. Jerome's first quarrel with an enemy of the Church. He gave notice early in his life that he would be a staunch protector of the doctrinal authority of the Church, and that he stood ready to attack any and all heresies that raised their heads against the Catholic faith.
On Illustrious Men
Author: Saint Jerome
Translator: Thomas P. Halton
Series: Fathers of the Church
Publisher: Catholic University of America Press
Publication Date: 2000
Pages: 150
Often cited as a source of biographical information on ancient Christian authors, On Illustrious Men provides St. Jerome's personal evaluations of his forebears and contemporaries, as well as catalogs of patristic writings known to him. Heterodox writers and certain respected non-Christians (Seneca, Josephus, and Philo) are included in this parade of luminaries, which begins with the apostles and concludes with St. Jerome himself and a list of his own works prior to 393, the year in which On Illustrious Men was composed.
St. Jerome produced this work in his monastery at Bethlehem, to which he had retreated after his precipitous exit from Roman ecclesiastical politics. He had, however, maintained correspondences with several of his former associates, such as Dexter (the son of Pacian, bishop of Barcelona), to whom he addressed the work. Relying heavily on Eusebius's Ecclesiastical History, St. Jerome attempts to demonstrate the erudition and nobility of character which render Christianity immune to the criticisms of its cultured despisers.
Since this work can be regarded as the patrology textbook of its day, its translator, Thomas P. Halton, has continued St. Jerome's mission by compiling bibliographical data on recent editions, translations, and studies of ancient writings mentioned in On Illustrious Men. Extensive footnote material and appendices furnish a wealth of information useful for patristic research. In addition, an index to all of the Fathers of the Church volumes published to date, listed by individual authors, appears in this, the hundredth volume of the series.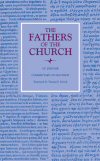 Commentary on Matthew
Author: Saint Jerome
Translator: Thomas P. Scheck
Series: Fathers of the Church
Publisher: Catholic University of America Press
Publication Date: 2008
Pages: 363
St. Jerome (347–420) has been considered the pre-eminent scriptural commentator among the Latin Church Fathers. His Commentary on Matthew, written in 398 and profoundly influential in the West, appears here for the first time in English translation. Jerome covers the entire text of Matthew's gospel by means of brief explanatory comments that clarify the text literally and historically. Although he himself resided in Palestine for forty years, Jerome often relies on Origen and Josephus for local information and traditions. His stated aim is to offer a streamlined and concise exegesis that avoids excessive spiritual interpretation.
Jerome depends on the works of a series of antecedent commentators, both Greek and Latin, the most important of whom is Origen, yet he avoids the extremes in Origen's allegorical interpretations. His polemic against theological opponents is a prominent thrust of his exegetical comments. The Arians, the Gnostics, and the Helvidians are among his most important targets. Against Arius, Jerome stresses that the Son did not lack omniscience. Against Marcion and Mani, Jerome holds that Jesus was a real human being, with flesh and bones, and that men become sons of God by their own free choice, not by the nature with which they are born. Against Helvidius, Jerome defends the perpetual virginity of Mary.
In this commentary, Jerome calls attention to the activity of the Trinity as a principal unifying theme of the Gospel of Matthew. He also stresses that exertions are necessary for the Christian to attain eternal salvation; that free will is a reality; that human beings cooperate with divine grace; and that it is possible to obtain merit during the earthly life.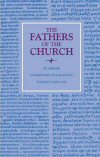 Commentary on Galatians
Author: Saint Jerome
Translator: Andrew Cain
Series: Fathers of the Church
Publisher: Catholic University of America Press
Publication Date: 2010
Pages: 308
Prior to the middle of the fourth century, the exegesis of St. Paul had been monopolized by Greek and Syriac commentators. Then, in the space of half a century (c. 360–409), there appeared no less than 52 commentaries by six different Latin authors. This sudden flurry of literary activity has been dubbed the western "Renaissance of Paul." Jerome's commentaries on four Pauline epistles (Galatians, Ephesians, Titus, Philemon), which he composed in 386 shortly after establishing himself in Bethlehem, occupy a central place in this relatively short but prolific segment of the history of Pauline exegesis in Latin.
Jerome was the greatest biblical scholar of the ancient Latin church, and his Commentary on Galatians is one of the crowning achievements of his illustrious career. It far outclasses the five other contemporary Latin commentaries on Galatians in its breadth of classical and patristic erudition, Hebrew and Greek textual criticism of the Bible, and expository thoroughness. It is unique also because it is the only one of the Latin commentaries to make the Greek exegetical tradition its main point of reference. Jerome's Commentary in fact preserves, in one form or another, a treasure-trove of otherwise lost Greek exegesis, particularly Origen's Commentary on Galatians, from which he worked very closely when composing his own work.
Jerome's Commentary on Galatians is presented here in English translation in its entirety. The introduction and notes situate the Commentary in its historical, exegetical, and theological contexts and also provide extensive coverage of ancient and modern scholarly debates about the interpretation of Paul's epistle.
About St. Jerome
St. Jerome (c. 347–30 September 420) (formerly Saint Hierom) was an Illyrian Catholic priest and apologist.
More details about these resources