IVP Spirituality Collection (2 vols.)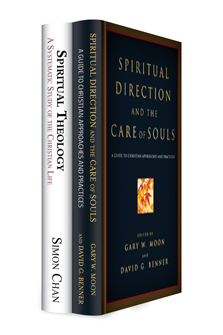 Overview
Spirituality is traditionally presented as a concept and practice that is far less formal and more practical than other domains of theology. The IVP Spirituality Collection brings together the practical and the academic sides of spiritual theology in a manner that is informative and insightful. By relating the spiritual practices of the Christian tradition to counseling and mental health and integrating spirituality into the larger domain of Christian theology, these volumes can contribute new appreciation for every reader.
In the Logos edition, these volumes are enhanced by amazing functionality. Important terms link to dictionaries, encyclopedias, and a wealth of other resources in your digital library. Perform powerful searches to find exactly what you're looking for. Take the discussion with you using tablet and mobile apps. With Logos Bible Software, the most efficient and comprehensive research tools are in one place, so you get the most out of your study.
Key Features
Applies the spiritual practices of the Christian tradition to counseling and mental health
Introduces striking insight into the relationship between Christian theology and Christian practice
Presents refreshing alternatives to modern psychology and medicine for pastoral case
Individual Titles
In recent years, many Christian clergy, laity and mental health professionals have rediscovered the ancient practices of spiritual direction. Seen as a refreshing alternative to the techniques and limitations of modern psychology, such practices offer new insights for pastoral care. But many remain unclear on what spiritual direction is and whether its methods are applicable to their own clients and parishioners.
Spiritual direction is a practice of Christian soul care that is found most notably in the Catholic, Orthodox and Episcopal traditions but is also present in Wesleyan/Holiness, Pentecostal/charismatic, social justice and Reformed communities. Predating modern counseling and psychotherapy movements but sharing key principles and insights for spiritual formation, spiritual direction offers significant resources for today's pastors, counselors, therapists, chaplains and other caregivers attuned to the work of God in people's lives.
In this landmark volume, editors Gary W. Moon and David G. Benner, along with a team of expert contributors, provide a comprehensive survey of spiritual direction in its myriad Christian forms. Specific chapters offer careful historical perspective and contemporary analysis of how Christians from various backgrounds have practiced spiritual direction, with particular attention to each tradition's definition of spiritual direction, the process of authentic transformation, the role of the spiritual director, indicators of mature spirituality and other aspects of the spiritual direction process. Chapters also provide psychological and clinical insight into how spiritual direction is similar to, different from and can be integrated with psychotherapy and pastoral counseling to help others experience spiritual transformation and union with God.
The variety of insightful authors brought together by the editors of this book offer the reader a unique and valuable perspective on the ways eight different Christian traditions understand and practice spiritual companionship, as well as elucidating the relation of this historic spiritual practice to modern pastoral counseling and psychotherapy. The book offers a distinctive contribution to the growing literature on this vital subject.
—The Rev. Dr. Tilden Edwards, Founder and Senior Fellow, Shalem Institute for Spiritual Formation, Bethesda, Maryland
Gary W. Moon (PhD, Fuller Theological Seminary) is director of the Martin Family Institute and Dallas Willard Center for Christian Spiritual Formation at Westmont College in Santa Barbara, California. He is also codirector of Fuller's doctor of ministry degree program in spiritual direction, which blends ancient Christian spirituality, Ignatian spirituality, and spiritual formation insights from Dallas Willard.
David G. Benner (PhD, York University) is an internationally known depth psychologist, transformational coach, and author whose life passion has been helping people walk the human path in a deeply spiritual way and the spiritual path in a deeply human way. Some of his books include Presence and Encounter, Spirituality and the Awakening Self, Sacred Companions, and Soulful Spirituality.
Theology is "the doctrine of living unto God," wrote the Puritan theologian William Ames. Unfortunately, post-Enlightenment theology has tended to divorce "doctrine" from "living unto God." And to the degree that this split has been deepened and perpetuated, both theology and spirituality have been impoverished.
Spiritual Theology is a rare book. In it, Simon Chan surveys the little-explored landscape where systematic theology and godly praxis meet, highlighting the connections between Christian doctrine and Christian living and drawing out the spiritual implications of particular aspects of systematic theology. Allowing rational formulations to drop into the background, he brings the mystery of the faith to the fore.
Chan begins with the principal doctrines of God, sin, salvation and the church. He then progresses to a reflective consideration of the practice of the spiritual life, from prayer to spiritual direction. Unabashedly evangelical and truly ecumenical, Chan grounds his exploration in the sources of the Protestant, Catholic and Orthodox traditions. His work is well abreast of contemporary theological currents and cross-culturally conversant from an Asian perspective. Spiritual Theology is a book for those who care deeply about theology and spirituality and strive to integrate the two. It is well worth careful reflection and prayerful reading.
Simon Chan (PhD, Cambridge) is Earnest Lau Professor of Systematic Theology at Trinity Theological College in Singapore. He is the author of Man and Sin, Pentecostal Theology and the Christian Spiritual Tradition, Spiritual Theology: A Systematic Study of the Christian Life, and Liturgical Theology: The Church as Worshiping Community. He is also the associate editor of the Global Dictionary of Theology and the Dictionary of Mission Theology.
More details about these resources