IVP Global Theology Collection (2 vols.)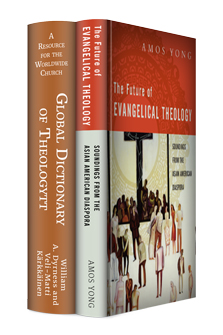 IVP Global Theology Collection (2 vols.)
•
IVP 2009–2014
Runs on Windows, Mac and mobile.
Your Custom Discount
Reg. Price $52.99
Sale Price $32.99
Your Price $32.99
You Save $20.00 37%
Your Price
What's Pre-Pub?
$32.99
Overview
The IVP Global Theology Collection is inspired by the shift of the center of Christianity from the West to the Global South. But it also reflects the increase in two-way traffic between these two sectors as well as the global awareness that has permeated popular culture to an unprecedented degree.
The two volumes included here introduce the reader to the dramatic shift that Evangelicalism is experiencing toward the Global South. They adopt what some might consider a controversial perspective, engaging in a much larger theological conversation where differing views are not only expected, but encouraged. Representing a wide spectrum of theological perspectives from around the world, this collection lays out the grand diversity of the global Church in a manner that celebrates the New Testament's vision of the New Earth.
In the Logos edition, these volumes are enhanced by amazing functionality. Important terms link to dictionaries, encyclopedias, and a wealth of other resources in your digital library. Perform powerful searches to find exactly what you're looking for. Take the discussion with you using tablet and mobile apps. With Logos Bible Software, the most efficient and comprehensive research tools are in one place, so you get the most out of your study.
Key Features
Includes a diverse set of contributors from around the world
Emphasizes the multiplicity theological traditions in the Global Church
Presents a vision for what Evangelicalism will look like in the future
Individual Titles
Theological dictionaries are foundational to any theological library. But until now there has been no Global Dictionary of Theology, a theological dictionary that presumes the contribution of the Western tradition but moves beyond it to embrace and explore a full range of global expressions of theology.
The editorial perspective of the Global Dictionary of Theology is an ecumenical evangelicalism that is receptive to discovering new facets of truth through listening and conversation on a global scale. Thus a distinctive feature of the Global Dictionary of Theology is its conversational approach. Contributors have been called on to write in the spirit of engaging in a larger theological conversation in which alternative views are expected and invited.
Pastors, theological teachers, theological students and lay Christian leaders will all find the Global Dictionary of Theology to be a resource that unfolds new dimensions and reveals new panoramas of theological perspective and inquiry. Here is a new launching point for doing theology in today's global context.
This dictionary represents an excellent survey of the current state of Christian theology, and moreover supplies a sound basis for thinking about coming changes in the shape of the Christian world.
—Philip Jenkins, Edwin Erle Sparks Professor of Humanities, Pennsylvania State University
William A. Dyrness (DTheol, University of Strasbourg; Doctorandus, Free University) is professor of theology and culture at Fuller Theological Seminary. He is the author of many books, including Modern Art and the Life of a Culture (with Jonathan Anderson), Senses of the Soul: Art and the Visual in Christian Worship, Reformed Theology and Visual Culture, Changing the Mind of Missions (with James Engel), Theology Without Borders (with Oscar Garcia-Johnson), and was a general editor of the Global Dictionary of Theology.
Veli-Matti Käkkäinen as published numerous articles in international journals of theology. His books include Pneumatology (Baker), Christology (Baker), Toward a Pneumatological Theology (UPA), An Introduction to Ecclesiology (InterVarsity Press), Trinity and Religious Pluralism (Ashgate), The Doctrine of God (Baker), and One with God (Liturgical Press).
No longer does world Christianity converge in the Euro-American West—there has been a dramatic shift to the Global South, providing the occasion for a fresh consideration of the future of evangelical theology. Drawing on the day of Pentecost narrative, Amos Yong puts forward a bold proposal for a pentecostal-evangelical theology informed by the particular experiences and perspectives of Asian Americans.
The outpouring of Christ's Spirit upon all flesh means that the evangelical church has to attend to the multiplicity of voices and contexts that shape the global theological conversation. Evangelical theology, Yong argues, is necessarily contextual theology, though in a way that does not sacrifice the gospel's universality.
The Future of Evangelical Theology is a programmatic vision for theology that pays attention to the realities of gender, race, migration, economics, justice and politics. What emerges is a theology situated within a pentecostal Asian American context that bears on the future of the whole church.
What can Asian American 'pent-evangelicals' offer the church? Dr. Yong argues for an Asian American theology and vision of the church that takes seriously the transcendent claims of evangelical theology, the global thrust of Pentecostal mission and the immanent claims of the gospel mediated through local culture. This is a book that every Asian American Christian, evangelical and/or Pentecostal or not, will find profound, and that all Christians who recognize the hybrid nature of culture must read.
—Sharon Tan, United Theological Seminary of the Twin Cities
Amos Yong (PhD, Boston University) is professor of theology and mission and director of the Center for Missiological Research at Fuller Theological Seminary in Pasadena, California. He is the author or editor of over two dozen books, including Spirit of Love: A Trinitarian Theology of Grace, Afro-Pentecostalism: Black Pentecostal and Charismatic Christianity in History and Culture (coedited with Estrelda Alexander), Science and the Spirit: A Pentecostal Engagement with the Sciences (coedited with James K. A. Smith), and The Spirit Poured Out on All Flesh: Pentecostalism and the Possibility of Global Theology.