Bible Study Magazine—May–June 2018 Issue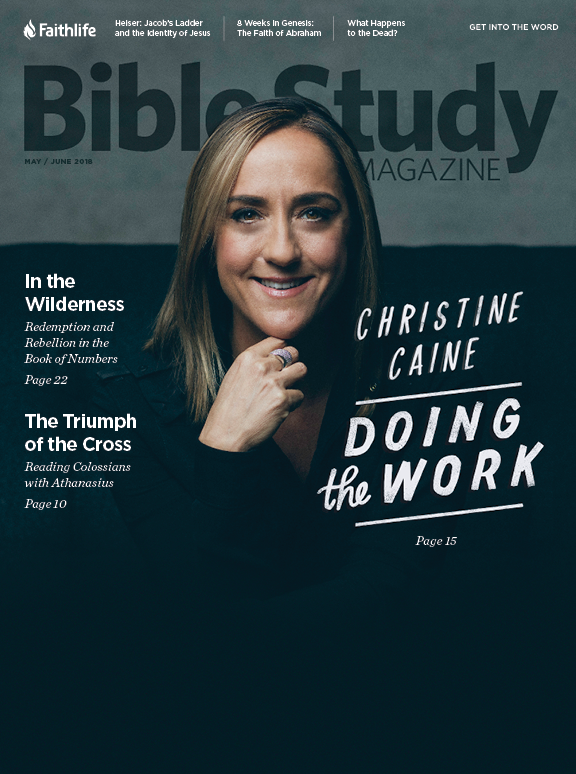 Bible Study Magazine—May–June 2018 Issue
Want more Bible Study Magazine? Subscribe today and get six issues per year for just $19.99—33% off the cover price!
Get Bible Study Magazine now by purchasing the May–June 2018 back issue for $3.95. That's 20% off the newsstand price of $4.95!
Bible Study Magazine is a print magazine (not an emagazine) published by Lexham Press. Six times a year, Bible Study Magazine delivers tools and methods for Bible study as well as insights from respected teachers, professors, historians, and archeologists.
Read pastor profiles, author interviews, and stories of individuals whose thoughtful engagement with Scripture has shaped their thinking and defined their ministries. Bible Study Magazine reveals the impact of God's Word in their lives—and the power of Scripture in yours.
There is a limited supply of back issues of the May–June 2018 Bible Study Magazine.
Feature Stories
Discover new ways to connect the Bible with your ministry and life through in-depth interviews and articles from the biggest names in the church and biblical scholarship.
Bible Study Tips
Explore the Word—thoughtful and engaging authors tackle the tough passages in Scripture, explain difficult concepts, and confront complex interpretations in a way that helps the Gospel make sense in your life.
On the Cutting Edge
Keep up to date on the latest news in biblical research, including archaeological and historical findings.
A New Kind of Bible Study
Encounter God by yourself or with other believers with an ongoing Bible study in each issue.
On Teaching
Get advice on how to preach or teach the Bible in any setting from well-known pastors and teachers who use the Bible every day.
Tool Box
Learn how to effectively use the latest Bible study tools with our how-to guides.
In the News
Keep informed about the latest news in biblically related topics, discoveries, and events.
Thoughts from the Ancients
Read the Bible together with those who have come before you, and learn from the wisdom of the early church—in its own words.
Word Studies
Get a close-up view of the Bible! Each issue contains insights about specific words found in the Bible and tutorials on how to do word studies.
If Only Someone Would Explain It to Me
Enrich your understanding of the Bible with explanations of biblical and theological concepts by top scholars.
Did You Know?
Discover interesting facts about the place of the Bible in the contemporary and the ancient world.
What They Don't Tell You in Church
See things you never noticed in biblical passages you have read dozens of times.
Biblical Humor
The funniest stories and the best comics related to the Bible, useful for any setting.
Book Reviews
Stay on top of the latest books about Bible study. Each issue contains reviews of books and commentaries to equip you in your study of God's Word.
Christine Caine: Doing the Work
Christine Caine grew up revering the Bible, and even kissing the Bible, but never reading it for herself. In her family's Greek Orthodox tradition, reading the Bible was reserved for priests. When Caine—an excited new follower of Jesus at age 22—came home with a Bible, her mother was mortified. "Christine, who do you think you are?" her mother exclaimed. "You're being brainwashed!" Today, Caine recalls her response with crystal clarity: "Yes, Mum, this word is brainwashing me. It is literally washing my brain, and I want to be brainwashed."
—Bronwyn Lea
Dealing With Unintentional Sin: Sacrifice and Grace in Numbers 15
"But I didn't mean to do it!" We have all heard something like this, right? I have two kids, ages 4 and 7, so I hear this line about every other day. Sure, my kids may not necessarily harbor any malicious or consciously defiant intent, but they make mistakes. And when they do, regardless of whether they meant to misbehave, things need to be set right.
—David B. Schreiner
What Happens to the Dead?
Can Aunt Hayley see me?" my 5-year-old, Emma, asks one afternoon. "I think Hayley's watching over me." Aunt Hayley passed away two years before Emma was born. Her question reveals a conflation of pop-culture depictions of the dead, her young Christian imagination, and her own experience with death. Death is a frequent topic in our home. At times, I wonder if we're too comfortable talking about death, if others would find us morbid—like the Christian Addams Family, or something. But death has been a part of our story, and my wife and I believe not talking about it would do more harm than being open and honest. So we do our best.
—Ryan J. Pemberton
Showdown in the Desert: Moses, Korah, and the Holiness of God's People
Sticks and stones will break my bones—and how your words will hurt me! Yes, the adage says "words will never hurt me." The problem is that the adage doesn't tell the truth; it simply attempts to mask the fact that harmful words do hurt. In a world of "fake news" and online "haters," Numbers 16 has insight for our world today. Korah and others with him rebel against Moses and Aaron, and this chapter narrates God's vindication of leaders who serve with faithful obedience toward the full flourishing of God's holy people.
—Joey Dodson