Honey from the Rock: Daily Devotions from Young Kuyper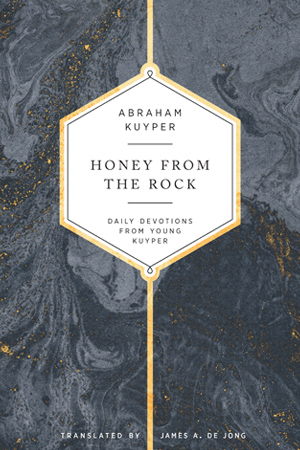 Honey from the Rock: Daily Devotions from Young Kuyper
•
Runs on Windows, Mac and mobile.
An Unseen Side of Kuyper
Communion with the Lord is sweeter than honey.
In his meditations, Abraham Kuyper reveals a side of himself rarely seen in his well-known theological writings. First published in 1880 and 1883 and never before translated in English, the devotions in Honey from the Rock were written for the nourishment and health of his soul. Rather than the public figure and theologian, we see a man thirsting and hungering for God's presence. Modern readers entering this sacred space will be spiritually renewed, restored, and replenished by the light of God's Word, before returning to our daily callings. James De Jong introduces these powerful devotions from Kuyper.
Product Details
Title: Honey from the Rock: Daily Devotions from Young Kuyper
Author: Abraham Kuyper
Translator: James A. De Jong
Publisher: Lexham Press
Publication Date: 2018
Pages: 600
Format: Logos Digital, Hardcover
Trim Size: 7x10
ISBN: 9781683592341
About Abraham Kuyper
Abraham Kuyper (1837–1920) was one of the most extraordinary individuals of his time. A prolific intellectual and theologian, he founded the Free University in Amsterdam and was instrumental in the development of Neo-Calvinism. He was also an active politician, serving as a member of Parliament in the Netherlands beginning in 1874 and serving as Prime Minister from 1901 to 1905.
At this intersection of church and state, he devoted much of his writing towards developing a public theology. His passion was to faithfully understand and engage culture through a Christian worldview. The most famous example is his articulation of the doctrine of common grace. His work has influenced countless others, including Francis Schaeffer, Cornelius Van Til, and Alvin Plantinga.
About James A. De Jong
James A. De Jong, retired president of Calvin Theological Seminary, graduated from Calvin (BA and BD) and the Free University of Amsterdam (ThD). He is widely published in the history of Reformed theology and history of missions. He has taught on the undergraduate and graduate levels and has lectured globally.