Theologisches Wörterbuch zum Neuen Testament (ThWNT) (Kittel) (10 Bde.)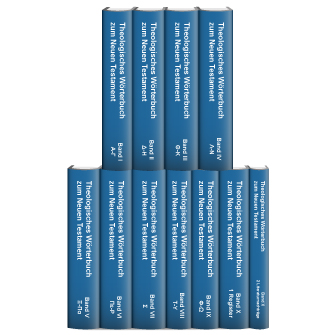 Theologisches Wörterbuch zum Neuen Testament (ThWNT) (Kittel) (10 Bde.)
•
Runs on Windows, Mac and mobile.
Your Custom Discount
Reg. Price $649.99
Sale Price $499.99
Your Price $499.99
You Save $150.00 23%
Your Price
What's Pre-Pub?
$499.99
Überblick
Der Klassiker nun erstmals digital verfügbar! Das Theologische Wörterbuch zum Neuen Testament ist ein grundlegendes Werk für die Exegese des Neuen Testaments. Es gilt als ein exegetisches Jahrhundertwerk, dessen Fertigstellung mehr als 45 Jahre in Anspruch nahm. Begründet von Gerhard Kittel, unternimmt dieses Wörterbuch den monumentalen Versuch, den Gebrauch und die Bedeutung aller religiös oder theologisch bedeutsamen Vokabeln im Neuen Testament erschöpfend zu analysieren.
Diesen Anspruch konnte das Theologische Wörterbuch in weiten Teilen erfüllen. Etliche der über 2300 Artikel sind wichtige Forschungsbeiträge. Die Einträge befassen sich typischerweise mit dem säkularen Hintergrund eines Begriffs, seiner Verwendung im Alten Testament und in außerbiblischer jüdischer Literatur, sowie mit seinem Gebrauch im Neuen Testament. Dazu kommen umfassende Bibliographien und Fußnoten.
Die Logos-Edition
Logos macht das epochale, doch lange vergriffene Theologische Wörterbuch zum Neuen Testament erstmals in digitaler Form verfügbar. Die Logos-Edition bindet das Wörterbuch direkt in den enormen Funktionsumfang von Logos Bibelsoftware ein. Mit umfassenden Suchmöglichkeiten finden Sie genau die gewünschten Ergebnisse. Mobil-Apps und Online-Synchronisierung machen es möglich, Ihre Arbeit von überall fortzusetzen.
Über die Logos-Plattform
Logos ist eine Bibelsoftware und digitale Bibliothek, die sich hervorragend zum Studium digitaler Texte eignet. Verlinkte Bibelstellen, Duchsuchbarkeit und Synchronisierung auf allen größeren Plattformen sind nur einige der Vorteile. Kostenlose Apps für Windows, Mac, iOS, Android und im Browser verfügbar. Weitere Infos zu Logos...
Wichtigste Merkmale
Über 2.300 ausführliche Artikel, von denen viele wichtige Forschungsbeiträge darstellen.
Untersucht den außerbiblischen, alttestamentlichen und frühjüdischen Gebrauch mit umfassenden Bibliographien.
In Logos verfügbare Primärliteratur ist (ebenso wie Bibelstellen) direkt verlinkt.
Meinungen zum TWNT
für wissenschaftliche Arbeit auf dem Gebiete des Neuen Testaments unentbehrlich
—P.R. Becker, Estudos Teológicos
an essential tool in New Testament study
—Donald W. Riddle, The Journal of Religion
a work of epoch-making importance
—James S. Stewart, Scottish Journal of Theology
nicht bloss ein Forschungshilfsmittel, sondern auch im besten Sinne des Wortes ein Lehrbuch
—Fritzleo Lentzen-Deis, Biblica
Die ausführlichste Untersuchung des neutestamentlichen Vokabulars findet sich im ThWNT. Es bietet erschöpfende Analysen zur antiken Begriffsgeschichte, die sowohl die prophane antike Literatur als auch die hellenistisch-jüdischen Schriften einbeziehen. Die Artikel sind sehr ausführlich und umfassend und stellen – trotz des Alters – eine bleibende Fundgrube für die Arbeit mit Begriffen dar. Für Einsteiger ist die Orientierung sicher nicht einfach, da ihnen für eine systematische Einordnung der Informationsmenge noch das nötige Hintergrundwissen fehlt. Allerdings ist eine Auseinandersetzung immer lohnenswert, da die Fülle der Darbietung zum Weiterarbeiten motiviert und die Texte lebendig werden lassen kann.
—Webseite der Katholisch-Theologischen Fakultät, Ludwig-Maximilians-Universität München
Produktdetails
Titel: Theologisches Wörterbuch zum Neuen Testament (ThWNT)
Bände: 9+zweiteiliger Ergänzungsband
Herausgeber: Gerhard Kittel, Otto Bauernfeind, Gerhard Friedrich
Verlag: Kohlhammer
Erscheinungsdatum: 1933-1979
Seiten: über 9000
Sprachen: Griechisch-Deutsch