Serie de Discipulado de Navigators (7 Vols)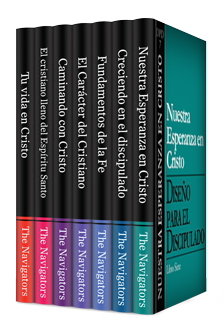 Serie de Discipulado de Navigators (7 Vols)
Runs on Windows, Mac and mobile.
Your Custom Discount
Reg. Price $6.49
Sale Price $3.24
Your Price $3.24
You Save $3.25 50%
Your Price
What's Pre-Pub?
$3.24
Reseña
The Navigators es un ministerio cristiano internacional que por casi cien años se ha dedicado a compartir el Evangelio en todo el mundo. Con el fin de guiar a nuevos creyentes a crecer en su fe, han desarrollado estos 7 prácticos manuales.
Ideales tanto para grupos pequeños como para estudios individuales, en estos siete volúmenes encontrarás un valiosísimo recurso con el que discipular a otros y desarrollar tu vida espiritual y la de aquellos que te rodean.
Detalles del producto
Título: Serie de Discipulado de Navigators (7 Vols)
Editorial: The Navigators
Volúmenes: 7
Número total de páginas: 320