Bible Study Magazine—March–April 2018 Issue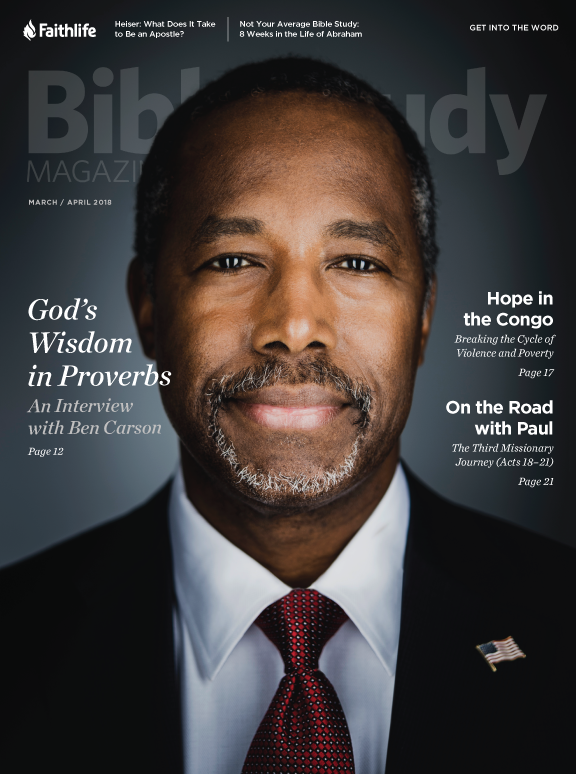 Bible Study Magazine—March–April 2018 Issue
Want more Bible Study Magazine? Subscribe today and get six issues per year for just $19.99—33% off the cover price!
Get Bible Study Magazine now by purchasing the March–April 2018 back issue for $3.95. That's 20% off the newsstand price of $4.95!
Bible Study Magazine is a print magazine (not an emagazine) published by Lexham Press. Six times a year, Bible Study Magazine delivers tools and methods for Bible study as well as insights from respected teachers, professors, historians, and archeologists.
Read pastor profiles, author interviews, and stories of individuals whose thoughtful engagement with Scripture has shaped their thinking and defined their ministries. Bible Study Magazine reveals the impact of God's Word in their lives—and the power of Scripture in yours.
There is a limited supply of back issues of the March–April 2018 Bible Study Magazine.
Feature Stories
Discover new ways to connect the Bible with your ministry and life through in-depth interviews and articles from the biggest names in the church and biblical scholarship.
Bible Study Tips
Explore the Word—thoughtful and engaging authors tackle the tough passages in Scripture, explain difficult concepts, and confront complex interpretations in a way that helps the Gospel make sense in your life.
On the Cutting Edge
Keep up to date on the latest news in biblical research, including archaeological and historical findings.
A New Kind of Bible Study
Encounter God by yourself or with other believers with an ongoing Bible study in each issue.
On Teaching
Get advice on how to preach or teach the Bible in any setting from well-known pastors and teachers who use the Bible every day.
Tool Box
Learn how to effectively use the latest Bible study tools with our how-to guides.
In the News
Keep informed about the latest news in biblically related topics, discoveries, and events.
Thoughts from the Ancients
Read the Bible together with those who have come before you, and learn from the wisdom of the early church—in its own words.
Word Studies
Get a close-up view of the Bible! Each issue contains insights about specific words found in the Bible and tutorials on how to do word studies.
If Only Someone Would Explain It to Me
Enrich your understanding of the Bible with explanations of biblical and theological concepts by top scholars.
Did You Know?
Discover interesting facts about the place of the Bible in the contemporary and the ancient world.
What They Don't Tell You in Church
See things you never noticed in biblical passages you have read dozens of times.
Biblical Humor
The funniest stories and the best comics related to the Bible, useful for any setting.
Book Reviews
Stay on top of the latest books about Bible study. Each issue contains reviews of books and commentaries to equip you in your study of God's Word.
Ben Carson: Discovering God's Wisdom in Proverbs'
Most people know of Ben Carson from his 2016 campaign for the Republican presidential nomination. The neurosurgeon-turned-politician speaks often about his Christian faith, and he encourages believers to get involved in civic affairs. As U.S. secretary of Housing and Urban Development, Carson now helps shape federal policy on a wide range of issues facing American cities. We invited him to set politics aside and talk about Scripture with Bruce Riley Ashford, author of Every Square Inch: An Introduction to Cultural Engagement for Christians (Lexham Press, 2015).
—Bruce Riley Ashford
Hope in the Congo: Breaking the Cycle of Violence and Poverty
Many corners of the world have seen their share of war and its aftermath, but few have experienced the depths of violence that have taken place over the past 20 years in the Democratic Republic of Congo. In 2002, The Economist magazine called it "the most miserable place on earth." Confronted by the country's devastation, one Christian scholar is working to show God's love and care to the most vulnerable survivors.
—Jessi Strong
Paul the Writer: Spreading the Gospel Through Everyday Letters
Reading someone else's mail is usually considered rude. Christians do it all the time. In fact, pastors encourage it: "Read what Paul wrote to the Colossians." That letter wasn't written to us! Yet as Christians we believe it wasn't just for the folks living in Colossae. God still speaks to us through that old letter.
—E. Randolph Richards
A Decisive Rip
It was a red-letter day. Twenty-eight years before, in the old gym of a small school in a one-stoplight town, I asked a 14-year-old girl to "go steady" with me. That young lady would eventually lead me to the Lord and later become my wife. I wanted to do something special to commemorate the anniversary, but we didn't have any wiggle room in our budget to do so. I tried to shrug off my disappointment by moving on to the next task: cleaning out my office.
—Joey Dodson