Mobile Ed: OT391 The Shema (audio)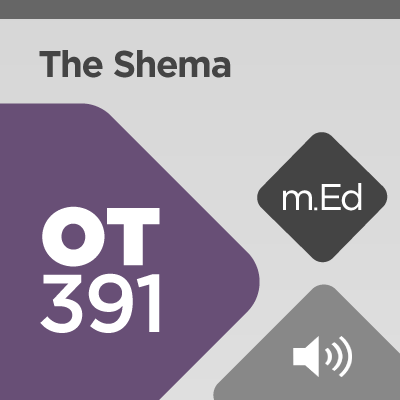 Overview
Explore the depths of the Shema (Deut 6:4–9) and learn why this text is sacred not only to Jews but to Christians as well. Discover why Jesus quoted the Shema when asked what the greatest commandment is. Gain insight into the covenantal, volitional, and emotional aspects of love and what it means to "love the Lord your God with all your heart, all your soul, and all your strength." Dr. Mark Futato guides you through the text, shedding light on the Hebrew language and its various interpretations. He then identifies the Shema's relevance today and how these commands can point us toward Jesus each and every day.
This is the audio only version of OT391 The Shema. To purchase the full course, click here.
Course Outline
Unit 1: Introductory Matters
The Shema: Foundational for Jews and Christians
Finding Old Testament Quotes Spoken by Jesus
What Is the Shema?
Scope and Sequence
Unit 2: The Command before the Command
The Semantic Range of Shema
Discovering the Range of Meanings for the Lemma Shema
The Meaning of Shema in Deuteronomy 6:4
What's in a Name?
The Christian as Israel
"Hear, O Israel" as an Indicator of Place
Summary: Deuteronomy 6:4a
Translating Deuteronomy 6:4b
God's Name in the Shema
Using Hebrew Lexicons to Define Important Terms
The Meaning of God
Compound Nature, Compound Name
An Ambiguous Expression
"The LORD Is One": Exclusivity of Relationship
Comparing English Versions of Deuteronomy 6:4
"The LORD Is One": Integrity of Character
Unit 3: The Command
Review and Introduction
Ancient Near Eastern Covenants
The Motivation for Covenantal Love
The Volitional Nature of Loving God
The Emotional Nature of Loving God
Discovering Ancient Near Eastern Treaties Related to the Shema
The Quality of Love for God
Unit 4: The Commands after the Command: Internalization
Review of the Shema's Structure
"These Words": Which Words?
God's Commandments: Still Relevant
Internal Medicine: Words on the Heart
The New Power of the New Covenant
Unit 5: The Commands after the Command: Externalization
The Command in the Community
The Meaning of Shinnen
Keeping the Faith Alive through Children
Everywhere and All the Time
Bound to God's Commandments
Doorposts and Gates
The Shema on Our Hearts
About Mark D. Futato
Dr. Mark D. Futato is the Robert L. Maclellan Professor of Old Testament at Reformed Theological Seminary. Dr. Futato received his Ph.D. from The Catholic University of America. He served on the translation team for the Book of Psalms in The New Living Translation, contributed study notes for the ESV Study Bible and The Spirit of the Reformation Study Bible, and contributed to the New International Dictionary of Old Testament Theology and Exegesis.
More details about this resource