Mobile Ed: OT221 Introductory Issues in Psalms (audio)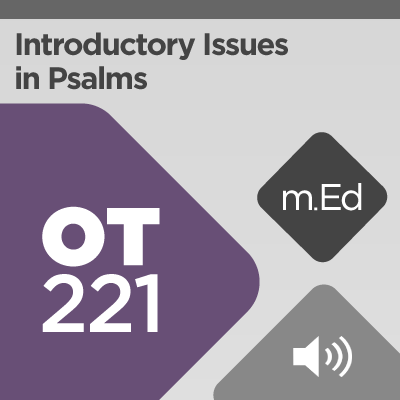 Mobile Ed: OT221 Introductory Issues in Psalms (audio)
•
Runs on Windows, Mac and mobile.
Overview
Introductory Issues in Psalms (OT221) presents an overview of important interpretive elements of the book of Psalms, challenging traditional views in the process. It considers the book of Psalms as a whole, surveys and illustrates the various categories of particular psalms, and suggests christological implications of the book. The course provides a robust understanding of how the psalms are organized and how they lead to successful living.
This is the audio only version of OT221 Introductory Issues in Psalms . To purchase the full course, click here.
Course Outline
Unit 1: Psalms as Instruction
An Introduction to Torah
The Five Books of the Psalms
Meditation in the Bible
For the Happy Life
The Promise of Blessedness
The Promise of Success
Psalm 1 and Christ
Unit 2: Psalms as Poetry
Introduction to Hebrew Poetry
Interpreting Imagery
Imagery Used in the Psalms
The Importance of Genre
What Is Genre?
Why Is Genre Important?
The Primary Genres of Psalms
Genres of Psalms and Christ
Using the Psalms Explorer
Unit 3: Psalms as History
Historical Context of the Psalms
General Comments about Superscriptions
Are Superscriptions Original?
Timelessness of a Psalm
Historical Settings of Psalms
Unit 4: Psalms as Theology
Introduction
Our God Is King
Comparing Hebrew Words in Translation
Our God Reigns through the Anointed One
Our Destiny Is Glory
Our King Is Coming
Unit 5: Psalms as Wisdom
Wisdom Literature
Graphing How Often a Word Occurs in Each Biblical Book
Wisdom's Diction and Themes
Psalms as Wisdom
The Wisdom Psalter
About Mark D. Futato
Dr. Mark D. Futato is the Robert L. Maclellan Professor of Old Testament at Reformed Theological Seminary. Dr. Futato received his PhD from The Catholic University of America. He served on the translation team for the Book of Psalms in The New Living Translation, contributed study notes for the ESV Study Bible and The Spirit of the Reformation Study Bible, and contributed to the New International Dictionary of Old Testament Theology and Exegesis.
More details about this resource