Evolution: Scripture and Nature Say Yes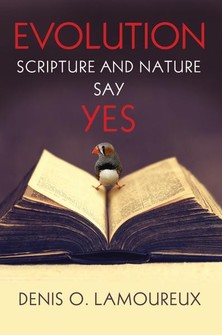 Evolution: Scripture and Nature Say Yes
•
Runs on Windows, Mac and mobile.
Your Custom Discount
Reg. Price $12.99
Sale Price $10.99
Your Price $10.99
You Save $2.00 15%
Your Price
What's Pre-Pub?
$10.99
Overview
Christians throughout history have believed that God reveals himself both through Scripture and nature. The metaphor of God's Two Books is often used to represent these two divine revelations. The Book of God's Words is the Bible. Scripture reveals inerrant spiritual truths. These include, the God of Christianity is the Creator of the heavens and the earth, the creation is very good, and only humans are created in the Image of God (Gen. 1:1, 27, 31). The Book of God's Works is the physical world. Nature declares God's glory, eternal power, and divine nature (Ps. 19:1; Rom. 1:20). Through the gift of science, our Creator has blessed us with the ability to explore and understand the structure, operation, and origin of his creation. Together God's Two Books offer us a complementary divine revelation of who created the world and how he created it.
A majority of Americans view science and religion as being in conflict, according to the Pew Research Center. Christians and non-Christians alike share this view, yet if this perceived conflict misrepresents the relationship between modern science and Christian faith, then it is both unhelpful and unnecessary today.
In Evolution: Scripture and Nature Say Yes, theologian and scientist Denis O. Lamoureux reviews several options for embracing biblical Christianity and findings of science, including biological evolution. Holding to a high view of Scripture alongside an expert appreciation for scientific discovery, Lamoureux further outlines a way to understand passages referring to the natural world in the Bible and also demonstrates how modern science can point toward God.
Lamoureux shares his own story along the way, recounting struggles many readers will relate to on his journey toward PhDs in both theology and biology and a fruitful relationship between the two.
In the Logos edition, this volume is enhanced by amazing functionality. Important terms link to dictionaries, encyclopedias, and a wealth of other resources in your digital library. Perform powerful searches to find exactly what you're looking for. Take the discussion with you using tablet and mobile apps. With Logos Bible Software, the most efficient and comprehensive research tools are in one place, so you get the most out of your study.
Key Features
Presents a biblical model of intelligent design in nature based in Scripture
Examines the ancient science present in the bible
Compares different Christian views on origins
Contents
Trapped in "Either/Or" Thinking
Opening God's Two Books
Terms That Begin to Free Us
Intelligent Design and the Book of God's Works
Ancient Science and the Book of God's Words
Moving Beyond the "Evolution" vs. "Creation" Debate
Galileo and God's Two Books
The Religious Evolution of Darwin
Let the Students Speak!
Praise for the Print Edition
Readers will be enthralled by Denis Lamoureux's compelling personal story and his compelling evidence. His strong Christian testimony and his conviction that evolution is our best way to understand God's creative work can be life-changing for those who feel trapped in the belief that they have to choose between creation and evolution. The evidence says they don't, and Lamoureux's clear presentation tells them why. Even those who are not inclined to accept an evolutionary model for creation will find a new appreciation for how committed Christians who take the Bible seriously can accept such a model and yet maintain the integrity of their faith.
—John H. Walton, professor of Old Testament, Wheaton College
This is a successful and effective academic project, but more than this, it is an utterly convincing decades-long autobiographical account of God's faithful revelation through the author's attentive reading of both the Book of God's Word, written in Scripture, and the Book of God's Works, written in the material creation that science is privileged to consider. While arguing for an evolutionary dimension to God's creation, the author is concerned to refute damaging skepticism towards scientific insight, on the part of theologically conservative North American Christians. The outcome provides a more vigorous witness to a scientifically savvy world . . . which includes both young people being raised in Christian communities, and unbelievers for whom the Church seeks an entrée for evangelism!
—Ian Johnston, professor of biological sciences, Bethel University
About Denis Lamoureux
Denis Lamoureux is associate professor of science and religion at St. Joseph's College in the University of Alberta, the first tenure-track position in Canada dedicated to teaching and research on the relationship between scientific discovery and Christian faith. Lamoureux is the author of Evolutionary Creation: A Christian Approach to Evolution; I Love Jesus and I Accept Evolution; and Darwinism Defeated? The Johnson-Lamoureux Debate on Biological Origins.
Sample Pages from the Print Edition