An Introduction to Christian Worldview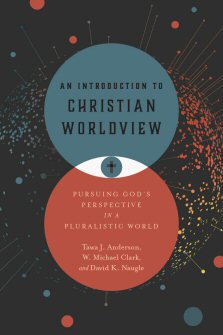 An Introduction to Christian Worldview
•
IVP 2017
Runs on Windows, Mac and mobile.
Your Custom Discount
Reg. Price $24.99
Sale Price $15.99
Your Price $15.99
You Save $9.00 36%
Your Price
What's Pre-Pub?
$15.99
Overview
Everyone has a worldview. A worldview is the lens through which we interpret the cosmos and our lives in it. A worldview answers the big questions of life: What is our nature? What is our world? What is our problem? What is our end?
As Anderson, Clark, and Naugle point out, our worldview cannot simply be reduced to a series of rational beliefs. We are creatures of story, and the kinds of stories we tell reveal important things about our worldview.
Part of being a thoughtful Christian means being able to understand and express the Christian worldview as well as developing an awareness of the variety of worldviews. An Introduction to Christian Worldview takes you further into answering difficult questions that Christians face. Well organized, clearly written, and featuring aids for learning, An Introduction to Christian Worldview is the essential text for either the classroom or for self-study.
In the Logos edition, this volume is enhanced by amazing functionality. Important terms link to dictionaries, encyclopedias, and a wealth of other resources in your digital library. Perform powerful searches to find exactly what you're looking for. Take the discussion with you using tablet and mobile apps. With Logos Bible Software, the most efficient and comprehensive research tools are in one place, so you get the most out of your study.
Key Features
Explains why worldviews matter
Carefully lays out those aspects that characterize a Christian worldview
Provides a practical means for analyzing and describing the worldviews we encounter in daily life
Explains the most common secular and religious worldviews
Contents
Introduction: Worldview Matters
Part I: Introducing Worldview

What is Worldview?
The Importance and Impact of Worldview
Worldview Analysis

Part II: Contours of a Christian Worldview

The Narrative Contours of a Christian Worldview
The Propositional Contours of a Christian Worldview
Testing a Christian Worldview

Part III: Analyzing Worldviews

Western Philosophical Alternatives
Global Religious Alternatives

Conclusion: Pursuing (and Living) God's Perspective in a Pluralistic World
Praise for the Print Edition
It's become fashionable in some circles to downplay the importance of worldview. An Introduction to Christian Worldview counters this tendency by offering a clear apologia for the value of thoughtful worldview construction and evaluation to Christian faith. Moreover, it provides a concrete comparison of a Christian worldview to alternative models found in philosophical systems and world religions. The authors make their ideas readily accessible to readers, and it is a valuable resource for all Christians who desire a deeper understanding of the conceptual foundations of our faith.
—Steve Wilkens, professor of philosophy and ethics, Azusa Pacific University
It's all here: a stellar introduction to (1) the concept of worldview, (2) the contour, content, and defense of the Christian worldview, and (3) explanation and critique of alternate secular and religious worldviews. There is little new here, but new notions of basic Christian belief and practice are often misleading and sometimes profoundly false. Here the truths of Christian faith gleam with clarity and conviction. I'm impressed.
—James W. Sire, author of The Universe Next Door and Apologetics Beyond Reason
This book offers a refreshing update of Christian worldview teaching for students of Scripture. It is rigorous and deep for serious students, yet accessible for the popular reader who wants to live a muscular Christian faith in our pluralistic marketplace of world-and-life views. One of my favorite aspects of this book is its real world examples of worldview thinking and analysis from Scripture, life, entertainment, and culture—especially movies!
—Brian Godawa, author of Hollywood Worldviews
About the Authors
Tawa J. Anderson Tawa J. Anderson (PhD, The Southern Baptist Theological Seminary) is assistant professor of philosophy and director of the Honors Program at Oklahoma Baptist University in Shawnee, Oklahoma. He previously served as a Garrett Fellow at the Southern Baptist Theological Seminary, guest lecturing in a broad variety of philosophy courses. He also served for seven years as the English pastor of Edmonton Chinese Baptist Church and as part-time Baptist chaplain at the University of Alberta in Edmonton, Alberta, Canada.
W. Michael Clark W. Michael Clark (PhD, The Southern Baptist Theological Seminary; JD, Arizona State University) is legislative counsel at Center for Arizona Policy. He previously was director of the School of Christian Studies and assistant professor of cross-cultural ministry at Oklahoma Baptist University. He resides in Scottsdale, Arizona.
David K. Naugle (ThD, Dallas Theological Seminary; PhD, University of Texas at Arlington) is chair and professor of philosophy at Dallas Baptist University, where he has worked for over two decades. He is also the director of the Paideia College Society (formerly the Pew College Society) and a weekly lecture series at Dallas Baptist University called the "Friday Symposium." He is the author of Worldview: The History of a Concept, Reordered Love, Reordered Lives: Learning the Deep Meaning of Happiness, and Philosophy: A Student's Guide, a volume in the series Reclaiming the Christian Intellectual Tradition.
Sample Pages from the Print Edition