Come and See Collection (2 vols.)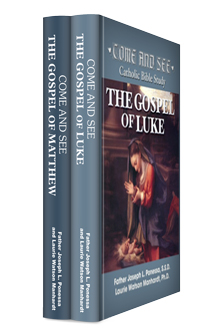 Overview
The Come and See Catholic Bible Study has been designed for families to work through together. Each book in this series presents the rich heritage of the Catholic Faith in clear and simple language. Leaders will appreciate its practical instructions, easy-to-use workbook format, and appealing design. This Bible study series is ideal for use in the classroom, home study, or parish catechesis.
With Logos Bible Software, these valuable volumes are enhanced by cutting-edge research tools. Important terms link to dictionaries, encyclopedias, and a wealth of other resources in your digital library. Powerful topical searches help you find exactly what you're looking for. Tablet and mobile apps let you take the discussion with you. With Logos Bible Software, the most efficient and comprehensive research tools are in one place, so you get the most out of your study.
Key Features
Written in relatable and helpful language
Workbook format for students
Features discussion questions for further reflection
Utilizes Catechism
Individual Titles
The Gospel of Matthew examines the first book in the New Testament, the Gospel account of the life and works of Jesus according to the apostle and evangelist St. Matthew. This in-depth Catholic Bible Study uses the Catholic Bible and the Catechism. Though it is intimate enough for a small home group, this book is also suitable for a large parish Bible Study.
The Gospel of Luke may be very familiar to you. You have probably heard the Nativity story every Christmas since your childhood. Most of what we learn and cherish about the infancy and childhood of Jesus comes from Luke, probably through his research and interviews with the Blessed Mother Mary. Most people, even non-Christians, recognize the parable of the Prodigal Son. And there is so much more! May God surprise you with joy as you study and delve deeper into the Gospel of Luke with Come and See: The Gospel of Luke.
About the Authors
Fr. Joseph Ponessa, SSD, was ordained in 1974. He earned a doctorate in Sacred Scripture from the Pontifical Biblical Institute in Rome, and reads Hebrew, Aramaic, Greek, Latin, Arabic, Italian, Spanish, French and German. He serves in the diocese of Great Falls-Billings, Montana.
Laurie Watson Manhardt, PhD, earned a doctorate from the University of Michigan. She and her husband Jim participate in the Come and See Catholic Bible Study in their parish, St. Helen's in Vero Beach, Florida.
More details about these resources