Eerdmans Biblical Resources Series (13 vols.)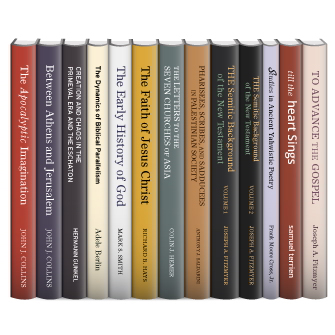 Eerdmans Biblical Resources Series (13 vols.)
•
Runs on Windows, Mac and mobile.
Overview
The Eerdmans Biblical Resources Series reprints titles that the scholarly community regards as essential resources for the biblical thinker of today, but that have long been difficult to obtain. Chosen in consultation with an editorial board of eminent biblical scholars, each volume features an introduction that outlines the importance of the work and summarizes its subsequent influences.
What's more, many of these volumes have been produced as new and revised editions specifically for the Biblical Resources Series. Detailing numerous sub-fields of biblical studies, these volumes present important research and analysis of apocalyptic literature, Jewish Hellenistic culture, Hebrew poetry, comparative religion, the historical-cultural setting of Revelation, the concept of the Messiah in the Old Testament, the relationship of the Dead Sea Scrolls to the New Testament, and many more.
In the Logos edition, these volumes are enhanced by amazing functionality. Important terms link to dictionaries, encyclopedias, and a wealth of other resources in your digital library. Perform powerful searches to find exactly what you're looking for. Take the discussion with you using tablet and mobile apps. With Logos Bible Software, the most efficient and comprehensive research tools are in one place, so you get the most out of your study.
Key Features
Seminal works on a variety of biblical and theological topics
Access to difficult and hard to find, but valuable volumes
Newly written prefaces and forwards presenting and explaining the significance of these volumes
Product Details
Title: Eerdmans Biblical Resources Series
Series Editors: Astrid B. Beck and David Noel Freedman
Series: The Biblical Resource Series
Publisher: Eerdmans
Volumes: 13
Pages: 4,483
Resource Type: Monographs
Topic: Biblical Studies
Individual Titles

Apocalyptic literature evokes an imaginative world that is set in deliberate counterpoint to the experiential world of the present. Apocalypticism thrives especially in times of crisis, and it functions by offering a resolution of the relevant crisis, not in practical terms but in terms of imagination and faith.
The Apocalyptic Imagination by John Collins is one of the most widely praised studies of Jewish apocalyptic literature ever written. And this second edition of Collins' study represents a complete updating and rewriting of the original work. Especially noteworthy is the chapter on the Dead Sea Scrolls, which now takes into account all of the recently published texts. Other chapters discuss apocalypse as a literary genre, explore the phenomenon and function of apocalypticism in the ancient world, study a wide range of individual apocalyptic texts, and examine the apocalyptic character of early Christianity.
A very useful guide to the Jewish apocalypses and related literature... One will not find a better or more up-to-date survey of this material, which expresses a way of thinking that was so influential on formative Christianity, than in Collins' book.
—Journal of the American Academy of Religion
This is an updated and rewritten edition of a highly acclaimed book that appeared in 1984. In it Collins expertly explains the apocalyptic genre and then examines the Enoch literature, Daniel, various oracles, testaments, and apocalypses, as well as the Qumran material. In the final chapter he addresses the presence of such thinking in early Christianity. Though this is primarily a study of literature, the various pieces are placed within their historical contexts in order to show how they are imaginative responses to events in history. Collins argues that apocalyptic material did not effect change in history, but offered a way to deal with it in a manner that is both courageous and faithful. The book provides important information about an important yet little known corpus of material. It is a valuable resource.
—The Bible Today
John J. Collins is Holmes professor of Old Testament Criticism and Interpretation at Yale Divinity School and has served as president of both the Society of Biblical Literature and the Catholic Biblical Association. His many books include Beyond the Qumran Community, King and Messiah as Son of God, The Bible after Babel, and The Apocalyptic Imagination.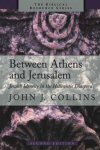 One of the most creative and consequential collisions in Western culture involved the encounter of Judaism with Hellenism. In this widely acclaimed study of the Jews who lived in Hellenistic Egypt, "between Athens and Jerusalem," John J. Collins examines the literature of Hellenistic Judaism, treating not only the introductory questions of date, authorship, and provenance but also the larger question of Jewish identity in the Greco-Roman world. First published in 1984, this landmark study by one of the world's leading experts in Hellenistic Judaism is now fully revised and updated to take into account the best of recent scholarship.
Scholars and students who have benefited immensely from this work will. . . be delighted to see it re-emerge in a second edition. . . . Collins' mastery of the range of material treated in this book is awesome, and his close engagement with these Diaspora texts and their cultural meaning is a model for all. Minor Diaspora authors who have long been neglected, or even generally unknown, are here again brought to the attention of the scholarly world in a way that should ensure their recognition in future debates about Second Temple Judaism. . . . Students and scholars will be immensely grateful for this guide, which will play a central role in future discussion of the Diaspora.
—Martin Goodman in Journal of Jewish Studies
A remarkable book. . . . Collins has provided us with an exceptionally well-crafted discussion of the variety of religious self-definitions that characterized Egyptian diaspora Judaism.
—David E. Aune in The Catholic Biblical Quarterly
This important work is fresh and suggestive. . . . An impressive display of insight and careful scholarship. . . . Exemplary in both its design and its execution.
—Journal of Biblical Literature
As an introduction and an exegetical tool, this book is indispensable for study of the ancient literature and especially of the fragmentary material. It provides us with an innovative perspective on Jewish religion, theology, and culture in the Greco-Roman period.
—Religious Studies Review
This is a very useful and reliable introduction to those Second Temple Jewish writings in Greek…. All students of Second Temple Judaism and related areas will be pleased to have an updated edition in a handy and affordable form.
—Society for Old Testament Study Booklist
This book should be in libraries of all colleges and universities where the Bible, ancient Israel, Christian origins, formative Judaism, or classical culture are taught to upper-level undergraduates.
—Choice
John J. Collins is Holmes professor of Old Testament Criticism and Interpretation at Yale Divinity School and has served as president of both the Society of Biblical Literature and the Catholic Biblical Association. His many books include Beyond the Qumran Community, King and Messiah as Son of God, The Bible after Babel, and The Apocalyptic Imagination.

Foreword by Peter Machinist:
Hermann Gunkel's groundbreaking Schöpfung und Chaos, originally published in German in 1895, is here translated in its entirety into English for the first time. Even though available only in German, this work by Gunkel has had a profound influence on modern biblical scholarship.
Discovering a number of parallels between the biblical creation accounts and a Babylonian creation account, the Enuma Elish, Gunkel argues that ancient Babylonian traditions shaped the Hebrew people's perceptions both of God's creative activity at the beginning of time and of God's re-creative activity at the end of time.
Including illuminating introductory pieces by eminent scholar Peter Machinist and by translator K. William Whitney, Gunkel's Creation and Chaos will appeal to serious students and scholars in the area of biblical studies.
When Hermann Gunkel's book was first published, Julius Wellhausen said: 'Hier ist mehr Chaos als Schöpfung!' ('Here is more chaos than creation!'). Scholars today will admiringly reverse that phrase: 'Hier ist mehr Schöpfung als Chaos!' ('Here is more creation than chaos!')
—François Bovon, Harvard University
Gunkel's Schöpfung und Chaos was one of the defining works of the 'history of religions' school, which revolutionized biblical scholarship at the end of the nineteenth century. It has been one of the few major works of that era never fully translated. This new translation by K. William Whitney fills the gap, and Whitney's helpful preface explains to a new generation why this book is so important in the history of scholarship. Whitney and Eerdmans have rendered a great service to students of the Bible by making this book available in English.
—John J. Collins, Yale University
Hermann Gunkel's epochal Schöpfung und Chaos marked a major shift in biblical studies when it appeared in 1895, but it has never been translated. K. William Whitney here presents the world of scholarship with a polished and sophisticated English translation that will stimulate readers to rethink basic assumptions. His excellent preface puts Gunkel's work into its context and draws out its importance for the twenty-first century. Whitney has filled out and enriched the original indexes and bibliography, making the book easier to consult. This work is destined to be a cornerstone for students and scholars alike.
—Michael E. Stone, Hebrew University of Jerusalem
Welcome and long overdue translation of a seminal work.
—Expository Times
Hermann Gunkel (1862–1932) taught at several German universities and is widely recognized as a father of the form-critical and history-of-religions methods in biblical criticism. His influential works include commentaries on Genesis, Psalms, and 1 Peter.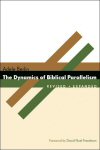 Understanding of biblical poetry is enhanced by the study of its structure. In this book Adele Berlin analyzes parallelism, a major feature of Hebrew poetry, from a linguistic perspective. This new edition of Berlin's study features an additional chapter, "The Range of Biblical Metaphors in Smikhut," by late Russian scholar Lida Knorina. Berlin calls this addition "innovative and instructive to those who value the linguistic analysis of poetry." It is a fitting coda to Berlin's adept analysis.
Adele Berlin writes felicitously, and she is a reliable Old Testament scholar. In this newly reprinted edition of The Dynamics of Biblical Parallelism, Berlin probes the linguistic phenomenon of parallelism. . . . I am confident that the reader will readily agree with Berlin herself that the study of parallelism is, above all else, fun.
—David Noel Freedman
The twentieth century has seen important breakthroughs in many fields of the humanities. Roman Jakobson offered us creative and fascinating explorations at the interface of linguistics and poetics. Building on his work, Adele Berlin showed us how pervasive and many-sided the phenomenon of parallelism is in biblical poetry. It was a delight to follow her extensive array of well-chosen examples. We are lucky now to have Berlin's lucid language back in this revised edition.
—Jan Fokkelman, Leiden University
I have used Adele Berlin's Dynamics of Biblical Parallelism in both my teaching and my research for twenty years, and I still find it fresh and enlightening. Berlin examines parallelism through a linguistic lens, showing it to be a system of forces that combine to give biblical poetry its special powers of communication. Her book is lucid, closely argued, and based on linguistic erudition and literary sensitivity.
—Michael V. Fox, University of Wisconsin-Madison
Adele Berlin is Robert H. Smith Professor of Biblical Studies at the University of Maryland. The author of three biblical commentaries and Biblical Poetry through Medieval Jewish Eyes, she is also coeditor of The Jewish Study Bible (Oxford), which received a National Jewish Book Award in 2004.

Foreword by Patrick D. Miller:
In this remarkable, acclaimed history of the development of monotheism, Mark S. Smith explains how Israel's religion evolved from a cult of Yahweh as a primary deity among many to a fully defined monotheistic faith with Yahweh as sole god. Repudiating the traditional view that Israel was fundamentally different in culture and religion from its Canaanite neighbors, this provocative book argues that Israelite religion developed, at least in part, from the religion of Canaan. Drawing on epigraphic and archaeological sources, Smith cogently demonstrates that Israelite religion was not an outright rejection of foreign, pagan gods but, rather, was the result of the progressive establishment of a distinctly separate Israelite identity. This thoroughly revised second edition of The Early History of God includes a substantial new preface by the author and a foreword by Patrick D. Miller.
Review of the first edition—Smith deserves a very careful and appreciative hearing. . . . This book provides a feast for the attentive reader and concerned scholar.
—Journal of Biblical Literature
Review of the first edition—Smith assembles and analyzes a tremendous array of archaeological and textual evidence to challenge the notion of Israel's religious distinctiveness. . . . The implications of this insight for theological reflection on Judaism are incalculable.
—The Christian Century
Review of the first edition—It is rare to find a book so steeped in the primary evidence of texts and history and so thoroughly conversant with the nuances of recent scholarly discussion. . . . Smith's admirable erudition and discerning judgment will make this book required reading for present and future generations of biblical scholars and students.
—Catholic Biblical Quarterly
Review of the first edition—The notes are a treasury of information and resources for scholars, yet the treatment is one that an informed reader can follow. . . . One is left with both respect for Smith's contribution and also a clear awareness of how it cuts against the basic grain of the biblical text itself.
—Journal of the American Academy of Religion
Mark S. Smith is Skirball Professor of Bible and Ancient Near Eastern Studies at New York University. His recent books include The Priestly Vision of Genesis 1 and God in Translation: Deities in Cross-Cultural Discourse in the Biblical World.

Foreword by Luke Timothy Johnson:
Widely praised as a major contribution to Pauline studies, Richard B. Hays' Faith of Jesus Christ now features, in this expanded second edition, a foreword by Luke Timothy Johnson, a new introduction by Hays, and a substantial dialogue with James D. G. Dunn.
In this important study Hays argues against the mainstream that any attempt to account for the nature and method of Paul's theological language must first reckon with the centrality of narrative elements in his thought. Through an in-depth investigation of Galatians 3:1–4:11, Hays shows that the framework of Paul's thought is neither a system of doctrines nor his personal religious experience but the "sacred story" of Jesus Christ. Above all, Paul's thought is guided by his concern to draw out the implications of the gospel story, particularly how the "faith of Jesus Christ" reflects the mission of the church.
This rich and remarkably mature study provides new perspectives on all of Paul's thought and his place in earliest Christianity.
—Religious Studies Review
Hays's thesis makes an exciting contribution toward understanding Paul's soteriology.
—Journal of Theological Studies
This book makes a contribution to the study of Paul's phrase 'faith of Jesus Christ' as well as of Galatians in general. It should be used by all who wish to engage in further consideration of these issues.
—Journal of Biblical Literature
Richard B. Hays is George Washington Ivey Professor of New Testament at Duke Divinity School, Durham, North Carolina.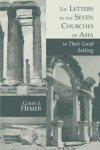 This modern classic by Colin Hemer explores the seven letters in the book of Revelation against the historical background of the churches to which they were addressed. Based on literary, epigraphical, and archaeological sources and informed by Hemer's firsthand knowledge of the biblical sites, this superb study presents in the clearest way possible a picture of the New Testament world in the later part of the first century and its significance for broader questions of church history.
This is an excellent work, indeed the best on the relevant historical background of the seven letters of Revelation.
—G. K. Beale in Trinity Journal
This book is one of the best contributions ever published on the letters of Revelation.
—Gerhard Meier in Theologische Literaturzeitung
Colin J. Hemer (d. 1987) was a research fellow at Tyndale House in Cambridge, England.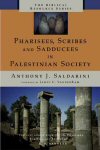 Widely praised in its original edition and now part of the Biblical Resource Series, this volume offers a superb discussion of the role of the Pharisees, scribes, and Sadducees in Palestinian Jewish society. Applying a sociological approach to the biblical and literary sources, Anthony Saldarini accurately portrays these three most prominent groups of educated leaders in Jewish society and describes their relationship to other Jewish social movements from 200 B.C.E. to 100 C.E. Featuring a new foreword by James C. VanderKam, Pharisees, Scribes, and Sadducees in Palestinian Society will remain a standard point of reference for the continuing study of Judaism and Christian backgrounds.
A significant and timely book that will rightly be regarded as influential in the field.
—Theology
Saldarini has written an impressive, disciplined study.
—Catholic Biblical Quarterly
The best single book on the Pharisees, scribes, and Sadducees.
—E. P. Sanders
A major milestone in the scholarly study of the Pharisees, scribes, and Sadducees. In methodological sophistication, coverage of the sources, and organization of the debate, it builds upon and surpasses previous investigations. It is also written in a very lucid and uncomplicated style which makes it a pleasure to read. . . . It deserves to be widely read by students of early Judaism and of the world of the New Testament.
—Stephen C. Barton in King's Theological Review
Students will benefit much from Saldarini's analysis.
—Martin Goodman in Journal of Jewish Studies
Anthony J. Saldarini (d.2001) was a professor in the department of theology at Boston College and also the author of Matthew's Christian-Jewish Community.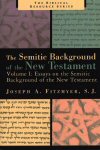 The Semitic Background of the New Testament, Volume 1
Author: Joseph A Fitzmyer
Publisher: Eerdmans
Publication Date: 1997
Pages: 550
The Semitic Background of the New Testament is a combined edition of two books by Joseph Fitzmyer that have influenced and shaped New Testament studies during the past few decades. This first volume, Essays on the Semitic Background of the New Testament, includes papers written over a fourteen-year period that reflect on a variety of New Testament problems that have been illuminated by data gathered from the Semitic world of the eastern Mediterranean.
Joseph A. Fitzmyer, S. J., is professor emeritus of biblical studies at Catholic University of America, Washington, DC.

The Semitic Background of the New Testament, Volume 2
Author: Joseph A. Fitzmyer
Publisher: Eerdmans
Publication Date: 1997
Pages: 304
This second volume, A Wandering Aramean: Collected Aramaic Essays, explores the relation between the host of recently discovered Aramaic texts and the writings of the New Testament. The first volume, Essays on the Semitic Background of the New Testament, includes papers written over a fourteen-year period that reflect on a variety of New Testament problems that have been illuminated by data gathered from the Semitic world of the eastern Mediterranean.
These works bring to light important aspects of New Testament study missed by those who concentrate on its Greek or Hellenistic background. Volume II includes an appendix containing additional notes and updated bibliographic references in connection with both of these Fitzmyer volumes.
Joseph A. Fitzmyer, S. J., is professor emeritus of biblical studies at Catholic University of America, Washington, DC.

Ancient Yahwistic Poetry is a particularly tempting field of study. In this small body of literature are preserved the oldest and most creative expressions of Israel's faith. This study of ancient Yahwistic poetry by Frank Moor Cross Jr. and David Noel Freedman untangles some of the serious textual difficulties and linguistic obscurities that have been a challenge to students of the Hebrew Bible for many generations.
The result of a joint doctoral dissertation originally submitted in 1950 and published in 1975, this volume has withstood the test of time; it offers analysis and conclusions regarding the Old Testament's Yahwistic poetry that remain as innovative and authoritative today as they were almost fifty years ago. Following an important introduction to the study of Yahwistic poetry, the book focuses in detail on "The Song of Miriam" (Exodus 15), "The Blessing of Jacob" (Genesis 49), "the Blessing of Moses" (Deuteronomy 33), and "A Royal Song of Thanksgiving" (2 Samuel 22 = Psalm 18). This edition also includes new prefaces by Cross and Freedman that give their present perspectives on this classic work in biblical studies.
Frank Moore Cross Jr. is the Hancock Professor Emeritus of Hebrew and Other Oriental Languages at Harvard Divinity School.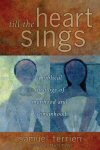 This new edition of Till the Heart Sings, including a substantial foreword by Phyllis Trible, makes available again Samuel Terrien's rich, acclaimed study of the biblical witness to personhood. Sweeping yet selective in scope, the book argues that the Bible as a whole advances a theology of manhood and womanhood unique in the ancient world. This theology, which resides in the main thrust of Scripture, turns away from sexism and misogyny to confer upon woman as well as man the full stature of humanity.
Terrien begins his argument where the Bible itself begins, with creation. He describes the first woman as "the crown of creation," in a mutual relationship with the first man. He then proceeds through Scripture—including the prophets, the Wisdom literature, the Gospels, and the Pauline letters—systematically showing that when the books of the Old and New Testaments are viewed in their historical growth, they reveal a theology of manhood and womanhood that runs counter to both traditional Judaism and Christianity and to modern religious attitudes and practices.
In the course of his thorough analysis of Scripture, Terrien eloquently examines a host of themes bearing on the issues of gender and personhood, from the myth of the Garden and the eros-agape continuum in the Song of Songs to male overreaction to sexual mysticism and the Gnostic personification of wisdom. Terrien also explores matters related to marriage, homosexuality, and male and female priesthood, all with the aim of uncovering a truly biblical understanding of the relationship between the genders and between all people and God.
The only comprehensive biblical theology devoted to this topic. . . . Phyllis Trible has written an excellent foreword in which she compares Terrien's feminist insights with those of Tikva Frymer-Kensky and Elisabeth Schüssler Fiorenza. . . . The book continues to be well worth the reading.
—The Bible Today
This is one of those rare books that ought to be read by anyone who deals with Scripture or sexuality. Seldom has this reader had the pleasure of reviewing a book that maintained such a high level of interest, insight, and scholarship from start to finish, or challenged in such a positive way so many accepted conclusions of both more traditional as well as feminist interpretations of biblical texts.
—Theology Today
Samuel Terrien (1911–2002) was Davenport Professor Emeritus of Hebrew and Cognate Languages at Union Theological Seminary in New York. His many other books include The Iconography of Job through the Centuries: Artists as Biblical Interpreters, and The Elusive Presence: Toward a New Biblical Theology.

To Advance the Gospel
Author: Joseph A. Fitzmyer
Publisher: Eerdmans
Publication Date: 1998
Pages: 439
In this greatly expanded second edition of To Advance the Gospel, Joseph A. Fitzmyer has added eight new studies of important Pauline and Lucan topics not part of his original work. Together these nineteen essays consider a number of major issues in the study of the New Testament as well as in the life of the church today.
Readers will find discussions of such themes as the priority of Mark and the "Q" source in Luke, crucifixion in ancient Palestine, the gospel in the theology of Paul, the ascension of Christ and Pentecost, and the resurrection of Christ according to the New Testament.
Joseph A. Fitzmyer, S. J., is professor emeritus of biblical studies at Catholic University of America, Washington, DC.
About the Editors
Astrid B. Beck is on the faculty at the University of Michigan. She is managing editor of The Leningrad Codex, managing editor of The Anchor Yale Bible Dictionary, co-editor of Fortunate the Eyes That See: Essays in Honor of David Noel Freedman in Celebration of His Seventieth Birthday, and general editor of the Biblical Resource Series.
David Noel Freedman (1922–2008) was a prolific and influential Bible and Dead Sea Scrolls scholar. For many years he held the Endowed Chair in Hebrew Biblical Studies at the University of California, San Diego. He is the author of literally hundreds of books, the editor in chief of Eerdmans Dictionary of the Bible, and the general editor of several distinguished series.