Sacraments Collection (2 vols.)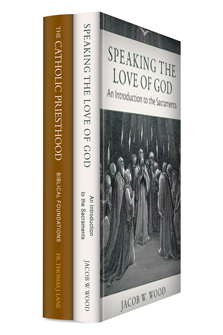 Overview
The sacraments can often prove to be mysterious to Catholics and non-Catholics alike. Yet, a proper understanding of the sacraments is key to understanding how Catholics live out their Christian faith and their relationship with God. In this collection from Emmaus Road Publishing, you will explore the Catholic teaching on the sacraments in light of Scripture, the Early Church Fathers, and other magisterial documents in order to come to a deeper understanding of the seven sacraments and their biblical and historical roots. Both accessible and challenging, this set is sure to deepen your appreciation for the foundation and purpose of these essential components of Catholic life.
In the Logos edition, these volumes are enhanced by amazing functionality. Important terms link to dictionaries, encyclopedias, and a wealth of other resources in your digital library. Perform powerful searches to find exactly what you're looking for. Take the discussion with you using tablet and mobile apps. With Logos Bible Software, the most efficient and comprehensive research tools are in one place, so you get the most out of your study.
Key Features
Presents a clear, systematic exploration of the seven sacraments
Offers a thorough biblical basis for the Catholic understanding of the sacraments
Unpacks the transformative power of the sacraments for us today
Individual Titles
During the time of Jesus Christ, neither he nor his apostles would have had the term "priest" applied to their mission or identity. The priesthood was exclusive to the tribe of Levi and at that time was associated primarily with their sacrificial liturgies in the temple. But with Christ's death on the cross, a new understanding of Christ as priest began to grow in light of his priestly self-sacrifice. The Catholic Priesthood: Biblical Foundations by Fr. Thomas Lane highlights the Scriptural evidence indicating that Christ's intention was to establish a New Covenant priesthood that he would share with his apostles and their successors.
In this new and compelling book, Fr. Lane makes it clear from the witness of the Scriptures that Jesus, himself High Priest of a New Covenant, intended to form a priestly people and to establish a priesthood in accord with that New Covenant. This book will assist both the baptized in understanding more deeply their royal priesthood and the ordained in appropriating the full richness of their call to serve the Body of Christ in persona Christi capitis.
—Most Rev. Kevin C. Rhoades, Bishop of Fort Wayne-South Bend
For years I have wanted an up-to-date and robustly biblical analysis of the priesthood that I could assign to seminarians. Fr. Lane's The Catholic Priesthood: Biblical Foundations fills a major lacuna. It covers an impressively wide range of topics and incorporates fresh insights from recent exegesis in a faithful and illuminating way.
—Brant Pitre, Professor of Sacred Scripture, Notre Dame Seminary
Fr. Lane unveils through his study the superabundance of the biblical record for Christological, liturgical, sacramental, and spiritual theology. In short, he has answered the call of Pope Emeritus Benedict XVI to make biblical study properly theological, and theology return to the Bible as its 'soul.'
—John D. Love, Associate Professor of Systematic and Moral Theology, Department Chair of Moral Theology, Mount St. Mary's Seminary
Father Thomas Lane grew up in Ireland and was ordained a priest in 1990. He earned a License in Sacred Scripture at the Pontifical Biblical Institute and a Doctorate in Sacred Theology at the Pontifical Gregorian University in Rome. Father Lane is Professor of Sacred Scripture at Mount St. Mary's Seminary in Emmitsburg, Maryland.
"Our words indicate our thoughts, but our thoughts don't make anything happen. . . . It's not the same with God." In Speaking the Love of God: An Introduction to the Sacraments, Dr. Jacob W. Wood shows how Christ gives his Church the power to speak with God's voice in the seven sacraments. In this foundational guide to the sacraments, discover the power of the signs and words that transform us by grace and prepare us for glory.
This introduction to the sacramental life opens the treasures of the Church both to those newly discovering them and also to those who may have not understood their richness. Recent years have not always offered adequate catechesis, but Dr. Jacob Wood helps remedy that with a gifted intellect that makes the wealth of faith easily understood in ways congenial to any diligent reader.
—Fr. George William Rutler, pastor of St. Michael's Church in New York City and author of Hints of Heaven: The Parables of Christ & What They Mean for You
Speaking the Love of God beautifully shows how the sacraments allow each of us to share in God's plan of salvation. This book faithfully presents the Church's understanding of the sacraments, illustrates how they are founded in Jesus Christ and the Scriptures, and illuminates how we live them today through the practices and teachings of the Fathers of the Church.
—Fr. Devin Roza, author of Fulfilled in Christ: The Sacraments—A Guide to Symbols and Types in the Bible and Tradition
The Catechism states that the seven sacraments are 'efficacious signs of grace, instituted by Christ and entrusted to the Church, by which divine life is dispensed to us.' Dr. Wood's book unpacks this profound truth in clear and comprehensive ways. Just as importantly, this excellent book challenges readers to grow in their love for Christ and his Church.
—Carl E. Olson, editor of Catholic World Report and author of Did Jesus Really Rise From the Dead?
Dr. Jacob W. Wood is assistant professor of theology at the Franciscan University of Steubenville. He has presented at conferences nationally and internationally. His work focuses on theological anthropology in medieval, early modern, and ressourcement theology, and has appeared in many publications including The Heythrop Journal, Nova et Vetera, The T&T Clark Companions to Augustine and Modern Theology and to Henri de Lubac, the Oxford Encyclopedia of the Bible and Ethics and others.
More details about these resources