Catholic Theology Collection (2 vols.)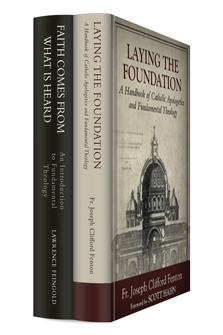 Overview
It is helpful in any intellectual discipline to periodically spend time pondering the fundamentals and foundations of the field of study. This is no less true in the field of theology. This collection pulls together two top-notch resources that systematically explain and defend the foundations of Catholic theology. Dr. Lawrence Feingold presents an accessible introduction to Fundamental Theology, grounded in the Thomist tradition, Church Fathers, and the Magisterium. Organized as a textbook, Faith Comes from What is Heard lays out the theology of God's revelation in the context of Tradition and Biblical Theology.
Along side Feingold's textbook is the classic work of Catholic theology and apologetics by the late Joseph Clifford Fenton. Originally published in 1942, this new edition includes a foreward by Scott Hahn explaining that value and importance of this leading apologist of the 20th century.
In the Logos edition, these volumes are enhanced by amazing functionality. Important terms link to dictionaries, encyclopedias, and a wealth of other resources in your digital library. Perform powerful searches to find exactly what you're looking for. Take the discussion with you using tablet and mobile apps. With Logos Bible Software, the most efficient and comprehensive research tools are in one place, so you get the most out of your study.
Key Features
Lays out a comprehensive look at Catholic theology, grounded in the teachings of the Church
Includes a classic text of Catholic apologetics, still relevant today
Draws upon ancient and contemporary voices for Catholic theology and practice
Product Details
Individual Titles
Faith Comes from What Is Heard: An Introduction to Fundamental Theology informs both the heart and mind as it brings together dogmatic and biblical theology, the Thomistic tradition, the teachings of the Fathers of the Church, and the contemporary Magisterium. Drawing heavily upon the works of St. Thomas Aquinas, Bl. John Henry Newman, Joseph Ratzinger, and St. John Paul II, the author examines the foundations of Catholic theology, or Fundamental Theology, "which is theology's reflection on itself as a discipline, its method, and its foundation in God's Revelation transmitted to us through Scripture and Tradition."
Although Faith Comes from What Is Heard is useful for all Catholics who want to understand the foundations of their faith, it is specifically designed to serve as a textbook for courses in Fundamental Theology in seminaries and in graduate and undergraduate programs in theology. It can also serve as a textbook for introductory theology and Scripture courses. The topics covered in Faith Comes from What Is Heard include: Revelation and Faith, Theology, Tradition and the Magisterium, Biblical Hermeneutics, the Historicity of the Gospels, and Biblical Typology
Lawrence Feingold's new book on Fundamental Theology is one of the finest treatments of this subject in English. His presentation is entirely faithful to the Magisterium and he writes in a clear and accessible manner. He makes excellent use of sources and his expositions of subtle topics such as biblical inerrancy and magisterial authority are extremely helpful and illuminating.
—Robert L. Fastiggi, professor of systematic theology, Sacred Heart Major Seminary
Lawrence Feingold is associate professor of theology and philosophy at Kenrick-Glennon Seminary in St. Louis. In 1999 he earned a doctorate in theology from the Pontifical University of the Holy Cross in Rome. He is the author of The Natural Desire to See God According to St. Thomas Aquinas and His Interpreters and of a three-volume series entitled The Mystery of Israel and the Church.
Laying the Foundation: A Handbook of Catholic Apologetics and Fundamental Theology is a classic text by the late Fr. Joseph Clifford Fenton, a highly respected author, professor, and theologian of the twentieth century.
"This book appeared in 1942 under the rather unimposing title We Stand with Christ: an Essay in Catholic Apologetics. It should have become a classic," writes Scott Hahn in the foreword. "It is, I believe, the greatest work of apologetics produced in a time of superstar apologists such as F. J. Sheed, Ronald Knox, and Fulton Sheen. It represents the high point of apologetics as well as a gold standard for subsequent works of fundamental theology.
Joseph Clifford Fenton (1906–1969) was professor of fundamental dogmatic theology at the Catholic University of America for twenty-five years and for two decades edited the American Ecclesiastical Review. He was a member of the Pontifical Roman Theological Academy, served as counselor to the Sacred Congregation of Seminaries and Universities, and participated in the Second Vatican Council as a member of the preparatory Theological Commission, the Doctrinal Commission, and the Commission on Faith and Morals.
More details about these resources