Las Epístolas Pastorales: Un comentario sobre el texto griego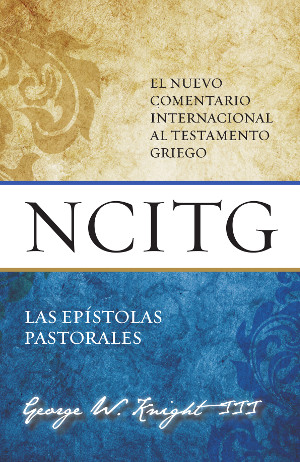 Las Epístolas Pastorales: Un comentario sobre el texto griego
•
Runs on Windows, Mac and mobile.
Reseña
Este es un comentario exhaustivo en español del texto griego de Primera y Segunda de Timoteo y Tito. El autor, George W. Knight, presta cuidadosa atención a los comentarios de intérpretes anteriores tanto antiguos como recientes. Sin embargo, su énfasis es en la exégesis del texto griego mismo y en el flujo del argumento en cada una de estas tres Epístolas.
Además de proveer un análisis detallado de los significados e interrelaciones de las palabras griegas como aparecen en su contexto, el comentario de Knight incluye una introducción que examina meticulosamente la cuestión de la autoría (él argumenta por la autoría de Pablo) y propone, en base a las características de estilo, que Lucas podría haber sido el amanuense para estas Epístolas). Además incluye el trasfondo histórico de estas cartas, y las personalidades y circunstancias de los destinatarios.
Knight también aporta dos "excursus" especiales: el primero reúne información sobre los líderes y oficios eclesiásticos tanto en las Pastorales como en el resto del Nuevo Testamento; el otro excurso o digresión examina las motivaciones para la conducta exigida en Tito 2:1-10 y su aplicabilidad para las situaciones del día de hoy.
Elogios sobre la Edición Impresa
Un manual exegético a las Epístolas Pastorales… bien escrito, claro y conciso… este comentario ofrece un resumen excelente de la pericia moderna en las Pastorales, además de ofrecer una discusión bien fundada y de ayuda del texto por un académico experimentado. Este comentario merece estar en la repisa de todo pastor y estudiante serio de las Escrituras.
Journal of Biblical Literature
Continuando con el estilo de esta excelente serie, el comentario de Knight obtiene su mayor valor en el detallado análisis del texto griego de las Epístolas.
The Bible Today
Detalles del producto
Título: Las Epístolas Pastorales: Un comentario sobre el texto griego
Autor: George W. Knight III
Editorial: Fundación Hurtado
Páginas: 552
Fecha de publicación: 2016
Acerca del autor
George W. Knight III, es maestro en la Matthews Orthodox Presbyterian Church en Matthews, Carolina del Norte, y profesor adjunto del Nuevo Testamento en la extensión de Charlotte del Greenville Presbyterian Theological Seminary. Sus otras obras publicadas incluyen The Faithful Sayings in the Pastoral Epistles y The Role Relationship of Men and Women.
Páginas de muestra
More details about this resource