Bible Study Magazine—January–February 2018 Issue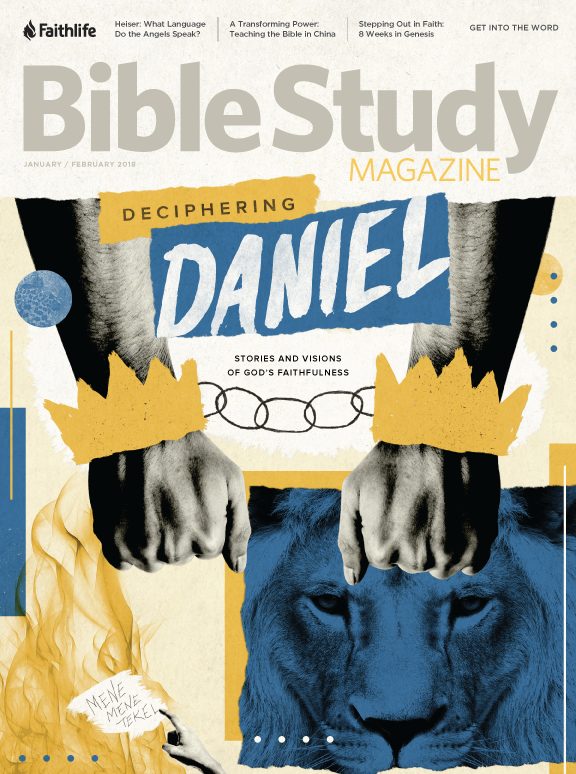 Bible Study Magazine—January–February 2018 Issue
Want more Bible Study Magazine? Subscribe today and get six issues per year for just $19.99—33% off the cover price!
Get Bible Study Magazine now by purchasing the January–February 2018 back issue for $3.95. That's 20% off the newsstand price of $4.95!
Bible Study Magazine is a print magazine (not an emagazine) published by Lexham Press. Six times a year, Bible Study Magazine delivers tools and methods for Bible study as well as insights from respected teachers, professors, historians, and archeologists.
Read pastor profiles, author interviews, and stories of individuals whose thoughtful engagement with Scripture has shaped their thinking and defined their ministries. Bible Study Magazine reveals the impact of God's Word in their lives—and the power of Scripture in yours.
There is a limited supply of back issues of the January–February 2018 Bible Study Magazine.
Feature Stories
Discover new ways to connect the Bible with your ministry and life through in-depth interviews and articles from the biggest names in the church and biblical scholarship.
Bible Study Tips
Explore the Word—thoughtful and engaging authors tackle the tough passages in Scripture, explain difficult concepts, and confront complex interpretations in a way that helps the Gospel make sense in your life.
On the Cutting Edge
Keep up to date on the latest news in biblical research, including archaeological and historical findings.
A New Kind of Bible Study
Encounter God by yourself or with other believers with an ongoing Bible study in each issue.
On Teaching
Get advice on how to preach or teach the Bible in any setting from well-known pastors and teachers who use the Bible every day.
Tool Box
Learn how to effectively use the latest Bible study tools with our how-to guides.
In the News
Keep informed about the latest news in biblically related topics, discoveries, and events.
Thoughts from the Ancients
Read the Bible together with those who have come before you, and learn from the wisdom of the early church—in its own words.
Word Studies
Get a close-up view of the Bible! Each issue contains insights about specific words found in the Bible and tutorials on how to do word studies.
If Only Someone Would Explain It to Me
Enrich your understanding of the Bible with explanations of biblical and theological concepts by top scholars.
Did You Know?
Discover interesting facts about the place of the Bible in the contemporary and the ancient world.
What They Don't Tell You in Church
See things you never noticed in biblical passages you have read dozens of times.
Biblical Humor
The funniest stories and the best comics related to the Bible, useful for any setting.
Book Reviews
Stay on top of the latest books about Bible study. Each issue contains reviews of books and commentaries to equip you in your study of God's Word.
Deciphering Daniel: Embracing God's Mystery and Sovereignty
On the evening of September 11, 2001, I began teaching a course on Daniel and apocalyptic literature. Students were stunned by the tragic events still unfolding through the afternoon hours into the evening. A student whose husband, daughter, and son-in-law were working in the World Trade Center was sitting in the corner of the room. She refused to go home and wait for phone calls. Instead, she chose to stay with the class through those agonizing hours. (She would later learn that her immediate family all survived, but she lost her niece in the tragedy.) It was more than a coincidence that I had adopted my course's subtitle from the theme identified by Tremper Longman III in his commentary on Daniel: "In spite of present appearances, God is in control."
—Barbara M. Leung Lai
A Transforming Power: Teaching the Bible in China
Fifty years ago, millions of Red Guards—a ruthless cadre of radicalized students—waged war against tradition and religion, the twin threats to Maoism. This was modern China's darkest decade: the Great Proletarian Cultural Revolution (1966–1976).
—Bonnie Lin
A Flash of Grace
Last summer, our purebred chocolate lab enlivened our home with a litter of puppies. One of them captured the hearts of many visitors, both in person and online. Flash had looks and personality—and the ability to soothe the soul of whoever held him. But he remained available until we got a call.
—Kelley Matthews
Strange Visions: Apocalyptic Imagery in Daniel 7–12 Points to God's Triumph
In The Wizard of Oz, Dorothy expresses her fear with the well-known phrase, "Lions and tigers and bears, oh my!" We might experience a similar response as readers when we turn to the final six chapters of Daniel and discover strange beasts, talking horns, cryptic numbers, and mysterious figures such as the "Son of Man." Daniel himself was startled by the visions he received: "As for me, Daniel, my spirit within me was anxious, and the visions of my head alarmed me" (7:15).
—Jennifer M. Matheny