Eerdmans Studies on the New Testament Collection (5 vols.)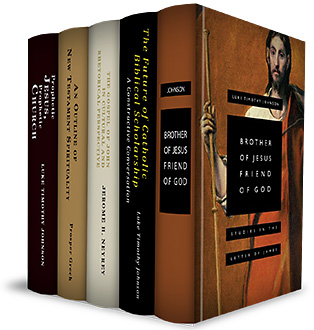 Eerdmans Studies on the New Testament Collection (5 vols.)
•
Runs on Windows, Mac and mobile.
Overview
The Eerdmans Studies on the New Testament Collection provides an in-depth study of key New Testament concepts and texts. This engaging series will broaden your understanding of the traditions, practices, and framework of biblical interpretation. Topics covered include the:
Church's response to spirituality as defined throughout the New Testament
Theological importance of understanding James' role in discipleship and mission
Intended prophetic vision for the church—as laid out in the books of Luke and Acts
Interpretation of the Gospel of John from an anthropologic and ancient rhetoric lens
Challenges that lie ahead in historical-critical approaches to biblical interpretation in relation to Catholic doctrine
This collection is perfect for students, pastors, scholars, or laity seeking a clear understanding of complex issues in the New Testament. What's more, with Logos, every word is essentially a link! Scripture references are linked directly to the Bibles in your library—both the original language texts and English translations. Double-clicking any word automatically opens your lexicons to the relevant entry, making words instantly accessible. With Logos, you can quickly move from the table of contents to your desired content and search entire volumes and collections by topic, title, or Scripture reference.
Key Features
Written in an academic yet readable style
Outlines key spiritual themes of early Christian belief
Works on a variety of biblical and theological topics
Product Details
Title: Eerdmans Studies on the New Testament Collection
Publisher: Eerdmans
Volumes: 5
Pages: 1,438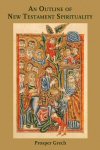 It has become commonplace in contemporary culture to divorce spirituality from religion and regard the two as separate, competing entities. Yet Prosper Grech, an Augustinian priest and professor of early Christian literature, recognizes no such distinction. The Christian religion, he finds, is infused with spirituality—which he defines not in a New Age sense but rather as the believer's full response to God's offer of salvation in Christ." In this book, Grech presents the essential spiritual themes of Christian belief for meditation by any who seek to live out their Christian faith in its fullness.
In his compact Outline of New Testament Spirituality Grech considers a wealth of biblical texts, including Genesis, the Psalms, the Synoptic Gospels, Paul's epistles, the letter to the Hebrews, and John's Gospel, letters, and Apocalypse. He uncovers the New Testament church's spiritual response to God's gifts in each of these texts:
Its inherited response to God's Old Testament covenant with Israel
Its response to Jesus' preaching, to the Paschal mystery of his death and resurrection, and to Christ the Light of the World
Its response to its own place in history displayed in Acts and Revelation
Weaving these various theological strands together, Grech traces the contours of a dynamic, yet contemplative Christian spirituality—one that not only saturated the New Testament church but also continues to animate Christian life today.
Prosper Grech, O.S.A., is Professor of First and Second-Century Christian Literature at the Patristic Institute in Rome and a member of the Pontifical Biblical Commission. He is the author of The Augustinian Community and the Primitive Church.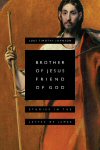 The letter of James has enjoyed a colorful history, with its background and significance widely debated over the centuries. In this book, an outstanding scholar of the New Testament offers new and selected studies of James that show its roots in antiquity and its importance for Christian history and theology.
Luke Timothy Johnson explores the letter of James from a variety of perspectives. After a general introduction to James, he looks at its history of interpretation. Johnson then examines James's social and historical situation, its place within Scripture, and its use of the sayings of Jesus. Several exegetical studies take care to place James in the context of Hellenistic moral discourse. Two concluding essays look at the themes of friendship and gender in James.
While seemingly of interest only to professionals, Johnson's Brother of Jesus, Friend of God will also be accessible to general readers serious about Bible study, and church groups will find this volume to be a fruitful entry into an important portion of the New Testament.
Luke Timothy Johnson rightly argues that the Epistle of James provides important evidence for any study of the brother of the Lord. His work in writing commentaries on James and Acts fits him well for the approach that he has adopted. He argues that his study of the epistle reveals the voice of James, a voice that 'agrees substantially with the best reading of Luke and Paul with respect to the historical James.' Not all readers will agree with this reading, but Johnson makes a strong case for the value of the epistle in understanding the life and mission of the brother of the Lord. Anyone interested in James—the epistle and the person—will want to read this book.
—John Painter, Professor of Theology, Charles Sturt University
This fine collection from Luke Timothy Johnson, a leading interpreter of the Letter of James, offers advanced Bible students a fluent and full introduction to the letter's composition, canonization, theological contribution, and history within the early church. Although Johnson's book is scholarly in purview, including extensive notes and a current bibliography, his evident purpose is to set James within a context where current interpreters can better retrieve meaning in a way that underscores the letter's continuing importance for forming a more vital Christian faith. Johnson accomplishes this purpose with uncommon skill and grace.
—Robert W. Wall, Professor of Scripture and Wesleyan Studies, Seattle Pacific University
With this welcome study of the background, theology, and interpretation of the Letter of James, Luke Timothy Johnson rehabilitates this New Testament book both from the disparagement it has suffered in church history and from those for whom its theological vision remains marginal today. Read in concert with Johnson's premier commentary on James, this book urges forms of discipleship marked by community and integrity—a way of life oriented radically around the gift-giving God.
—Joel B. Green, Professor of New Testament Interpretation, Fuller Theological Seminary
Luke Timothy Johnson is R. W. Woodruff Professor of New Testament and Christian Origins at Candler School of Theology, Emory University. His books include The Creed: What Christians Believe and Why It Matters and Brother of Jesus, Friend of God: Studies in the Letter of James. Johnson is the winner of the 2011 Grawemeyer Award in Religion for his Among the Gentiles: Greco-Roman Religion and Christianity.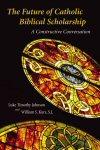 Luke Timothy Johnson and William Kurz are Roman Catholic New Testament scholars who think that the apparent good health of biblical scholarship in America is deceptive. Despite its huge production of learning, Catholic scholarship has lost some of its soul because of its distance from the life and concerns of living faith communities. In this volume, the authors open a conversation with others in the church concerning a future Catholic biblical scholarship that maintains the freedom of critical inquiry but within a living loyalty to tradition.
Looking not to criticize but to strengthen, the authors model the type of dialogue that is needed today. Johnson first reviews the current state of Catholic biblical scholarship and then points out important lessons from throughout the tradition of interpretation. He calls for "imagining the world that Scripture imagines" as the presupposition for the organic use of the Bible in theology. Kurz responds to Johnson's chapters and then offers his own approach to biblical interpretation, showing how literary analysis of the Gospel of John can be brought into conversation with the Nicene Creed, with recent debates in ethics, and with the practices of the church. After Johnson responds to Kurz, the authors jointly conclude by addressing a series of questions concerning hard issues now facing Catholic biblical scholarship.
Two leading Roman Catholic scholars attempt to describe what is distinctive about Catholic biblical scholarship and what challenges lie ahead in view of the limitations of historical-critical approaches to the Bible. . . . Useful for seminarians, pastors, and teachers who would like an intelligent presentation of issues facing Catholic exegetes. . . . One hopes that others, whether Catholic or not, will join the conversation, for there is much at stake in future biblical interpretation.
—Interpretation
'Politically incorrect' is a label that Luke Timothy Johnson and William Kurz might wear proudly. They mean to buck some trends that they feel have distracted biblical scholars from serving the community of faith—from ancient prooftexting to the current privileging of the historical-critical approach, the hermeneutics of suspicion, and the quest for the historical Jesus. In doing so, they mean to stimulate their peers in the biblical guild to rethink some of the ways they do their work, yet without scrapping the benefits of modernity and even post-modernity. Readers will likely find much to argue with here (indeed, Johnson and Kurz sometimes disagree with each other), but few will doubt that the challenges they issue need to be addressed. Although Johnson and Kurz specifically address their Roman Catholic colleagues, what they say in this book will surely earn a hearing among all Christians who read the Bible with a view to living as disciples of Jesus Christ.
—Dennis Ham, Professor of Theology, Creighton University
An important discussion that will be a focal point of debate for years to come.
—Frank J. Matera, Associate Professor of New Testament, The Catholic University of America
Luke Timothy Johnson is Professor of New Testament and Christian Origins at Candler School of Theology, Emory University. His books include The Creed: What Christians Believe and Why It Matters and Brother of Jesus, Friend of God: Studies in the Letter of James. Johnson is the winner of the 2011 Grawemeyer Award in Religion for his Among the Gentiles: Greco-Roman Religion and Christianity.
William S. Kurz is a professor of New Testament at Marquette University; his other books include Following Jesus and Reading Luke-Acts.
Prophetic Jesus, Prophetic Church: The Challenge of Luke-Acts to Contemporary Christians
Author: Luke Timothy Johnson
Publisher: Eerdmans
Publication Date: 2011
Pages: 200
"Christians chronically and desperately need prophecy," says award winning biblical scholar Luke Timothy Johnson. In this and every age, the church needs the bold proclamation of God's transforming vision to challenge its very human tendency toward expediency and self-interest—to jolt it into new insight and energy. For Johnson, the books Luke and Acts provide that much-needed jolt to conventional wisdom. To read Luke-Acts as a literary unit, he says, is to uncover a startling prophetic vision of Jesus and the church—one that imagines a reality very different from the one humans would construct on their own. Johnson identifies in Luke's writings an ongoing call for today's church, grounded in the prophetic ministry of Jesus Christ, to embody and enact God's vision for the world.
Luke Timothy Johnson is Professor of New Testament and Christian Origins at Candler School of Theology, Emory University. His books include The Creed: What Christians Believe and Why It Matters and Brother of Jesus, Friend of God: Studies in the Letter of James. Johnson is the winner of the 2011 Grawemeyer Award in Religion for his Among the Gentiles: Greco-Roman Religion and Christianity.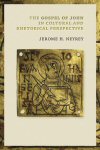 Given all that has been written about the Gospel of John over the past twenty centuries, can anything more possibly be said about it? Yes, says Jerome Neyrey—by reading this "maverick Gospel" in terms of ancient rhetoric and by viewing it in terms of cultural anthropology.
By interpreting the text in these two fresh ways, Neyrey distinctively illuminates the Gospel of John, casting new light on its theological message and on such topics as Jesus the revealer practicing secrecy, foot-washing as transformation ritual, and the Jewish background of Jesus equality with God, of Jesus being greater than Abraham. Neyreys scholarly study will certainly educate—and at times provoke—attentive readers.
Jerome H. Neyrey is Professor Emeritus of New Testament at the University of Notre Dame. His other books include Give God the Glory: Ancient Prayer and Worship in Cultural Perspective and the Gospel of John in the New Cambridge Bible Commentary .