Christ's Prophetic Plans: A Futuristic Premillennial Primer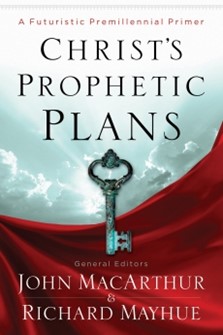 Christ's Prophetic Plans: A Futuristic Premillennial Primer
•
Moody 2012
Runs on Windows, Mac and mobile.
Your Custom Discount
Reg. Price $10.99
Sale Price $8.99
Your Price $8.99
You Save $2.00 18%
Your Price
What's Pre-Pub?
$8.99
Overview
Do you wish you clearly understood the different views of the millennium and know why you believe which view you hold to? General editors and experienced bible scholars John MacArthur and Richard Mayhue help to provide a clear and convincing Biblical explanation for the interpretive approach to Scripture that results in a knowable futuristic view of Christ's millennial reign on earth. Christ's Prophetic Plans also helps provide the certain validity of God's promises to future Israel, and the crucial differences between Israel (as a people and a nation) and the New Testament church.
Christ's Prophetic Plans offers the reader John MacArthur's most explicit writing on eschatology and is perfect for pastors, bible professors, teachers, and students with a heart and mind for discovering Biblical truth. This primer takes you on a Biblical study of questions surrounding prophecy, Israel, the rapture, and the different millennial views. The fruit of such study is great as God specifically promises His blessing on those who know and obey the things of biblical prophecy (Revelation 1:3; 22:7).
In the Logos edition, this volume is enhanced by amazing functionality. Important terms link to dictionaries, encyclopedias, and a wealth of other resources in your digital library. Perform powerful searches to find exactly what you're looking for. Take the discussion with you using tablet and mobile apps. With Logos Bible Software, the most efficient and comprehensive research tools are in one place, so you get the most out of your study.
Key Features
Understand the controversies and debates about the millennium in Christian theology
Understand God's plan for the church and God's promises for Israel
Insights from leading evangelical pastor John MacArthur and other scholars
Contents
What Is Dispensationalism? by Michael Vlach
What Is Dispensationalism Not? by Michael Vlach
Why Futuristic Premillennialism? by Richard Mayhue
Why a Pretribulation Rapture? by Richard Mayhue
What about Israel? by Michael Vlach
What about Revelation 20? by Matthew Waymeyer
Does Calvinism Lead to Futuristic Premillennialism? by John MacArthur
Does the New Testament Reject Futuristic Premillennialism? by John MacArthur
Did the Early ChurchB elieve in a Literal Millennial Kingdom? by Nathan Busenitz
How Certain Is Futuristic Premillennialism? by John MacArthur
About the Editors
Richard Mayhue served with the United States Navy from 1966 to 1971, including a tour of duty in Vietnam. After seminary he ministered from 1975 to 1977 as an assistant pastor at Grace Brethren Church in Columbus, Ohio, where he also served as director of the Worthington Bible Institute. From 1977 to 1980, Dr. Mayhue taught in the areas of New Testament and Pastoral Ministries at Grace Theological Seminary in Winona Lake, Indiana, where he also enjoyed an active weekend Bible conference ministry. From 1980 to 1984, he was a member of the pastoral staff at Grace Community Church where he served as an associate to Dr. MacArthur in a teaching ministry and as director for the well-known Shepherds' Conferences. From 1984 to 1989, he pastored the historic Grace Brethren Church of Long Beach, California. Dr. Mayhue joined the faculty of The Master's Seminary in 1989 and was appointed as Dean of the Seminary in 1990. Dr. Mayhue also served in the role as Senior Vice President and Provost of The Master's College (2000-2008). Dr. Mayhue has authored, contributed to, and/or edited twenty-five books, including How To Interpret the Bible for Yourself, The Healing Promise, What Would Jesus Say About Your Church?, Seeking God, Practicing Proverbs, Unmasking Satan, 1 & 2 Thessalonians, and Bible Boot Camp, plus numerous periodical and journal articles. He is active in Bible conference ministries. He has been married to his gracious wife, "B", for over forty years, and they have two children: Wade and Lee. Lee and her husband, Michael Carson (married 10/6/90), have one son, Iain Michael Carson. Wade and Tracey were married 9/30/95, and have one son, James Patrick. Dr. Mayhue enjoys gardening, model railroading (N scale), stamp collecting (USA), and grandfathering when he takes brief breaks from ministry.
John MacArthur (b. 1939) is a Calvinist theologian, author, editor, and teacher. He is a popular conference speaker and the president of both The Master's College and The Master's Seminary. He has also served as pastor-teacher of Grace Community Church in Sun Valley, California since 1969. Best known for his expository exegesis of the Bible, Logos has collected more than 3,000 of his sermons in the John MacArthur Sermon Archive and offers the complete MacArthur New Testament Commentary.
Nathan Busenitz serves as an associate pastor and assistant to John MacArthur at Grace Community Church in Sun Valley, California. The author of numerous articles and books, Busenitz also teaches at The Master's Seminary and is the managing editor of Pulpit magazine.
Sample Pages from the Print Edition