Gospel according to the Old Testament Series (18 vols.)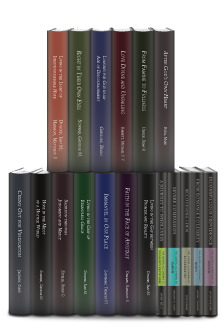 Gospel according to the Old Testament Series (18 vols.)
•
P&R 1999–2016
Runs on Windows, Mac and mobile.
Overview
This important series from noted pastor-scholars fulfills a great need for resources that show how the Old Testament presents and finds its fulfillment in the Gospel of Jesus Christ–not just in occasional Messianic prophecies, but in its essential message. Without falling into arbitrary allegory, the authors of this series present exegetically grounded exposition of Scripture that shows how all Old Testament doctrine and drama is about Christ, even when he is not on stage. The volumes in this collection cover various figures in, and portions of, the Old Testament. Discover the Gospel in the Joseph story, in the books of Judges, Zechariah, Hosea, and Daniel, in the lives of Abraham, Isaac, and Jacob, in the Old Testament presentation of Israel's worship, and more.
The Logos Bible Software editions of these volumes is designed to encourage and stimulate your study and understanding of the Old Testament. Scripture passages link directly to your English translations and original-language texts, and important theological, exegetical, and redemptive-historical concepts link to dictionaries, encyclopedias, and a wealth of other resources in your digital library. In addition, you can perform powerful searches by topic and find what other authors, scholars, and theologians have to say about Old Testament typology, the apostolic hermeneutic, redemptive-historical interpretation, and other related topics.
Key Features
Christ-centered interpretation of Old Testament figures, stories, and books
Accessible redemptive-historical exegesis from pastor-scholars
Praise for the Print Edition
One of the most urgent needs of the church is to grasp how the many parts of the Bible fit together to make one 'story line' that culminates in Jesus Christ. This series of books goes a long way to meeting that need. Written at a thoughtful but popular level, it deserves wide circulation.
–D. A. Carson, research professor, Trinity Evangelical Divinity School
At last a series on the Old Testament designed to provide reliable exposition, biblical theology, and a focus on Christ. These books should be like manna in the desert to pastors, preachers, teachers, and many individual Christians who struggle to come to terms with how to read the Old Testament.
–Sinclair Ferguson, senior minister, First Presbyterian Church, Columbia, SC
About the Editor
Iain M. Duguid (PhD, University of Cambridge) is professor of Old Testament and religion at Grove City College in Grove City, Pennsylvania, and visiting professor of Old Testament at Westminster Seminary California. He is co-pastor of Christ Presbyterian Church (ARP) in Grove City. He has written numerous works of biblical exposition, including Ezekiel in the NIV Application Commentary series, Numbers in the Preaching the Word series, Esther & Ruth in the Reformed Expository Commentary series, and more.