Popular Patristics Series, Part 3 (11 vols.)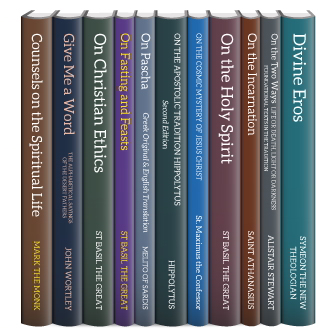 Popular Patristics Series, Part 3 (11 vols.)
•
Runs on Windows, Mac and mobile.
Your Custom Discount
Reg. Price $159.99
Sale Price $99.99
Your Price $99.99
You Save $60.00 37%
Your Price
What's Pre-Pub?
$99.99
Reg.: $159.99
Print: $238.00
Overview
The Popular Patristics Series provides readable and accurate translations of a broad range of early Christian literature to a wide audience—from students of Christian history to lay Christians reading for spiritual benefit. Recognized Patristic scholars provide short but comprehensive and clear introductory essays according to their specializations for each volume. Texts include classics of Christian literature, thematic volumes, homily collections, letters, spiritual guidance, and poetical works from a wide variety of geographical contexts and historical backgrounds. The purpose of the series is to mine the riches of the early church and to make these invaluable writings available to all.
With the Logos Bible Software edition, you can reap the maximum benefit from the Popular Patristics Series by getting easier access to the contents of the collection—helping you use these volumes more effectively for scholarly pursuits, sermon preparation, or personal study. Every word from every book is indexed and catalogued to help you search the entire series for a particular verse or topic. For example, you can search the letters written by St. Cyprian for every instance of the word "baptism."
Key Features
Examines the work of the early church to show the solid foundation current belief rests on
Provides accurate translations of early Christian literature
Includes extensive introductions and bibliographies
Individual Titles
The spiritual counsels of Mark, a fifth century monk in Asia Minor, are equally rich in theological insight and historical interest. His writings were deeply valued by Byzantine ascetics, were circulated during the Reformation, and were read by Lutheran divines and Roman theologians. The general level of interest in his works during the first half of the second millennium is eloquently reported in a fourteenth century manuscript, as a slogan often repeated by monastics and ascetics: "Sell everything and buy Mark." His words on taking responsibility for one another out of love, his practical advice on the need for repentance, and his strident emphasis on the kind of unity evident in Christ directly relate to modern Christians and may provide a useful point of departure for ecumenical dialogue.
These are important texts … as evidence of the seamless robe of monastic thinking and praying in a formative era for the Christian mind and heart.
—Rowan Williams, Archbishop of Canterbury
Tim Vivian is Assistant Professor of Religious Studies, California State University, Bakersfield, and the translator of numerous early patristic texts.
When Christians first began living as monks in the Egyptian desert at the beginning of the fourth century, they had few books and almost no learning. As they gained experience, they concentrated that experience in the form of an oral tradition of tales and sayings (apophthegmata). Apart from the Scriptures (also learned by heart) this was the only training manual they had. Consequently, when the onslaught of barbarians drove many monks out of Egypt early in the following century, they found it better to preserve their oral tradition in writing.
Thus, towards the end of the fifth century there eventually emerged a codification of this monastic lore. It was in two parts: one in which the items were arranged in alphabetical order by the name of the monk who either authored the saying or was characterized in the tale; the other in which all the remaining "anonymous" material was arranged under various heads. The present volume is an attempt to provide the reader with a readable translation of the first of those parts.
It is wonderful to see these gems of spiritual wisdom, worked out in the fourth-century Egyptian desert, appearing in the first new English translation for forty years. John Wortley, who has already published extensive translations of other desert literature, has produced a marvelous lively, and readable translation, faithful to the original. It is sure to bring the great spirit-bearing fathers to life, across the centuries, for many readers today.
—John Behr
John Wortley (b. 1934) taught medieval history at the University of Manitoba. Now professor emeritus, he still serves as a priest of the Anglican / Episcopal Church. Of his many translations from Greek he is best known for John Skylitzes: A Synopsis of Byzantine History 811–1057, Cambridge University Press, 2010.
St. Basil was a towering figure in the fourth-century Church. In the midst of great controversy, he led the charge of those faithful to the doctrine proclaimed at Nicaea. For the bishop of Caesarea, the array of false teachings that plagued the Church was not merely a matter of conflicting opinions or interpretations. It was rather a result of the moral failure of so-called leaders of the Church to look first to the will of God revealed in Scripture as their compass in all things-in matters of both theology and personal conduct.
Here St. Basil lays out a consistent theological ethic, rooted in a nuanced appreciation for the supremacy of Scripture. These texts, presented with the Greek on the facing page, are essential reading for anyone interested in early Christian approaches to ethics as well as the right use and interpretation of the Bible.
Jacob N. Van Sickle, a scholar specializing in Early and Byzantine Christianity. is a PhD Candidate in Historical Theology at Saint Louis University. He earned his MDiv and ThM from St Vladimir's Seminary.
Saint Basil of Caesarea (c. 329-378/9 CE) was a monk, bishop, preacher, theologian, and social activist who had very down-to-earth views about eating, drinking, fasting, and feasts in honor of local martyrs. In this new collection of sermon translations—most offered here in English for the first time— Basil addresses such issues as drunkenness, hesitations over baptism, community benefits of fasting, how to be thankful when facing loss and disaster, and the mystery of the incarnation. Also included are three sermons on local martyrs Julitta, Mamas, and Barlaam. This small volume of elegant translations will be a vital and valued resource for anyone interested in religion and the body, early Christian spiritual disciplines, and their application to the Church today.
Mark DelCogliano teaches at the University of St Thomas in St Paul, Minnesota. In addition to his scholarship on the fourth-century Trinitarian controversies, he has published numerous translations of patristic works, including eleven of Basil's Moral Homilies in On Christian Doctrine and Practice, also in the popular patristics series.
Susan R. Holman is author of over thirty publications, including four books, in the areas of patristic studies, the history of poverty, and medicine. She is Senior Writer at the Harvard Global Health Institute.
The Quartodecimans were early Christians who maintained the tradition derived from Judaism, and observed Pascha at the same time that the Jews observed Passover. In this work, Alistair Stewart, the leading authority on Melito and the Quartodecimans, presents a unique collection of material in a formal ideal for classroom use as well as for the general reader.
At the head of this newly revised collection stand the original Greek text and an updated translation of On Pascha by Melito of Sardis, a liturgical work deriving from Quartodeciman circles in Asia. Alongside this is an extensive introduction and annotation pointing out not only the parallels to Jewish practice, but also offering an analysis of the work in terms of classical rhetoric. Further, in this edition the translator has included an expanded selection of Melito's fragments, testimonia to Melito, and other material vital for understanding the Quartodeciman liturgies from Rome, Syria, and Asia.
Alistair Stewart is a leading scholar of Christian liturgical origins. The author of numerous books on early Christianity and its liturgy, he is a vicar in the Diocese of Oxford, England.
Apostolic Tradition, as this text is best known, was identified in the early twentieth century as the work of Hippolytus, a Christian leader from third-century Rome. The text provides liturgical information of great antiquity, and as such has been massively influential on liturgical study and reform, especially in Western Churches. The second edition of this crucial liturgical document continues Fr Stewart's influential work of re-evaluating the evolution of church hierarchy in the early Church. In addition, this new edition is the first to incorporate a recently discovered Ethiopic manuscript, which in many cases has helped to clarify ambiguities in the text.
Stewart has produced a timely and highly significant contribution...Unravel[s] the complexities...surrounding the foundational Western liturgy, and produce[s] a very compelling solution to the Hippolytan problem.
—Allen Brent, St Edmunds College, Cambridge
Alistair Stewart is a leading scholar of Christian liturgical origins. The author of numerous books on early Christianity and its liturgy, he is a vicar in the Diocese of Oxford, England.
The last half of the twentieth century saw the establishment of the reputation of St Maximus the Confessor as the greatest of all Byzantine theologians, with a wholeness of vision that speaks directly to many of our concerns today. Until very recently, however, little of his work has been available in English translation, save for some collections of brief reflections arranged in centuries and a few brief treatises, too easily classified as "spirituality." This volume provides translations from St Maximus, two main collections of theological reflections, his Ambigua (or Difficulties) and his Questions to Thalassius, plus one of his Christological opuscula, hitherto unavailable in English.
The translations are accompanied by immensely helpful notes, and prefaced by a long, brilliant introduction to the theology of the Confessor. This is the ideal volume from which to learn at first hand the depth and insight of St Maximus' cosmic vision and grasp of the complexities of human nature, as he patiently explores the nature and consequences of the renewal of all things in Christ. Robert Wilken and Paul Blowers have put us all deeply in their debt.
Paul M. Blowers is Professor of Church History at Emmanuel School of Religion and an historian of early and Byzantine Christianity.
Robert Louis Wilken is the William R. Kenan, Jr Professor of the History of Christianity at the University of Virginia, Charlottesville, Virginia.
In his funeral oration for St. Basil, St. Gregory of Nazianzus calls him a "standard of virtue," a "noble champion of the truth," and a "second Joseph" for feeding the hungry in a time of famine. The centuries-long dissemination and study of Basil's works has only confirmed Gregory's appraisal of Basil's great personal holiness, his profound insight into the eloquent defense of the Christian faith, his self-effacing generosity toward the poor and the needy, and his wise and expert guidance for those who sought along with him a deeper union with the Lord through the ascetic life.
On the Holy Spirit is a classic expression of the Church's faith in the Spirit and a lasting testimony to Basil's Christian erudition. Again in the words of Gregory, Basil's treatise was "written by a pen borrowed from the Spirit's store."
Stephen M. Hildebrand is Assistant Professor of Theology at Franciscan University of Steubenville.
By any standard, this is a classic of Christian theology. Composed by St. Athanasius in the fourth century, it expounds with simplicity the theological vision defended at the councils of Nicaea and Constantinople: that the Son of God himself became "fully human, so that we might become god." Its influence on all Christian theology thereafter, East and West, ensures its place as one of the few "must read" books for all who want to know more about the Christian faith. This diglot edition of the Greek text and translation makes this essential and classic work in Christian theology accessible to a wide audience.
John Behr is the Dean of St Vladimir's Orthodox Theological Seminary, Professor of Patristics, and Editor of the Popular Patristics Series. Other SVS Press books by Fr John are The Way to Nicaea, The Nicene Faith (2 vols.), and The Mystery of Christ.
In the early years of the common era, as Judaism and Christianity each emerged, their adherents saw that life presents us with a choice of following one of two ways, either of goodness or of evil, characterized variously as ways of life or death, of light or darkness, of truth or deceit. This conviction is presented to us in a number of different versions and literary contexts. This book contains the various presentations of these two ways from across the centuries. It was a choice faced by those being baptized as by those seeking a deeper knowledge of Christ and one which continues to confront us all even today. Each version of the two ways is presented together with introductions which allow the reader to see the presentation of the motif in its historical and literary context.
Alistair Stewart is an Anglican priest presently serving in the UK. He is the author of numerous articles, essays and books on early Christian life and worship, including three previous works in the Popular Patristics Series.
Symeon the New Theologian was a Tenth-Century Greek monk and ascetic writer. Among his writings, his Hymns are inspiring poetry of timeless value, which challenge the reader to internalize Christian values, even to embrace the Christ event as an individual experience. The Hymns are well suited for devotional reading, but they are not mere devotional tracts; they include time-honored Christian doctrine, made all the more meaningful by the beauty of its expression. These hymns are spiritual reading at its best, that is, they are Symeon's interpretation of his life and his relationship with God in light of Scripture and the Fathers. With heartfelt zeal and biblical imagery, Symeon makes the doctrines of the Fathers intimately relevant for the individual.
Daniel Griggs teaches Latin at Butte College near Chico, California and translates both Greek & Latin medieval texts.