Biblical Greek Made Simple: All the Basics in One Semester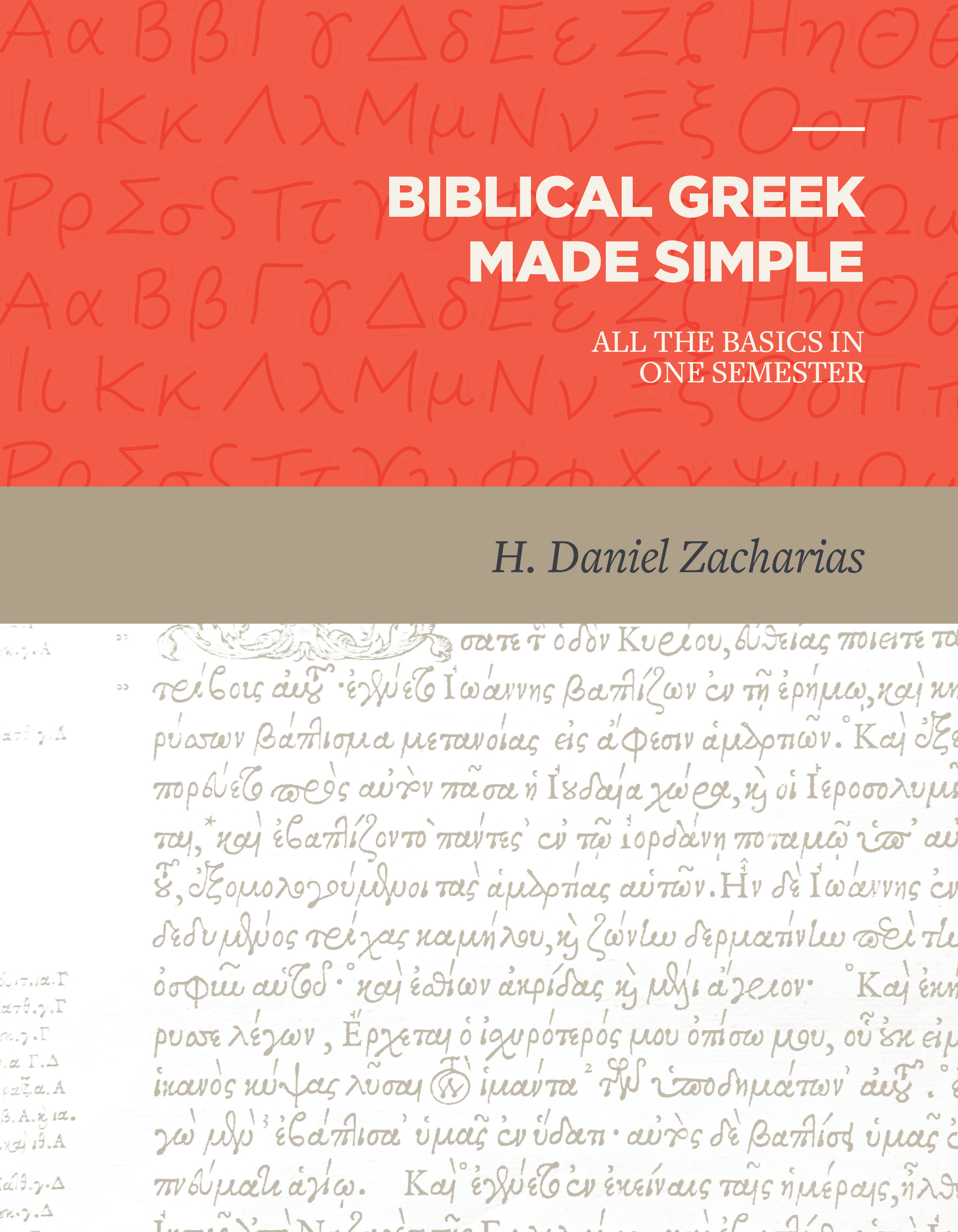 Biblical Greek Made Simple: All the Basics in One Semester
•
Runs on Windows, Mac and mobile.
Biblical Greek Made Simple
Diligent study of God's Word involves engaging with it in the language it was written.
Learning Greek can be a challenging experience for seminary students but it is a critical piece of their education. Engaging with the Bible in its original language will lead to deeper understanding, new insights, and provide tools to enter into the conversation surrounding God's Word.
Biblical Greek Made Simple is a one-semester textbook that teaches the basics of biblical Greek. Designed with the modern student and curriculum in mind, this grammar introduces all the essential elements of biblical Greek while also utilizing the tools and features of Logos Bible Software to help retain and enhance knowledge of Greek. Each chapter includes exercises tailored to its contents as well as additional teaching material for further advancement. Daniel Zacharias provides a solid overview of the entire biblical Greek system, while challenging students to understand how this ancient language is relevant to meaning and translation.
Praise for Biblical Greek Made Simple
Danny Zacharias is a master teacher of elementary Greek. I'm delighted to see in this new book, Biblical Greek Made Simple, a coalescence of Dr. Zacharias's scholarly knowledge, pedagogical skill, and technological competence. As many colleges and seminaries already employ Logos Bible Software in the teaching of Greek, this textbook, which integrates learning to use the Logos software alongside a more traditional teaching approach, will prove invaluable.
—Robert L. Plummer, professor of New Testament interpretation, The Southern Baptist Theological Seminary
Why not try teaching or learning Greek as though Bible software was our friend? This is exactly what Danny Zacharias does in this highly innovative approach to acquiring competency in the language of the New Testament and Septuagint. His visual approach to the formation of Greek words is splendid and discussions of grammar and syntax focus well on those facets that are most important for interpretation. I am deeply impressed both by the detailed lesson plans in every chapter that allow for closely guided self-study and the links to professional-quality instructional videos on every aspect of Greek and the use of Logos that make of this book a virtual course in the language in and of itself. Seminary professors and motivated individual learners alike will want to give this a close look.
—David A. deSilva, Trustees' Distinguished Professor of New Testament and Greek, Ashland Theological Seminary
This is a well-organized, thoughtful, and up-to-date approach to learning foundational elements of New Testament Greek. It is an interactive guide, not a dull-and-distant textbook. It makes strategic use of Logos Bible Software to enhance the learning process. I welcome its addition to the very short list of good first-semester guides to beginning the life-long process of learning to read the New Testament in its original language.
—Robert W. Yarbrough, professor of New Testament, Covenant Theological Seminary
Contents
Signs and Sounds of Greek Stripped Down
Greek Nouns Stripped Down
Case Functions Stripped Down
Greek Indicative Verbs
Alternative Pattern Indicative Verbs and Principal Parts
The Article, Adjectives, Pronouns, and Numbers
Adverbs, Prepositions, Phrases, and Clauses
Participles
Participle Functions
Non-Indicative Verbs
Infinitives
Where Do I Go From Here?
Product Details
Title: Biblical Greek Made Simple: All the Basics in One Semester
Author: H. Daniel Zacharias
Publisher: Lexham Press
Publication Date: 2018
Pages: 360
Format: Logos Digital, Hardcover
Trim Size: 7x9
ISBN: 9781683591009
About H. Daniel Zacharias
H. Daniel Zacharias (PhD, University of Aberdeen / Highland Theological College) is Assistant Professor of New Testament at Acadia Divinity College. He resides in Wolfville, Nova Scotia with his wife Maria and their four children.
Sample Pages from Biblical Greek Made Simple
More details about this resource