Soul Care Collection (2 vols.)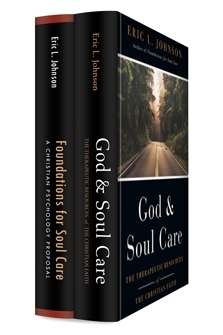 Soul Care Collection (2 vols.)
•
IVP 2014–2017
Runs on Windows, Mac and mobile.
Your Custom Discount
Reg. Price $72.99
Sale Price $50.99
Your Price $50.99
You Save $22.00 30%
Your Price
What's Pre-Pub?
$50.99
Overview
The Soul Care Collection (2 vols.) brings together two groundbreaking works on Christian psychology and counseling. God's therapeutic agenda begins in the perfect triune communion of Father, Son, and Holy Spirit who created human beings to flourish by participating in his glory. But they are now alienated from God and subject to different forms of psychopathology—sin, suffering, and biopsychosocial damage. So God intervened in Jesus Christ to manifest even greater glory. Through union with his incarnation, life, death, resurrection, and exaltation, Jesus has overcome the soul-disordering consequences of sin and now is bringing about a new creation by the Holy Spirit and faith. The church as the body of Christ is where God's therapy is put into action—where people can learn to flourish in communion with God and each other as God originally intended. Told in this way, the deep connection between Christianity and psychology becomes evident.
In the Logos edition, these volumes are enhanced by amazing functionality. Important terms link to dictionaries, encyclopedias, and a wealth of other resources in your digital library. Perform powerful searches to find exactly what you're looking for. Take the discussion with you using tablet and mobile apps. With Logos Bible Software, the most efficient and comprehensive research tools are in one place, so you get the most out of your study.
Key Features
Draws upon the Bible and Christian intellectual traditions
Presents a detailed overview of the current state of Christian counseling
Frames counseling within the larger picture of Christian theology theology
Individual Titles
In this groundbreaking work of first-order scholarship, Eric Johnson makes a vitally important contribution to the field of Christian counseling. He first presents a detailed overview and appreciative but critical evaluation of the reigning paradigms in the field of Christian counseling, particularly biblical counseling and integration. Building on their respective strengths, he seeks to move beyond the current impasse in the field and develop a more unified and robustly Christian understanding. Drawing upon the Bible and various Christian intellectual and soul care traditions, and through a Christian reinterpretation of relevant modern psychological theory and research, Johnson proceeds to offer a new framework for the care of souls that is comprehensive in scope, yet flows from a Christian understanding of human beings--what amounts to a distinctly Christian version of psychology. This book is a must-read for any serious Christian teacher, student, or practitioner in the fields of psychology or counseling.
Eric Johnson is resolutely fair-minded. He treats others as friends, with charity and respect. He seeks accurate understanding and takes no shortcuts. He takes others seriously, even when he disagrees. He earnestly pursues both truth and helpfulness. In other words, both in person and in print, he is after wisdom ('nothing else you could desire compares'). I count his friendship one of life's pleasures. Eric makes criticism easy to hear and makes vigorous argument in the pursuit of wisdom a delight!
—David Powlison, editor of the Journal of Biblical Counseling
In God and Soul Care, a companion to his Foundations for Soul Care, Eric L. Johnson explores the riches of Christian theology from the heights of the Trinity to the mysteries of eschatology, uncovering ample resources for engaging in dialogue with modern psychology. Each chapter not only serves as an overview of a key doctrine but also highlights its therapeutic implications for Christian counseling and psychology. A groundbreaking achievement in the synthesis of theology and psychology, God and Soul Care is an indispensable resource for students, scholars, pastors, and clinicians.
God and Soul Care is a bold and courageous book. In it, Eric Johnson argues that Christian faith is fundamentally 'therapeutic' and that it provides tools that contribute to healing that secular counselors cannot make use of. Those tools require a deep and powerful understanding of Christian faith itself, rooted in the trinitarian understanding of God that God's revelation in Christ makes possible. Johnson recognizes the value of the knowledge gained by modern psychology and the helpful tools found there and in secular counseling as gifts given by God's common grace. However, he argues that these tools would be put to better use if they were used in the context of a distinctively Christian approach to human flourishing that differs radically from the worldviews implicit in much psychology and counseling. This is a book that will benefit both psychologists and theologians.
—C. Stephen Evans, university professor of philosophy and humanities, Baylor University
About Eric L. Johnson
Eric L. Johnson (PhD, Michigan State University) trained as an academic psychologist and is Lawrence and Charlotte Hoover Professor of Pastoral Care at The Southern Baptist Theological Seminary in Louisville, Kentucky. He is the author of Foundations for Soul Care and the coeditor of God Under Fire and Christianity and Psychology: Four Views. An associate editor of the Journal of Psychology and Theology, he is the director of the Society for Christian Psychology and the Institute for Christian Psychology.