Decalogue Collection (3 vols.)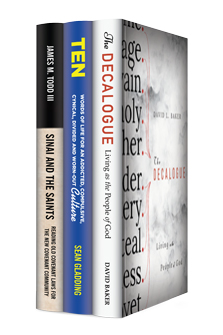 Decalogue Collection (3 vols.)
•
IVP 2013–2017
Runs on Windows, Mac and mobile.
Your Custom Discount
Reg. Price $48.99
Sale Price $33.99
Your Price $33.99
You Save $15.00 30%
Your Price
What's Pre-Pub?
$33.99
Overview
What should Christians do with all the laws in the Old Testament? The Old Testament tells the story of the beginnings of God's salvation history, and it is part of the authoritative canon of Scripture affirmed by the church. But what role should the laws of the old covenant play in the lives of those living under the new covenant? For anyone studying the Decalogue and Old Testament ethics—students or laypeople, teachers or preachers—the Decalogue Collection (2 vols.) is indispensable to the "ten words" God delivered at Sinai.
In the Logos edition, these volumes are enhanced by amazing functionality. Important terms link to dictionaries, encyclopedias, and a wealth of other resources in your digital library. Perform powerful searches to find exactly what you're looking for. Take the discussion with you using tablet and mobile apps. With Logos Bible Software, the most efficient and comprehensive research tools are in one place, so you get the most out of your study.
Key Features
Practical discussion of Old Testament Laws
Examines how the Ten Commandents are relevant to contemporary Christianity
Biblical theology for modern life
Individual Titles
Can Christians embrace the commandment to "love the Lord your God with all your heart and with all your soul and with all your strength" but ignore the laws regarding clean and unclean food? Some have suggested that Christians remain under the moral laws of the old covenant, while others have argued that some of the Old Testament laws—for example, the Ten Commandments—still apply to Christians.
James Todd makes a bold claim by contending that as followers of Jesus Christ who stand under a new covenant, Christians are no longer subject to any of the Old Testament laws. Focusing on the laws of the Pentateuch, he then addresses the proper role and benefits of the Old Testament laws in the Christian life. With wit and insight, Todd helps Christians to understand how the laws given to the people of Israel at Mount Sinai should be read by those called to live as saints.
Addressing highly relevant questions, especially in the area of ethics, Todd provides an exceptionally helpful guide to the complex issue of how Christians should view Old Testament law as authoritative Scripture. His approach, which is accessible to non-experts, draws on the best of modern scholarship, offering, among other things, an insightful discussion of the relevance of the Ten Commandments for twenty-first-century Christians. Anyone grappling with how to approach the laws of Exodus to Deuteronomy from a Christian perspective will find this book an invaluable introduction.
—T. Desmond Alexander, director of postgraduate studies, Union Theological College, Belfast
James M. Todd III (PhD, Southeastern Baptist Theological Seminary) teaches biblical studies in the Biblical and Theological Studies Department at College of the Ozarks in Point Lookout, Missouri. He is the author of Remember, O Yahweh: The Poetry and Context of Psalms 135-137.
To most people living in today's world, the Ten Commandments represent archaic rules dictated by a taskmaster God, meant for a society long gone. Many see them as irrelevant, even unattainable, today. But what if we're not that different from those who gathered around Moses as he handed down God's Ten Words to his people? What if they were never meant to be a set of rules, but instead a promise of a covenant relationship?
In Ten, Sean Gladding invites you into the story of John, a pastor who spends his mornings in a local coffee shop, as he engages the viewpoints of regular people who wonder at the relevance and meaning of those Ten Words today. Sit in on their lively, heart-felt conversations as they tackle each Word over a cup of coffee and realize the hope of God's promises to his chosen people—yesterday, today and forever.
Integrity is a lost art form—or better still, it is a lost life guide. Maybe biblical integrity is as much about loving our culture, world and neighbor as it is about personal holiness. Sean Gladding has taken his love for God and love of the other and invited each of us into a deeper spiritual devotion through the pages of Ten.
—Tony Kriz, author of Welcome to the Table and Neighbors and Wise Men
Sean Gladding, originally from Norwich, England, has made his home in the U.S. for the last two decades, where he has served in various forms of pastoral ministry, getting around on his '84 Ironhead Sportster. During his time at Asbury Theological Seminary he first encountered the concept of the metanarrative of scripture, an experience that has deeply shaped his life. His first book, The Story of God, the Story of Us, has its origins in a Bible study Sean led during a summer internship at Mercy Street, a church in Houston, Texas, for people in recovery from addiction and from bad church experiences--often both. Sean went on to co-pastor Mercy Street for seven years, during which time he and his wife Rebecca narrated the "Story of God" with people who had never heard it before or who had only heard a fragmented version. Hearing the "Story" with both the enfranchised and those on the margins has continually deepened their understanding of scripture, and shaped their lives and the way they tell the "Story." Over the years they have made "The Story of God" narrative freely available to anyone who wanted to use it. The "Story" has been told in homes, churches, college campuses, coffee shops, pubs and laundromats, spread over five continents. Sean and Rebecca have two children. After their time with Mercy Street they returned to Lexington, Kentucky, to rejoin friends at Communality—part of the family of New Monastic communities—where they are seeking the welfare of the city.
The Ten Commandments, or Decalogue, have long been a pillar of Western law and culture. In more recent times they have been a point of controversy in the public square. But on closer scrutiny the commandments are particularly addressed to the people of God. In the exodus narrative, their revelation on Mount Sinai is framed in symbols of awe—fire, smoke, and blaring trumpets.
To this centerpiece of Sinai, David L. Baker brings his extensive research and reflection. Setting each commandment within its ancient Near Eastern setting, he clearly backlights their cultural profile. Then, within their covenantal framework, he illuminates their biblical-theological meaning. Finally, viewing each commandment in light of our contemporary setting, he reflects on how they cut against the cultural grain and shed light on our pathway as the people of God. The result is a focused commentary on the Decalogue.
David Baker is someone who knows the Old Testament, the ancient Near East, and the scholarly literature, and his study of the Ten Commandments is clear, thorough, wide ranging, and knowledgeable. Furthermore, if you ever want to read anything else, the footnotes and the bibliography are a treasury.
—John Goldingay, Fuller Theological Seminary
David L. Baker (PhD, University of Sheffield) is a lecturer in biblical studies at All Nations Christian College, Hertfordshire, England. Until 2014 he was senior lecturer in Old Testament at Trinity Theological College in Perth, Western Australia. Previously, he was deputy warden of Tyndale House, Cambridge, England, and a seminary lecturer in Indonesia for over twenty years.