IVP Spectrum Series (2 vols.)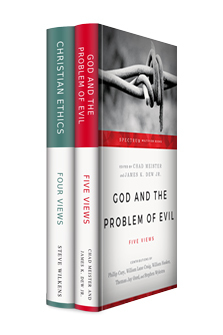 For more from this series, see here.
Overview
The IVP Spectrum series examines topics essential to Christian theology and practice from a multiple theological perspectives, all grounded within a Christian worldview. These two volumes present two questions of theology, philosophy and apologetics. Attempting to provide thoughtful discussion of such questions as: What is the nature of morality and moral agency? How can we believe in an all powerful and all loving God in the face of suffering and evil in the world?
In the Logos edition, these volumes are enhanced by amazing functionality. Important terms link to dictionaries, encyclopedias, and a wealth of other resources in your digital library. Perform powerful searches to find exactly what you're looking for. Take the discussion with you using tablet and mobile apps. With Logos Bible Software, the most efficient and comprehensive research tools are in one place, so you get the most out of your study.
Key Features
Presents a diverse, but distinctly Christian set of perspectives
Hear from multiple voices on the same issues and questions
Lays a foundation for understanding how theories for viewing morality have bearing in every day life.
Individual Titles
The field of Christian ethics is the subject of frequent conversation as Christians seek to understand how to live faithfully within a pluralistic society. The range of ethical systems and moral philosophies available can be confusing to people seeking clarity about what the different theories mean for everyday life.
Christian Ethics: Four Views presents a dialogue between four main approaches to ethics in the Christian tradition. Virtue ethics focuses less on the action itself and more on the virtuous character of the moral agent. A divine command approach looks instead at whether an action has been commanded by God, in which case it is morally right. Natural law ethics argues for a universal, objective morality grounded in nature. Finally, prophetic ethics judges what is morally right in light of a biblical understanding of divine justice and shalom.
Steve Wilkens (PhD, Fuller Theological Seminary) is professor of philosophy and ethics at Azusa Pacific University. His books include Hidden Worldviews, Faith and Reason: Three Views, Christianity & Western Thought (volumes 2 and 3), and Beyond Bumper Sticker Ethics. He has also taught as an adjunct faculty member at Mount San Antonio College, Glendale Community College, Fuller Theological Seminary, and Azusa Pacific University's C. P. Haggard Graduate School of Theology.
The problem of evil is a constant challenge to faith in God. How can we believe in a loving and powerful God given the existence of so much suffering in the world? Philosophers and theologians have addressed this problem countless times over the centuries. New explanations have been proposed in recent decades drawing on resources in Scripture, theology, philosophy, and science.
According to the classic position, associated especially with the Augustinian tradition, God permits evil and suffering as part of the grand narrative of divine providence to bring about the redemption of creation. Molinism modifies the classic view by adding God's middle knowledge to the picture, in which God has knowledge of what creatures would do in all possible worlds. Open theism rejects the determinism of the classic view in favor of an account of God as a risk-taker who does not know for sure what the future holds. Essential kenosis goes further in providing a comprehensive theodicy by arguing that God cannot control creatures and thus cannot unilaterally prevent evil. Skeptical theism rejects the attempt to provide a theodicy and instead argues that, if God exists, we should not expect to understand God's purposes.
How do we come to philosophical and theological grips with the vast amounts of evil in a world created by a perfectly good—indeed, maximally great—Being? God and the Problem of Evil helpfully lays out the various sides of the debate on this issue. Five philosophical theologians present the distinctive differences in their respective views, also noting the points on which they agree. The result is a volume that will serve as an excellent, up-to-date resource for those seeking to further explore this crucial—and perennial—question.
—Paul Copan, professor and Pledger Family Chair of Philosophy and Ethics, Palm Beach Atlantic University, author of A Little Book for New Philosophers
Chad Meister (PhD, Marquette University) is professor of philosophy and theology at Bethel College in Mishawaka, Indiana. His publications include Evil: A Guide for the Perplexed, Contemporary Philosophical Theology, The Oxford Handbook of Religious Diversity, and the six-volume work The History of Evil.
James K. Dew Jr. (PhD, Southeastern Baptist) is associate professor of the history of ideas and philosophy and dean of the College at Southeastern Baptist Theological Seminary. He is the coauthor (with Mark W. Foreman) of How Do We Know? An Introduction to Epistemology and coeditor (with Chad Meister) of God and Evil: The Case for God in a World Filled with Pain and God and the Problem of Evil: Five Views.
More details about these resources