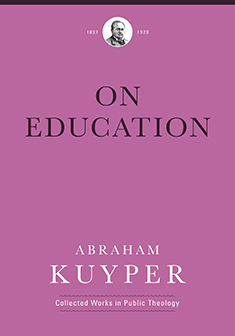 Kuyper on the Divine Purpose for Education
Among Abraham Kuyper's many accomplishments was his founding of the Free University of Amsterdam, where he also served as president and professor of theology. This collection of essays and speeches presents Kuyper's theology and philosophy of education, and his understanding of the divine purpose of scholarship for human culture. Included are convocation addresses given at the Free University, parliamentary speeches, newspaper articles, and other talks and essays on the topic of education. Much of the material deals with issues still being debated today including the roles of the family and state in education, moral instruction, Christian education, and vouchers.
The Abraham Kuyper Collected Works in Public Theology
Lexham Press is pleased to announce the publication of a major series of new translations of Kuyper's writings in public theology. Created in partnership with the Abraham Kuyper Translation Society and the Acton Institute, the Abraham Kuyper Collected Works in Public Theology will mark a historic moment in Kuyper studies, and we hope it will deepen and enrich the church's interest and engagement in public theology.
Product Details
Title: On Education
Author: Abraham Kuyper
Translator: Harry Van Dyke
Volume Editors: Wendy Naylor
Series Editors: Melvin Flikkema & Jordan J. Ballor
Publisher: Lexham Press
Publication Date: 2018
Pages: 352
Format: Logos Digital, Hardcover
Trim Size: 7x10
ISBN: 9781577996774
About Abraham Kuyper
Abraham Kuyper (1837–1920) was one of the most extraordinary individuals of his time. A prolific intellectual and theologian, he founded the Free University in Amsterdam and was instrumental in the development of Neo-Calvinism. He was also an active politician, serving as a member of Parliament in the Netherlands beginning in 1874 and serving as Prime Minister from 1901 to 1905.
At this intersection of church and state, he devoted much of his writing towards developing a public theology. His passion was to faithfully understand and engage culture through a Christian worldview. The most famous example is his articulation of the doctrine of common grace. His work has influenced countless others, including Francis Schaeffer, Cornelius Van Til, and Alvin Plantinga.
About the Editors
Jordan J. Ballor (ThD, University of Zurich; PhD, Calvin Theological Seminary) is a research fellow at the Acton Institute and serves as executive editor of the Journal of Markets and Morality. He is also associate director of the Junius Institute for Digital Reformation Research at Calvin Theological Seminary.
Melvin Flikkema (PhD, Fuller Theological Seminary) is Senior Advisor at the Acton Institute. He coordinated the translation of the Abraham Kuyper Collected Works in Public Theology. He was previously the Provost of Kuyper College.