Ed. Móvil: El contexto de los Evangelios (2 Vols.)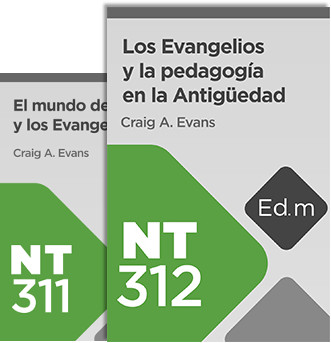 Ed. Móvil: El contexto de los Evangelios (2 Vols.)
•
Runs on Windows, Mac and mobile.
Reseña
En este paquete de dos cursos, el Dr. Craig Evans te presenta los últimos descubrimientos sobre la Biblia y el mundo antiguo. Aprenderás entre otras cosas el marco histórico donde suceden los Evangelios, las evidencias sobre su fiabilidad, los sistemas de aprendizaje de la época, y cómo influyeron en las enseñanzas de Jesús y el relato de los Evangelios.
Con cientos de artículos académicos, e importantes libros publicados, el Dr. Evans se ha ganado la reputación de ser uno de los eruditos bíblicos más importantes del momento. Es continuamente entrevistado por canales de televisión y radio debido a su experencia en todo tipo de materias relacionadas con la Biblia, y ahora su conocimiento está disponible para la iglesia hispana gracias a la Educación Móvil.
Cursos individuales
El mundo de Jesús y los Evangelios (NT311) examina el período intertestamentario. La caída del Imperio persa, el surgimiento de Alejandro Magno, los acuerdos militares y los movimientos religiosos de Israel. Los acontecimientos entre el último libro del Antiguo Testamento y el primer Evangelio son un telón de fondo para la aparición de Cristo y el desarrollo del cristianismo. La historia intertestamentaria clarifica el contexto del Nuevo Testamento para una comprensión profunda, más robusta de la Escritura.
Contenidos:
Mundo socio-religioso intertestamentario
Conceptos intertestamentarios
Los Evangelios son textos con 2000 años de antigüedad, así que según los leas es importante comprender el género antiguo que representan. En este curso, Craig Evans revisa los Evangelios, discute temas del criticismo textual, y explica métodos de enseñanza antiguos para que puedas comprender no sólo lo que Jesús enseñó, sino cómo lo enseñó y por qué sus lecciones son relatadas de manera específica en los textos de los Evangelios.
Contenido:
Cronología, canonicidad y texto de los Evangelios
Versiones judías de los Evangelios
Historiografía y pedagogía
El problema sinóptico
Detalles de producto
Título: Ed. Móvil: El contexto de los Evangelios (2 Vols.)
Instructor: Craig A. Evans
Editorial: Lexham Press y Editorial Tesoro Bíblico
Fecha de publicación: 2017
Tipo de producto: Educación Móvil Logos
Formato: Curso en video, audio y texto
Cursos: 2
Horas de Video: 6
Acerca de Craig A. Evans
Craig A. Evans es el distinguido profesor Payzant de los estudios del Nuevo Testamento y director del programa graduado en Acadia Divintiy College en Wolfville, Nova Scotia. Ha escrito extensamente en la figura histórica de Jesús y el fondo judío del periodo del Nuevo Testamento. Sus libro incluyen: Jesus and His Contemporaries: Comparative Studies, un comentario de Marcos en el Word Biblical Commentary, Jesus and the Ossuaries, y Ancient Texts for New Testament Studies. Recientemente ha servido en el gabinete de asesores del Evangelio de Judas del National Geographic Society y ha aparecido con frecuencia como comentarista experto en programas de la televisión en cadena, por ejemplo Dateline, y en diversos documentales en BBC, Discovery Channel y History Channel.